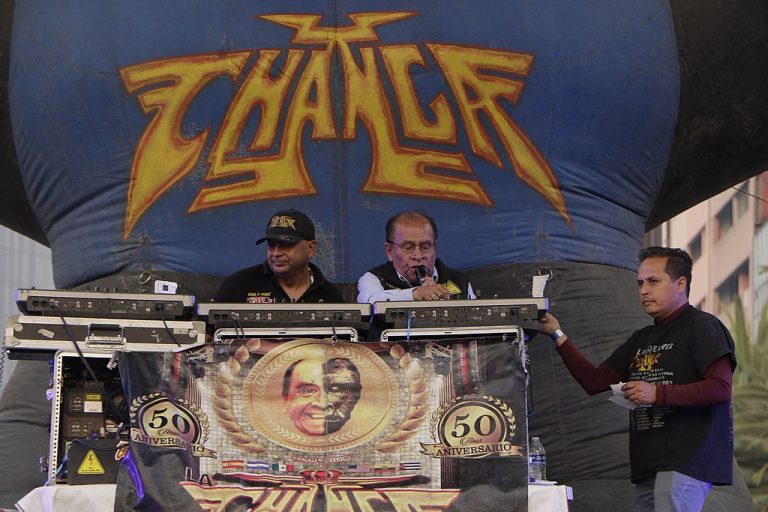 Understanding Sonideros and Sonidos, Mexico's Tropical Music Harbingers
04 July, 2022
How far would you travel to get a vinyl record? How much would you risk to get your hands on music that no-one else knows? Would you put that desire over your own wellbeing? These are the questions that keep cropping up when you're talking about sonidero culture, as Mexico's sonideros are notorious for the long distances they will travel simply to get their hands on a potentially-explosive 7". As these two interviews make clear, sonideros are not merely DJs; being a sonidero is a way-of-life. Sonidero is a culture, a tradition, a movement that is still being discovered.
Sonidero is a unique pan-continental vision, full of twists and turns, combining different types of tropical music into an explosive party. It's an unchecked tale of sonideros in Monterey and pitched-down rebajadas long before Houston's DJ Screw came along and did his own slow versions, though with hip-hop. One can describe a sonidero as an all-in-one MC, radio host and DJ; live commentary is mandatory, a means of maintaining interaction with the audience. DJ skills are a secondary requirement, sonideros can work with just one turntable as mixing one song into the next is not what it's all about. What is important though is identity with sonideros playing through their own sonidos, their sound systems.
To bring sonidero culture to life I spoke with El Viejo Morelos and Joyce. They were obvious choices, El Viejo Morelos is an undisputed collector of tropical music, his legendary trips for records had his clients waiting outside the airport for him to return with his haul, worried that they may miss out on a record before he got back to his neighbourhood, Peñón de los Baños, which was only a few minutes away. Joyce is the embodiment of sonidero as a culture, for her it's also about learning, about fixing turntables and speakers, about not being duped when selling records, and about respecting your own taste.
To describe the bailes sonideros (parties) as idealistic is to walk on thin ice: while the idea of street-corner parties, filled with sonideros of different knowledge and styles may sound hard to critique, to omit that which made the dances dangerous in their time would be a failure. So, what kept music fans worldwide from accessing this multicultural music movement? Probably Mexicans perceived it as a ghetto-only party, something that became cool only many years later. The same point could be made about Peruvian psych-rock or Brazilian post-punk: there is a process of revalidation that occurs after the original movement becomes appreciated in other countries. Maybe that is why sonidero is nowadays a matter of investigation for Mexicans, with its graphic art and a mountain of music currently being re-evaluated.
I asked Joyce for a definition of Sonideros and Sonidos: "In the form of Mexican popular culture called Sonidera, the Sonidero is the person in charge of the audio and the music for the celebration. Here in the barrios, the person in charge of the sound equipment and of setting the mood at the parties receives one name: sonidero". The sonido, in contrast, which literally means "sound", is the name for the sound system, and also the name for a DJ or music selector who doesn't follow the sonidero's rule of talking to the audience, reading handwritten messages in between songs and starting their set with a self-hyping theme song.
---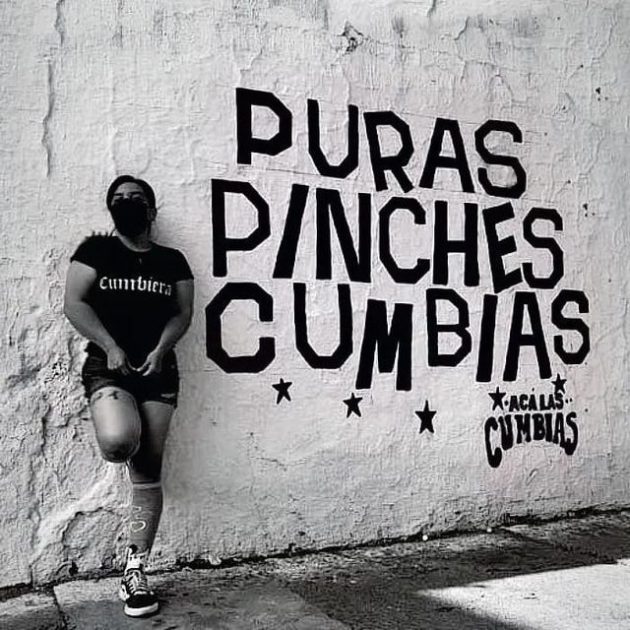 Here's the rest of my chat with Joyce:
Why do you think there's such a focus on Sonideros in 2022?
Sonidero is trending, because cumbia got out, it became futurist, techno, it happened when Celso Piña played with different types of musician [Piña joined forces with Toy Selectah, Control Machete and Cafe Tacvba for the hip-hop/rock-influenced album Barrio Bravo in 2001]. Celso gained notoriety with "Cumbia Sobre el Río" and the world started to slowly turn its ears back to cumbia. But the Mexicans interested in Colombian culture were already there, the sonidero had been there for a long time, but had never left the neighbourhood. Not everybody can venture into Tepito to go to a dance; I know the people there and still won´t go. The world's interest in sonidero is a product of cumbia, not salsa, nor guaracha. Cumbia is at the centre of this whole story. It's in all of South America, in Peru it's psychedelic, it's cumbia villera in Argentina, there's Bolivian, Guatemala has marimba cumbia. In Mexico there are different styles, one is wepa, with edited mixes, all of this has made the DJs turn to sonideros because sonidero only exists in Mexico. There are no sonideros in other parts of the world, only in Mexico.
What sets it apart from a sound system?
The sonidero is an MC, we call them the locutor de sonido (announcer of sound), they are there making announcements, saying hello to their friends, to people walking in, talking over anything that is playing. The sonidero can play any kind of music, not only tropical music, even though that's where it's rooted. Some play rock, others play Hi-NRG, and they will be fans of that till death, and there are sonideros in the streets that play mainly tropical but will play a track or two from other kinds of music. Sonidero can be everything and nothing at the same time, the musical selection is about lifting the party.
The sonidero uses a lot of words and voiceovers.
It won't stop the floor if they do an announcement in the middle of a song. Salutations make people feel part of the show, people go there to hear shout-outs over the speakers, but that's not the only thing, if an audience member gave the sonidero a message [to read out] that they loved someone else in the audience, sometimes the sonidero will add corny lyrics to the original message.
There are many technical requirements for a sonidero?
A sonidero only needs one turntable, because they do not have to mix records, they can play one song, pick up the record and put another one down. Normally with a DJ set you are just playing songs, but a sonidero has these other tasks.
The DJs and the sonideros have opposite rules?
Everything you cannot do as a DJ you can as a sonidero, many sonideros have a DJ and other people doing the shout-outs because it's too much. Another trademark is idents between songs, which is helped by the fact that sonideros are masters of improvisation, they can work with one turntable, DJs can´t.
The history of migration and the sonideros are very much entangled?
Yes, especially Mexicans going to other countries in search of records. They are responsible for bringing the music. Sonideros are responsible for the diversity in the taste of Mexican people, as they were the first that ventured into other countries to bring that. Now that there are compilations with music from different parts of the continent I think it's fair to say that the music that's out there was played first by a sonidero, and that's where it became recognized.
The compilation Saturno 2000 on which you worked is getting a lot of attention.
Reissues are changing everything because singles or LPs that are being valued at $1,000 can be obtained on a comp for $30. A lot of people are against that, but I think it's mostly about the ego of owning the original. They are overpricing the records, it's becoming a privatised industry.
At some point piracy was also frowned upon by purists.
In the times when you could only get imports pirate records were released in Tepito so working people could take the music home. In some cases there were whole families who made a living out of it.
What part of sonideros do you think is most commonly mistaken by outsiders?
A talking point when sonideros became fashionable is the romanticisation of the neighbourhood, it's not what they think it is. I grew up here in Ixtapalapa with a sonidero at every corner. There was a ritual about planning how to get to the dance, picking what to wear. I saw the people coming out of the factories beaten at 6pm, but happy at night dancing, that's a magical thing, and I am among the people I am describing, the first thing I did with my pay was to buy an outfit right after work.
It's not strange it is being romanticised when it´s described like that.
Yes, but there´s another part: at certain times fights broke, people were injured and in some cases murdered. Sonideros were marginalised because of drug use, because of fights, cumbia was marginalised but now everybody wants it, they made it elite and played it in places where they used to play hip-hop or techno.
Who was your favourite sonidero?
Discos Venezuela had a great sound, like a disco on wheels. To see that when I was 15 with his dancers dressed in the same colour shirts, doing their steps, it was something that pumped you to start the week again.
---
In these last two years buying and selling records in Mexico I have seen a bit of everything: father-son teams dissolving into a fight over missing albums, the father in this case being a veteran street hustler renowned for building a modest house out of vinyl records. I've seen vinyl addicts waiting for recent arrivals at the break of dawn, their faces centimetres away from a white van reversing towards them; tianguis [an indigenous word for market, tianguis coming from the native tribe Nahuatl Tiankiz (tli). When Cortez invaded México he was surprised by the organisation of the Tlatelolco Tianguis, where fruit, vegetables and meat from across the country were traded, a tradition that continues to this day"] further from the city, where a rooster sings over a dismantled office chair; I've had that feeling of having someone pick a record a fraction of a second before me, getting the satisfaction of holding the record I wanted just for getting up a bit earlier. Across Mexico City, El Viejo Morelos (Old Morelos) is known for being one of the eldest tropical music hunters in town, and even though his expertise is selecting and playing music, a sonido, his influence on sonidero culture is vast.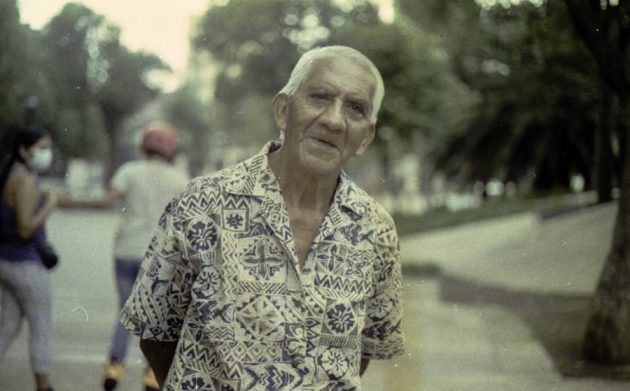 Morelos is in the Peñón de Los Baños neighbourhood, which looks like many others in town, but isn't. The gates open and the patio of Sonido Continental holds a few chairs and up a wall, a very large collection of speakers set the tone for the transmission, the atmosphere is chill and the volume is loud, as loud as imaginable. Sonideros play a song each and send a million shout-outs to online solicitors. Outside, before we start talking, a mother and her son walk by. Morelos asks: "When are you gonna become a sonidero?" The boy responds: "Yes, I want to, I think maybe this year".
What´s your first memory related to music?
I have many. My uncle lived in this exact corner [where we are], he was my uncle´s uncle, you know? His name was Catarino, he had a small sonido and worked fixing televisions. They were sonidos and not sonideros and were named after the person's last name [for example, Pablo Pérez would be Sonido Pérez]. I used to help him carry the records and so did my brother, that's when we both got into music. When my uncle went to work I asked my aunt to let me use the turntables: "Come on now, just let me listen to the music". And she replied, "No, you are gonna ruin the turntables". That went on two or three times until I got to use them for a couple of hours. I could have been a third-generation businessman, but I chose the records instead, so my brother and I went into the business of buying and selling records, and we used to buy them on Calle Tacuba downtown or in Tepito, searching for records to sell to sonideros. At that time they did not play cumbia, just purely tropical music like son clave de oro. There was a big influx of records through stores in markets and Calle Matamoros was filled with them.
Did sonidero start with danzón?
Very few sonideros played danzón, there was a club called Loudres where Emilio B Rosado played danzón, but they were not sonideros. What I understand as sonidero starts between 1965 and '69.
Did the sonideros become your customers?
In the 70s and 80s, I sold music to 80% of the sonideros in the country. With my brother as the leader, we used to hang out on the periphery. If he hadn't left friends for me to know in Colombia I would not have been able to go there. It was unthinkable in those days [to travel so far to get records] but he did it, he even [brought them] by truck and was very proud of that. At one place or another, we were always fighting for music.
Where were your favourite places to search for records?
Costa Rica had great records, Nicaragua too, but the political situation eventually made it very hard to go there. Colombia had the bombings, but I was going back and forth to Colombia every 20 days, looking for records to sell in México. The feds were not easy in the Mexican airports, the feds were tough dogs. Nowadays everybody is looking for records, I would have liked to see them try back then.
What kind of music did you sell to Colombians and what did you bring back?
Colombians bought mostly rancheras, they became interested in Mexican salsa later on. In '77 I started selling vallenato music in Monterrey, that was an honour, but the history of tropical music is so large nobody knows anything. If I die I will not have finished diggin´ through it.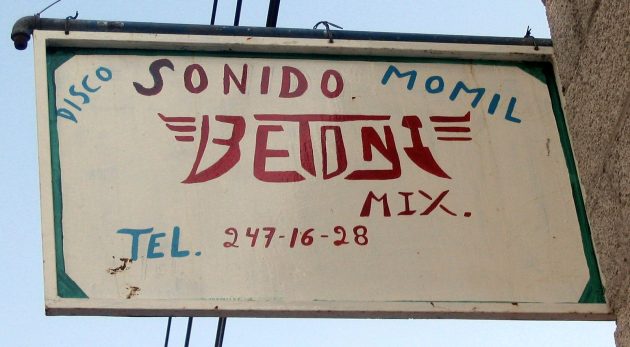 It seems like both sonidos and sonideros were distinguished by the originality of the music they picked.
In the golden age, the sonidos were distinguished by their music, not their audio quality. It was nice to find a record and paint it a different colour so it would not be recognized. There were also pirate recordings made of music I found, they looked for records that worked on the dance floor. It's like I found this record and someone comes from behind and makes it a big hit, and he did not even fight for it, you know? If my brothers and my neighbours had not travelled searching for music, what would sonidos play? That's why the internet does not affect me because I play records that have not been heard before. In the 40s and 50s, nobody even looked at this part of the city, we were the last neighbourhood, for real. So many times I wondered, "why did this music re-emerge here?"
Why?
I don´t know, but there are 10 sonideros just in these blocks and 40 more in the surrounding area.
What aspect of sonidero do you think catches the outsider's imagination?
What people from other places want to see and hear is cumbia, to experience it, and most of the time they pay more attention than the people from here because they also want to see how it´s made.

Follow Sounds and Colours: Facebook / Twitter / Instagram / Mixcloud / Soundcloud / Bandcamp

Subscribe to the Sounds and Colours Newsletter for regular updates, news and competitions bringing the best of Latin American culture direct to your Inbox.
Share: