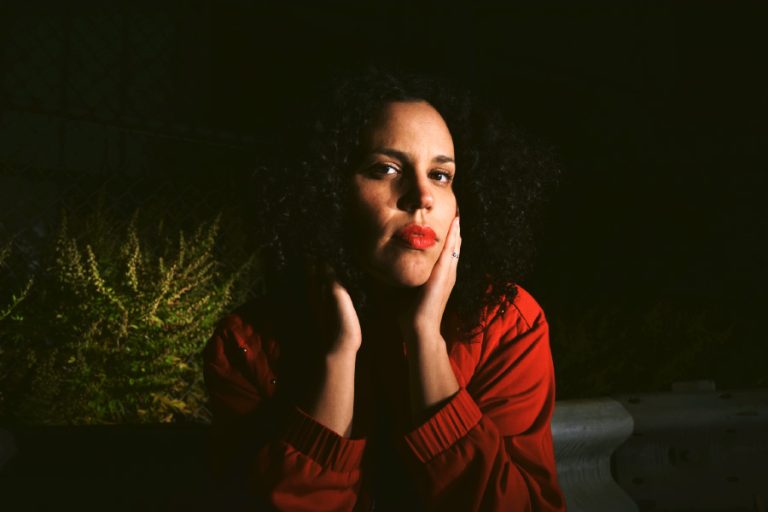 Stephanie Orentas
How Strong Love Can Be: An Interview with Xenia Rubinos
10 November, 2021
Xenia Rubinos is an American singer, songwriter, and multi-instrumentalist who is influenced by a wide variety of sounds including, but not limited to, Caribbean rhythms, beat music, indie rock and, now more than ever, electronic music. On her new album Una Rosa, she continues to push musical boundaries while noticeably pouring her soul into art, and ultimately elevating her musicianship in all aspects.
We had the opportunity to speak with her about her newest release, digging into the inspiration behind each element and voice that helped create this rich cinematic sonic journey.
Here's how the conversation unfolded.
This is your most innovative, electronic and experimental work; how does it feel to share this raw and emotional project? What inspired this more electronic sound?
I feel grateful to be releasing this project, it's been a long time coming and we started releasing singles, videos and portraits from Una Rosa one year ago, and I've really enjoyed being able to share it slowly piece by piece on my time and how I wanted to. It's been a trip to see how the music is now resonating with people and start to gain a different understanding and perspective of it through the eyes and ears of others. The electronic aspect of the work is just a natural progression of the music I have been writing and listening to. It had been a goal for a while to do more writing on the spot in the studio and recording everything as if it might be a final take, it was a very freeing process after having come off my previous record where practically the whole thing had been pre-produced and demoed even before we set foot in the studio.
Una Rosa is full of different storylines and heartbreaks. Tell us about the significance of each. What influenced them?
More than literal storylines, I feel there are many different voices on this album. There is an homage to the classic divas who our grandparents used to listen to like La Lupe, who could tear your heart out singing about love gone wrong on "Ay Hombre" and then there is also a more dark, smoky, moody voice that comes through on "Darkest Hour" and a fractured voice that sounds icy on "Did My Best", singing about the grief of a huge loss, and a more disassociated bubble gum 90s R&B throwback moment on "Worst Behavior," and then finally my naked voice on the final track "What Is This Voice?" where I was basically trying to sing without singing.
My personal favorite is "Did My Best". It definitely hits deeper and globally since the pandemic. Tell us about the process of making this song.
It was one of the big a-ha moments while making the record. I had come to the studio with a sample of this heavy dark synth pattern I had written over a sample from a ballet documentary clip. I thought it was going to be a really aggressive and kind of harsh instrumental track – kind of a head banger – it had an angry fierce quality to it. My co-producer Marco Buccelli suggested I try singing over the beat using a vocoder and insisted he heard vocals on it. I was quite emotionally detached in that period which actually allowed me to be more open and try things I may have gotten in the way of in the past because of my own pre-conceived ideas of what I want a piece to be or ego or whatever else. In this case, I went along with Marco's suggestion and ended up improvising and writing lyrics on the spot. A short while later, we had these gut-wrenching vocal takes and this whole story recorded. It was definitely an experience of being in a flow state while writing and singing that and it was only after I was done singing when we were listening back to the takes that I felt all the hairs on my arms stand straight up and the back of my neck goose bumps and I felt that listening to that story I identified very much, that the voice was singing to me about me. I remembered why I sing.
What have you learned from creating this album? These last two years have been tough, and I've also read that you felt a 'loss of spirit' even beforehand – how do you feel now after making and releasing this beautiful and impactful project?
I'm still learning and processing, a work in process always. I've learned a lot in a very short time I feel. Life can be really horrible and painful, and then it can also surprise you and be more beautiful than you ever imagined. I learned how strong love could be; how much it can overcome. I learned that life is all the little things, that's where the real sauce is and those moments like having a coffee with somebody who loves you on a day you're feeling shitty but then you realize they love you no matter what you do or didn't do – and you just drink that coffee and not talk about anything in particular – those are the most important moments, that's where life is. I also got to practice putting music and visuals over this past year and really focusing on the process of making as opposed to the outcome or any long-term expectations, just focused on making and growing as an artist and it was so fulfilling being able to experience the album release in that way and I was able to do that because I let go, and because I asked for help and accepted it over and over again – another new thing for me! I'm so grateful to my collaborators Marco, my manager Steph, my record label, booking agent, really every single person who surrounded me just wanted the best for me as a human being and fully supported me through this journey I've been on. I learned how important it is to have people in your corner who really care about you; I'll take that any day over anything else.
Xenia Rubinos' album Una Rosa is out now via Anti- Records

Follow Sounds and Colours: Facebook / Twitter / Instagram / Mixcloud / Soundcloud / Bandcamp

Subscribe to the Sounds and Colours Newsletter for regular updates, news and competitions bringing the best of Latin American culture direct to your Inbox.
Share: