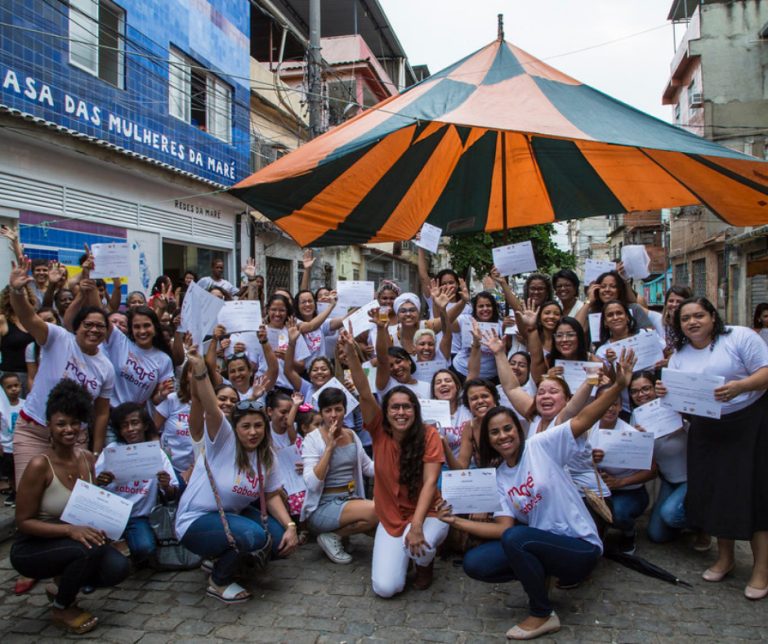 Douglas Lopes (Maré de Sabores Project)
'Women Resisting Violence' Podcast Gives Voice to Projects Offering Hope In Fight Against Gender-Based Violence
08 March, 2022
Latin America has the highest rates of gender-based violence in the world. And as we have seen globally, the COVID-19 pandemic has only worsened the situation. Six countries in the region (Brazil, Mexico, Argentina, Peru, El Salvador and Bolivia) represent 81% of global cases. And though 18 countries in Latin America classify femicide as a crime, 98% of cases still go unprosecuted.
This stark situation informs Women Resisting Violence, a 3-part podcast series that celebrates women's initiatives to combat gender-based violence. As its creators acknowledge, there is ample research into the cause of this violence but there are few explorations of the projects that address it. And so, despite the harrowing subject matter of its episodes (which includes child abuse, sexual violence, trafficking, domestic violence, emotional violence and death), the podcast focuses on something truly positive: women and their communities spearheading change where governments fall short.
Women Resisting Violence won't be for everyone. In fact, one of its envisaged uses is as "teaching resources for community groups, NGOs and students." But for these groups especially, it is truly excellent. Its episodes take us on a journey from Guatemala to Brazil to the UK, championing the important work of women's groups to empower, educate and support women at a time when gender-based violence is growing.
Episode 1: Mourning the 56 in Guatemala covers the work of Ocho Tijax, a women's group supporting the families of 56 girls abused (and 41 of them murdered) under the State's care on a children's home outside Guatemala City. Episode 2:Rio's Trailblazing Women's House looks at an initiative – Redes da Maré, the Casa Das Mulheres – tackling gender violence in one of the largest favelas in Rio de Janeiro through education and community support. Episode 3:Step Up Migrant Women reminds us that this is not a phenomenon isolated to Latin America. Instead it foregrounds the work of the Latin American Women's Rights Service (LAWRS) in London, which supports the struggle of migrant women in London trying to escape domestic abuse.
Each episode is heavily supported by first-person testimonies that articulates personal experiences, and every episode commences with the voice of a spokesperson from the trailblazing initiatives showcased. This prioritisation of women's voices and testimony is further emphasised by the availability of each episode in English, Spanish and Portuguese. This means we get to hear from these women directly, without interpretation, and in their own words.
Unsurprisingly sound is so important to the stories told. Not just the emotive voices of those interviewed but the songs that contribute to the memorialisation of victims and the protest chants that challenge State silence and impunity.
For example episode 1 points to the ambassador role taken on by feminist rapper Rebeca Lane whose song "Llora el Cielo" includes a verse explicitly dedicated to the 56 girls, and is featured in the podcast. Likewise, from its very start the introductory music for each episode makes use of different voices (women and girls) performing protest chants. Keen-eared listeners will recognise the words and rhythm of the now infamous "Un Violador en Tu Camino" ("A Rapist In Your Path"; performed in both Spanish and Portuguese) written by the Chilean feminist theatre troupe Las Tesis. The choreographed performance piece calls out the power structures that condemn women to violence. The song has been performed hundreds of times in dozens of countries around the world.
At the heart of discussions lies the acknowledgement that this violence is intersectional by nature. In episode 1 vulnerable girls from poorer backgrounds are targeted, in episodes 2 and 3 the racial dimension of this violence is exposed. As a spokesperson from Maré states: "If Black women in Brazil are the ones who suffer the most from gender-based violence, it is these women that have to be there drawing up public policy". But of course women, and especially women of colour, are under-represented in leadership teams and positions of power. Their voices and experiences are ignored.
By sharing these voices, the podcast producers ultimately aim for the project "to contribute to policy change around mitigating intersectional gendered violence against women and girls." As such. every episode celebrates the enduring work of community action and grassroots campaigns led by women for women in Latin America. And while there is so much more to be done to keep women and girls free from gendered violence, these inspiring case studies offer hope and a framework for action.
---
Women Resisting Violence is a 3-part podcast series co-produced by the Latin America Bureau and King's College London. Read more about the project at lab.org.uk/wrv and listen to the podcast here or wherever you get your podcasts.

Follow Sounds and Colours: Facebook / Twitter / Instagram / Mixcloud / Soundcloud / Bandcamp

Subscribe to the Sounds and Colours Newsletter for regular updates, news and competitions bringing the best of Latin American culture direct to your Inbox.
Share: