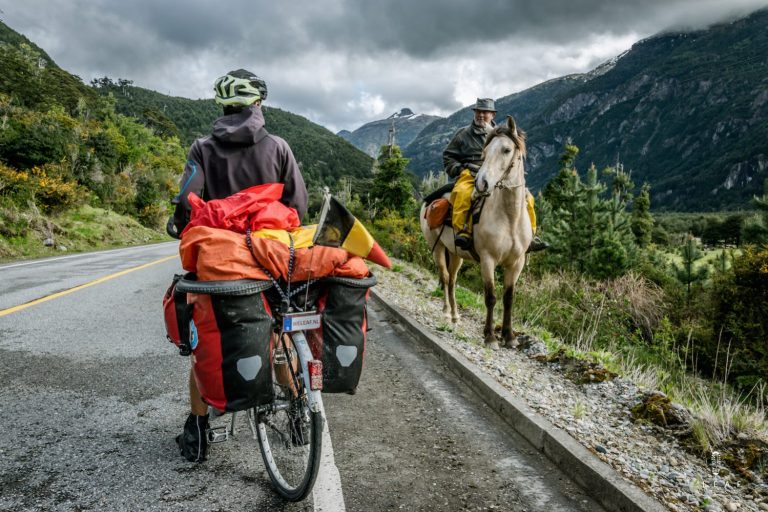 6 Famous Mountain Biking Destinations in South America
17 December, 2020
South America has some of the most beautiful and most challenging mountain bike trails in the world. Whether your perfect ride is bombing down the side of a mountain with rugged views that stretch for miles or a slow, lazy ride through dense jungle flora, there are trails for you to experience on this amazing continent.
If you're an avid MTB enthusiast looking for the ride of your life, it's time to head to the southern hemisphere. Countries like Peru and Chili are becoming some of the hottest mountain biking destinations in the world, offering first-class tours and top-of-the-line gear shops. So pack your helmet, MTB goggles, and riding shoes, and get ready for a mountain biking vacation you'll never forget!
Why bike in South America?
It's close and inexpensive. South America is close. So close that from the US city of Miami to Lima, Peru takes under 6 hours. It's not only easy to get there, but it's also cheap. A round trip airline ticket from the southern US to many of South America's major cities can be had for less than $1,000. Another benefit: Once you arrive at your destination, traveling in South America is inexpensive, so you can stretch your vacation dollars. That means more money for food, lodging, trail guides, and sightseeing.
It's truly an adventure. South America is easy to get lost in—like, in a good way. In the space of a day, you can go from the urban jungle of Miami to the lush natural jungles of the Amazon. You can get off the beaten track. Everyone's dreams of hiking Machu Picchu, but have you considered biking the Chorro Trail? It's a 2 to 3-day ride that starts in the snow-covered peaks of Bolivia and descends over 10,000 feet into the Amazon! And if you're looking for solitude, you'll find it. There are so many trails to discover once you get off the beaten path, you may never see another rider.
It's rugged country. It's hard to describe in words how breathtaking and rugged South America is. The Andes are some of the most recently formed mountains in the world (on a geologic time scale), and that means they're full of steep inclines and sharp, jagged ridgelines that cut the sky like a knife. Argentina is home to the highest point in the world outside of the Himalayas. It's neighbors Chile, Peru, and Bolivia all boast their own impressive peaks. So what are you waiting for? Grab your gear and get ready to shred!
Whoa! From the razor-sharp highs of the Andes to the lush lowlands of the Amazon rainforests, South America offers trails that all free-spirited mountain bikers will enjoy. But here's the kicker: with so many amazing trails, where should you start? Check out this shortlist of the top six bike trails in South America. They offer plenty of variety for all skill levels, along with varying geography and an array of natural wonders.
Carretera Austral, Northern Patagonia, Chile
Hit this beautiful trail in Chile's summer months to ride through temperate rain forests with glacier-capped mountains and breathtaking waterfalls as a backdrop.
Iguazu National Park, Argentina/Brazil
Lush rainforest welcomes you to explore two countries as this park straddles the border of Argentina and Brazil. To get your adrenaline pumping, have your tour operator combine your MTB trek with river rafting or rock climbing.
Sacred Valley, Peru
Ride below majestic snow-covered peaks in Peru's Vilcabamba range, navigating between Incan ruins and vibrant Andean markets.
Mérida, Venezuela
Admire coffee plantations and rushing waterfalls on this 12-mile trek as you descend from 7,000-foot Andean elevations into stunning cloud forests.
Altiplano, Chile
The northern region of Chile is one of the driest anywhere in the world, but it is also home to amazing, other-worldly geological wonders — from moon-like valleys to geysers and sand dunes.
World's Most Dangerous Road, Bolivia
The La Paz-to-Coroico road drops nearly 12,000 feet! Tackle a 40-mile route that starts in the Bolivian altiplano (Spanish for "high plain") and ends in the sub-tropical Yungas along the eastern slope of the Andes.
Thoughts for the road
South America has a lot to offer! It's home to the world's longest mountain range, it harbors Earth's greatest biodiversity in its rainforests, it boasts the driest non-polar desert and five of the largest cities in the world. What are you waiting for? Get your bike and get going. Adventure awaits in South America!

Follow Sounds and Colours: Facebook / Twitter / Instagram / Mixcloud / Soundcloud / Bandcamp

Subscribe to the Sounds and Colours Newsletter for regular updates, news and competitions bringing the best of Latin American culture direct to your Inbox.
Share: