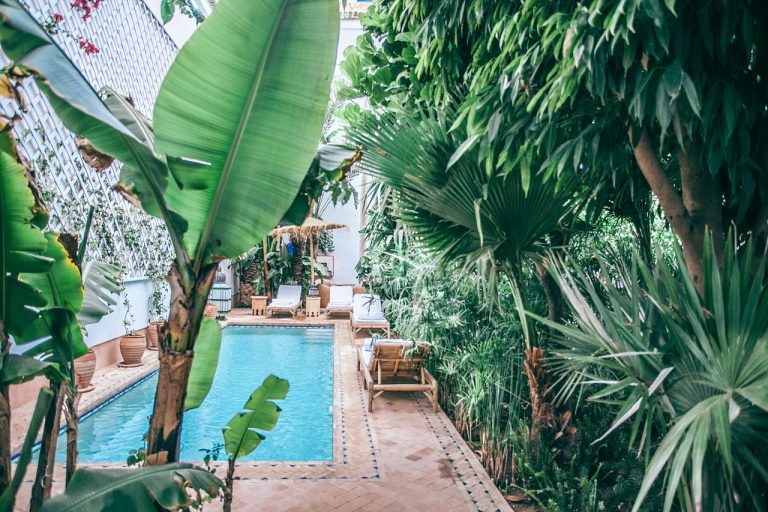 7 Mexican Tropical Patio Decor Ideas
17 August, 2021
If you've ever been to Mexico, you've probably been amazed by the exotic flowers, the architecture, and all those tropical colors and textures just as much as anyone else. It might be hard to translate all that to your own patio, especially when you can't exactly grow any tropical plants there in a cold climate.
Mexican decor can be characterized by bright colors, textures, and striking contrasts between bright and neutral colors. You can easily decorate your patio to look like a tropical dream – that too without too many hard to grow plants – if you put a little thought into it.
Keep reading for all our suggestions on how to give your patio a Mexican inspired makeover.
1. White Brick Walls
Exposed and whitewashed brick walls are something uniquely Mexican, even if they don't scream "tropical" themselves. Adding these walls to your patio and combining that with bright colors and patterns will help take your theme to the next level.
2. Bright and Neutral Colors
Mexican sunsets and other tropical scenes are all about balance. Bright oranges, reds, blues, and purples all contrasted against a light blue sky, with everything washed in orange, is truly a sight to behold.
You can incorporate simple contrasts and bright patterns in your experior to get the same effect. It can work for any patio furniture you have – try painting it white or a neutral color and throw some patterned cushions and covers over it.
You can also have fun with paint. Take your paint brushes out and paint the furniture with interesting patterns, vines, and more.
3. The Right Plants
Planting fruit trees and other plants in the patio will only add charm to the space, and other Mexican plants like bromeliads and orchids. Talk to someone who can tell you if any Mexican plants will fare well in your region, and if that's not a possibility, think about adding succulents in the space in brightly colored pots, or about using fake plants for some areas.
4. Palapa
Palm frond umbrellas or Palapas are everywhere in Mexico, but there's nothing stopping you from bringing them to your own patio. Patio shades can be made up of palm fronds, and you can incorporate shades of brown and materials that look most like Palapa to make up for the lack of actual Palapa.
If your patio has benches and chairs, you can use Palapa umbrellas and shades for them in the same way outdoor dining for cafes and restaurants usually has umbrellas at the table.
5. Colorful Cushions and Decoration
If you don't have the budget to switch out your drab patio furniture for some that fits the theme, you can always just bring in more color and some thematic decorations to spice things up.
Things like colorful cushions, ceramic pieces, and even themed pots for succulents are all amazing ways to bring in a little bit of Mexico to your outdoor spaces.
6. Water
Water bodies are an essential part of any Mexican themed outdoor space. Wells and fountains are common gathering spaces, and you should have either a waterfall, a fountain, or a pond in your patio if you can.
Out of all these options, a pond is the cheapest option, and it's something that you can also make on your own for your patio. All you need to do is dig a hole in the ground or choose the container for the pond, line it with a pond liner, and introduce the right plants, fish, and rainwater to it.
You can decorate ponds with strategically placed rocks at the border, statues, lights, and many other things to keep it aligned with the Mexican theme.
7. Outdoor Cooking Station
If your patio is going to be a gathering space for your family and friends, leave space out for a deck heater near your pool, grill and a fireplace. This just adds to the vibe of the place, and think about all the dinners and BBQ nights you can have out there! 
Stone fireplaces and grills aren't going to feel out of place, but make sure you keep it rustic and classic, and avoid anything that looks too modern or minimalist.
Mexican decor is all about bright colors, nature, and warmth. Play into all these factors when you design your patio, and you'll end up with the Mexican patio of your dreams!

Follow Sounds and Colours: Facebook / Twitter / Instagram / Mixcloud / Soundcloud / Bandcamp

Subscribe to the Sounds and Colours Newsletter for regular updates, news and competitions bringing the best of Latin American culture direct to your Inbox.
Share: