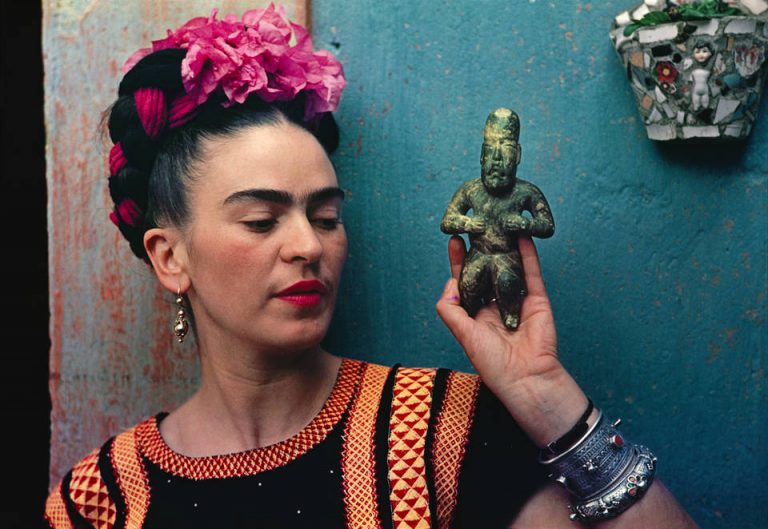 A New Frida Kahlo Show Arrives in the UK
29 November, 2022
The question of whether Frida Kahlo is the greatest female artist of all time isn't for us to answer. She is in the minds of many people who love and appreciate her work, and that's all that matters. To claim she was the greatest of all time would be contentious. To say that she was one of the most significant artists of the 20th century, regardless of her gender, isn't controversial at all – it's a verifiable fact. She might be the pride of Mexico, but she's loved all over the world, which is why her work is constantly on tour. We've seen proof of that in the past few days with the opening of a new Frida Kahlo exhibition in Coventry, England.
The show, entitled simply, "The Life and Work of Frida Kahlo," opened at the Reel Store in Coventry on November 25th and will stay there until January 29th next year. Carla Prat, the exhibition's artistic director, promises visitors that they'll see a side of Kahlo that's never been exhibited before and has turned to the painter's personal diary for inspiration while putting the show together. Accordingly, the exhibition is split into three, with each of the three "pieces" covering a different period of Kahlo's complicated life.
Despite the wide-ranging title of the exhibition, it doesn't open with her early life or childhood. Instead, it begins with the start of Frida Kahlo's life in the public eye as it began in the 1930s and through the 1940s. The second aspect of the exhibition is a more personal look at her life in the context of Mexico as it was when she was alive and her activities with the country's Communist part. The final part of the exhibition will focus solely on The Blue House and the art she created while she lived there. There are more than one hundred exhibits in the show, ranging from Kahlo's art to photographs of her life and literary exhibitions that discuss her. Several extracts of her diary are read aloud to visitors via a specially-recorded voiceover.
When asked why she wanted to put the show and the exhibition together, Carla Prat said she was motivated by a desire to give Frida a voice in the modern world. While many of her paintings are still famous, Carla believes that the world has lost sight of her work to promote indigenous Mexican culture and her political activism. That's why extracts from her diary are given equal prominence to her paintings. She's hoping that visitors to the show will have an emotional reaction to it and feel closer to the painter because of that reaction.
Has some of Kahlo's work been destroyed?
This new exhibition in England isn't the only reason that Frida Kahlo's name has appeared in the news recently. If you follow art stories closely, you might have seen that a Mexican-Lebanese businessman by the name of Martin Mobarak claims to have destroyed an original drawing by Frida Kahlo so he could increase the value of an NFT of the drawing that he claims to own. The story may have developed a little since you last saw it, as Mobarak is under investigation by the Mexican government and might face criminal charges.
Mobarak, who lives in Miami, USA, held a party at his mansion in July and told guests that he was about to do something that would "change the lives of thousands of children," and then produced what he claimed to be a drawing taken from one of Kahlo's diaries. He then took it out of its protective frame, placed it in a martini glass, filled the glass with rubbing alcohol and then set it alight, destroying the drawing. He went on to explain that the only surviving copies of the drawing would now be sold as NFTs by his company, "Frida.NFT," and that the picture was now "part of his metaverse." He then pledged to donate some – but not all – of the profits from NFT sales to children's charities around the world. It was the very definition of a publicity stunt, and the government has taken a very dim view of it.
Mobarak has defended himself by saying he believes that Kahlo would have approved of the act because of the benefits it might bring to children's charities. It almost goes without saying that Kahlo would likely have done no such thing. The idea of helping children's charities may have appealed to her, but not through a medium such as NFTs, which increasingly appear to be driven by greed. This is why her estate has never given permission for Kahlo's likeness to be used in the creation of casino games. Online slots and casino games based on other great artists, including Leonardo da Vinci, Vincent van Gogh and even Rembrandt, have made huge sums of money for casino operators and for the estates which have granted permission for games to be made, but the estate of Kahlo has never granted any such permission because they know that Frida would never have done so either. She'd be appalled by the destruction of art but likely more appalled by the destruction of art in the name of further enriching somebody who's already rich.
The drawing that was apparently destroyed is "Fantasmones Siniestros," which is a watercolour that Kahlo drew in 1944. News of its discovery only reached the Mexican National Institute of Fine Arts and Literature relatively recently, but it started investigating immediately. If it can be determined that Mobarak genuinely destroyed the drawing rather than pretending to do so, he'll have committed a federal crime in Mexico. Kahlo's entire body of work is protected by Mexican law, and the deliberate destruction of art is treated the same way as the destruction of archaeological sites or historical monuments. The businessman may still face legal trouble if he didn't destroy the original painting, as if he faked it, he'll have committed fraud against the people who've subsequently invested in his NFTs.
Only four of the NFTs have been sold as of the time of writing, bringing in roughly £10,000. The drawing is likely to have been worth more than £1m. If there's any consolation to be taken here, it's that the act of vandalism has cost the businessman money rather than made him more.

Follow Sounds and Colours: Facebook / Twitter / Instagram / Mixcloud / Soundcloud / Bandcamp

Subscribe to the Sounds and Colours Newsletter for regular updates, news and competitions bringing the best of Latin American culture direct to your Inbox.
Share: