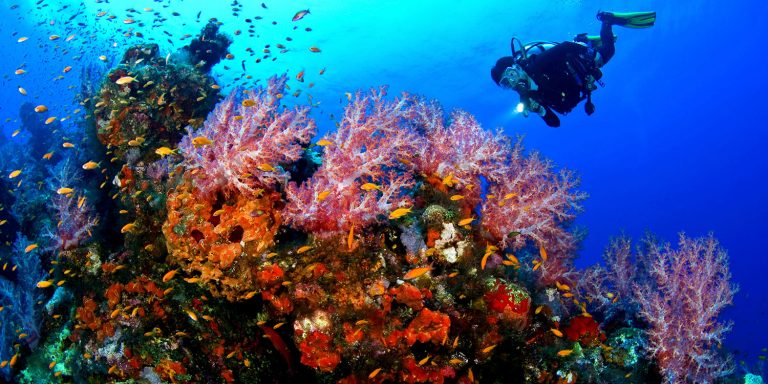 Best Water Sports Adventures to Enjoy in the Caribbean
11 December, 2020
A bucket list travel destination for many, the Caribbean is famed for its incredible beaches. Palm trees sway behind sugary white sands and turquoise waters, to the backdrop of reggae music across countless islands.
While you'll no doubt be spending a lot of time on the beach in the Caribbean, lying in the sand and sunbathing may become tiresome eventually.
To give you some ideas of what to do on your vacation, here are some of the best water sports you can do in the Caribbean – and the best places to do them!
Scuba Diving
Let's kick off with one of the most exciting water sports there is. Scuba diving will see you descend below the Caribbean's clear blue waters to explore enormous barrier reefs coming face to face with tropical fish and sharks. Did you know there's even a place in Belize's Hol Chan Marine Reserve called Shark Alley! Some dive sites will require you to have advanced diving certificates, but the Caribbean is an awesome place for beginners too.
Best places for scuba diving in the Caribbean: The Great Blue Hole, Belize; Jardines de la Reina, Cuba; Cozumel, Mexico; Stingray City, Cayman Islands.
Snorkelling
Snorkelling is similar to scuba diving, but it's accessible to pretty much anyone. It's an especially good activity if you're travelling with your family. Snorkelling will allow you to stay close to the surface of the water while still seeing what's underneath. Though snorkelling at the beach is fun, you're unlikely to see loads of marine life, so book onto a snorkelling day trip or tour instead.
Best places for snorkelling in the Caribbean: Curacao Underwater Marine Park, Curacao; Bird Island, Antigua and Barbuda; Buccoo Reef, Trinidad and Tobago.
Stand up Paddle Boarding
Want to truly embrace the tranquil and relaxed side of the Caribbean? Then it's stand up paddle boarding you should try. The sport is not only a great physical workout, but it has huge mental health benefits too – a total stress reliever! It's an easy board sport for beginners too, and you can even go paddling with your dog… just be sure they've got their own lifejacket.
Once you've got your bearings on the board, you could give SUP yoga a go – the perfect core workout on flat waters which will enhance your balance and stability too.
Best places for stand up paddle boarding in the Caribbean: Long Bay Beach, Turks and Caicos Islands; Cul-de-Sac Bay, St Martin; Carlisle Bay, Barbados.
Surfing
The Caribbean is one of the world's best surfing destinations, however, many tourists don't visit the region with that at the top of their itinerary. Nevertheless, there's a lot of variety when it comes to surfing beaches. From the shores of eastern Mexico and Belize, right out to the likes of Barbados and Puerto Rico, there are swells that suit all levels of surfer – from beginner to expert.
Best places for surfing in the Caribbean: Bathsheba, Barbados; Bull Bay, Jamaica; Playa Preciosa, Dominican Republic.
Kite Surfing
For most of the Caribbean, travelling between November and July means fabulous conditions for kitesurfing. There's warm water and many places have no swell or strong current. So, if you do fall off your board, you can just get straight back on. Bonaire is a particularly good place to go kite surfing as it has year-round winds.
Best places for kite surfing in the Caribbean: Cabarete, Dominican Republic; Bonaire; northwest coast of Aruba; Union Island, The Grenadines.
Jet Skiing
Jet skiing is something you can do all across the Caribbean, and it will really get the adrenaline flowing! If you're not comfortable controlling your own jet ski, there are many tours where you can be driven by a tour operator. It's just as much fun, but without any of the anxiety.
Best places for jet skiing in the Caribbean: Orient Bay, Sint Maarten; Isla Verde, Puerto Rico; Starfish Beach, Cayman Islands.
Parasailing
If you're looking for a true adventure sport, look no further than parasailing. You'll be strapped to the back of a speedboat and taken out over the open sea. As the boat accelerates, you'll go higher and higher up on the parachute. You'll get a superb birds' eye view of the blue waters below. You can sometimes get more than 1,000 feet in the air when parasailing, so this is not one if you're afraid of heights!
Best places for parasailing in the Caribbean: Brimstone Hill Foress Nataional Park, St Kitts and Nevis; Grace Bay, Providenciales.
Sea Kayaking
Similar to stand up paddle boarding, kayaking is an excellent workout for your core. It's also another perfect way to navigate the calm and blue waters of the Caribbean. Because it's quite simple for beginners, families with children can enjoy an adventure altogether, as long as they have their lifejackets. In some parts of the Caribbean, you can even do kayak tours at night!
Best places for sea kayaking in the Caribbean: Spanish Water, Curacao; Bonaire Mangrove Centre, Bonaire; Pitons, Saint Lucia; Calabrete, Dominican Republic.

Follow Sounds and Colours: Facebook / Twitter / Instagram / Mixcloud / Soundcloud / Bandcamp

Subscribe to the Sounds and Colours Newsletter for regular updates, news and competitions bringing the best of Latin American culture direct to your Inbox.
Share: