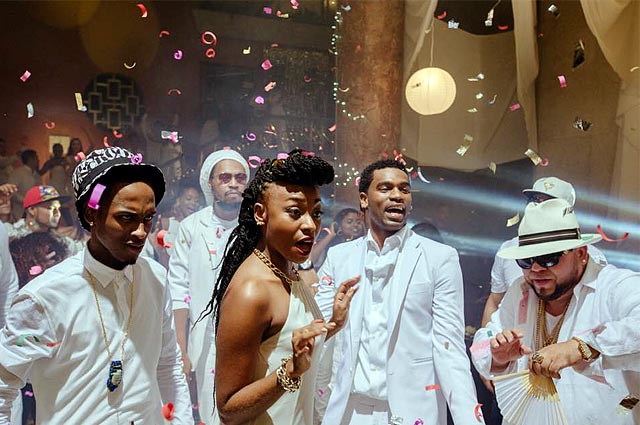 ChocQuibTown Inspire New TV Drama
06 September, 2020
Unless you live in South America, you probably won't have heard of ChocQuibTown. Their unusual name alone ought to make you curious about them, though. The veteran hip-hop trio is one of Colombia's biggest bands and has enjoyed success in their home country for twenty years. One of the reasons they've been able to stick around for so long is their ability to change and adapt. Although they were initially a 'traditional' hip hop act, we've seen them introduce electronic and even jazz influences to their style more recently. Now they're ready to take the next step in their evolution – one that's going to take them to television.
During the American Black Film Festival, it was announced that the Latin American wing of Sony Pictures Television is developing a new series under the name of 'Somos Los Prietos,' which, when translated into English, reads 'We Are The Black Ones.' Ostensibly, it's a hard-hitting drama about the meaning of being Afro-Latino from a cultural point of view, and the experience of dealing with racism in Latin America. In practice, it sounds like a promotional vehicle for the group. The project is a collaboration between Sony Pictures Television and Sony Music Latin, the label to which the band is signed. It's doubtful that the project would have been commissioned at all if it weren't for the band's involvement.
The project is currently in its very early stages, with no filming performed thus far and no deposit bonus, but some details about the plot have been made available. The story will start in Condoto, Colombia, and will follow the adventures of a friendship group of Afro-Latin teenagers as they form a band. Their ultimate intention is to be chosen to perform at a festival organized by ChocQuibTown (who just-so-happen to be their favorite band), but on the way, they'll deal with poverty, racist attitudes, and attempts to recruit them into a local militia. It's been described as a 'coming of age' tale, albeit one framed by the music of ChocQuibTown and set against a backdrop of a stark portrayal of Colombia and its attitudes towards race.
The project is a semi-autobiographical one for ChocQuibTown, who all come from the same area in Colombia and have spoken in the past about the difficulties they encountered while attempting to be taken seriously within the music industry. Their tale caught the attention of Karin Valecillos, best known for "Luis Miguel: The Series," and from there, the narrative was written. It's thought that all of the scripts for the series have been written already, and the project is now ready to move in front of the camera. It's not known how much of a role the three members of ChocQuibTown will have in front of the camera, but they're expected to make multiple appearances, and their music will form the soundtrack to the whole show.
This is, by the standards of Sony Pictures, an experimental project, and the sort of thing that we'd generally associate with Netflix. With its enormous resources, the streaming company is generally happy to take a punt on ordering a single series of a TV show in the hope that it finds an audience. If it doesn't, the series gets canceled. Sony, by contrast, generally looks for guaranteed hits. Part of this is down to the online slots model of television that Netflix created, where everything is available under one roof, and only the most popular attractions stay online. Just as an online slots player will spend their money to spin again if they don't like what they get at the first time of asking, Netflix is happy to spend again on a new idea if its first one doesn't work. Sony is generally more risk-averse. Sticking with the online slots metaphor, though, it's clear that the world could use a genuinely popular South American TV series. The presence of games like "Hot Chilli," "Amazing Aztecs," and "Samba Brazil" at online slots websites suggests that cultural stereotypes in the rest of the world could still do with updating. A hard-hitting drama with a great soundtrack could start that process if it were to be delivered correctly.
This news caps off a good month for ChocQuibTown. Just a few weeks ago, they were highlighted in Rolling Stone's 'picks of the week' under the Latin music section. One wouldn't expect to find them anywhere else, but even the fact that Rolling Stone is aware of them and is willing to share their name and their music is a sign that they're slowly gaining a foothold in the wider musical world. They may not be as young as they once were after twenty years in the music business, but they still have a lot to offer. They'll surely be hoping that their association with this Sony project will result in an explosion in their popularity. The track that Rolling Stone picked up on was, by the way, "Que Lastima," featuring up and coming Panamanian performer Sech, and infused with a reggae sound. We agree with Rolling Stone's assessment of the track; if you haven't heard it, it's worth seeking out for a play.
We don't currently know when "Somos Los Prietos" will reach our television screens. Based on the lengthy process that a modern television show goes through in terms of filming, production, and development before it airs, we think it would be foolish to suggest that we'll see anything this year. Even the first half of 2021 is unlikely given the difficulties that currently face television production studios around the world. We think that we'll finally get to find out what all the fuss is about some time toward the end of 2021, when hopefully the current global nightmare is nothing more than a distant memory. We'd love it if racism were a distant memory by that point too, but sadly we think it's unlikely – and based on its description, we expect this show to have some very insightful things to say about it. Alejandro Jiminez, the Vice President of Sony Music Latin, recently said that diversity is Latin culture's biggest advantage. This TV show might shine a light on the other side of that suggestion, and we suspect it might occasionally be uncomfortable viewing.

Follow Sounds and Colours: Facebook / Twitter / Instagram / Mixcloud / Soundcloud / Bandcamp

Subscribe to the Sounds and Colours Newsletter for regular updates, news and competitions bringing the best of Latin American culture direct to your Inbox.
Share: