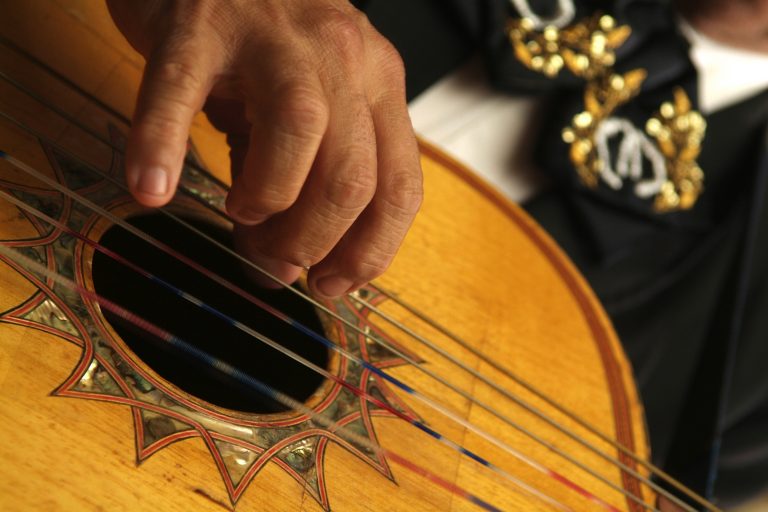 Choosing a Guitar for any Latin American Music
22 October, 2021
Latin American Music usually comes from Romance-speaking countries, and the term usually covers a wide range of different music styles; merengue, rumba, salsa, samba, tango, bossa nova, and many more. The aim of Latin music is traditionally to enable dancing of different styles. Colorful outfits, instruments, and a rich array of different sounds are all reasons why Latin music is its own culture and has been known to bring people together. If you're thinking about playing Latin American Music, and don't know where to start, we have some pointers for you. These are some things to consider before purchasing a guitar for Latin American music, as well as some suggestions on which would be the most appropriate for you.
A classical guitar is a name given to the precursor to the more modern style of guitars widely used today. The main difference is that it has nylon or gut strings compared with regular metal. Nylon strings are thicker and create a more mellow, softer sound than steel strings. This is where the sound varies a lot. Another option is a flamenco guitar. Fitting with the style of music, flamenco guitars are made to enable faster and easier playability. There is a strong "buzz" sound created by flamenco guitars, which doesn't appeal to other players, but adds to the overall hum of the fast-paced music. For a larger range of guitar options, check out Fender Telecaster.
Things to consider
These are some things to consider when purchasing a guitar for Latin American music. It really depends on the kind of Latin music you are wanting to play, but classical guitars are the more versatile option.
Budget- Guitars can be fairly pricey if you aren't careful. Of course, they are certainly worth the investment, but if you are looking for something that is more for leisurely use, you might want to consider more affordable options. Second-hand stores or thrift stores always have some great finds, including musical instruments. You could even try looking on local forums if anyone wants to organize trade for a classical or flamenco guitar.
Use- This links back to price, and can be more expensive if you want to use it a lot. But if you're going to seldom practice, then it might be worth considering purchasing a regular modern acoustic guitar. This would allow you to try out different musical styles and find which you enjoy playing the most. Of course, this doesn't necessarily apply to you if you are already familiar with guitars and are simply wanting to branch into the world of Latin American music.
Storage- If you already have a guitar case, you might want to measure it and see if a classical or flamenco guitar would fit comfortably in it. An important thing to consider is where you plan on storing your guitar. For example, guitar shelves or racks are readily available online, but it is up to you to decide how to best keep it safe and prevent any damage. A great idea is to keep it covered if you aren't going to be using it often, to keep dust from gathering on it and sheltered from the elements.
Accessories- cases, guitar picks, amplifiers, and spare strings are all essential if you are considering serious practice and improving your guitar game. There are some great ideas on the site linked above on how to find the best accessories for you. Depending on what you already have and what kind of musical experience you are looking for, a case might be a great investment. Not only will it keep your guitar safe and protected, but it will also enable easier transport and a more mobile option. Make sure that you research which cases are easiest to carry or even wear on your back.
To summarize, a classical guitar offers a great combination of mellow, soft tones and the versatility of a regular acoustic guitar. Nylon strings are a great thing to stock up on if you are considering playing Latin American music because they are an essential part of the tones created. Some things to think about before purchasing a guitar are use, budget, and how you plan to store it. A flamenco guitar is designed to be more mobile, and easier to hold upright while standing. However, they do not offer the same range that is available with a classical guitar. For that reason, a classical guitar with nylon strings is probably the best option for any Latin American music.

Follow Sounds and Colours: Facebook / Twitter / Instagram / Mixcloud / Soundcloud / Bandcamp

Subscribe to the Sounds and Colours Newsletter for regular updates, news and competitions bringing the best of Latin American culture direct to your Inbox.
Share: