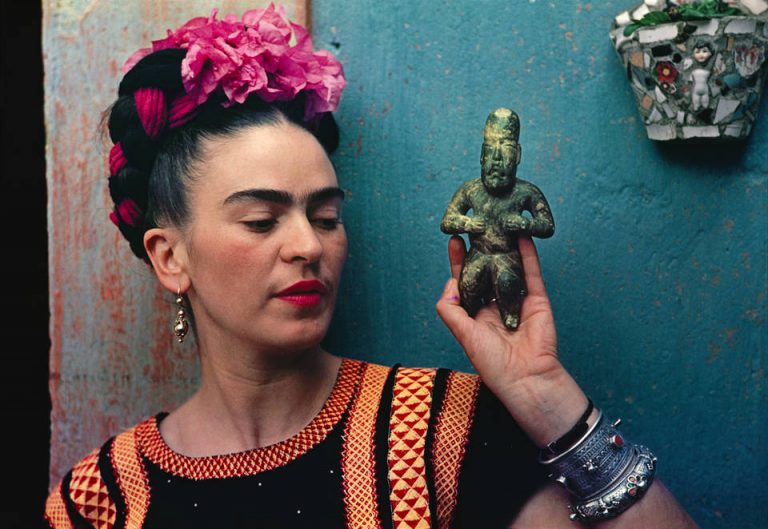 'Exhibition On Screen' Returns With A Closer Look At Frida Kahlo
26 October, 2020
For art lovers all over the world, the "Exhibition on Screen" series of films has been a treat for the past few years. The movies, which are shown in brief runs in a handful of arthouse cinemas and movie theaters all over the world, bring us closer to the artists we love and admire. While they might not be able to showcase any new paintings for us, they allow us to place the greatest works of our favorite artists in context and shed new light on the thought processes and emotional states that went into the creation of some of the world's greatest works of art.
In the past, we've seen the series tackle some of the most beloved and well-known figures in art history. The most popular films so far have been "Leonardo: The Works" and "Vincent van Gogh: A New Way Of Seeing." That's probably not surprising; Leonardo da Vinci and Vincent van Gogh both have strong claims on being the most celebrated artist in history. They're so famous that their art has found its way onto online slots websites. We're not going to pretend that online slots websites are places we should look to for high art, but the fact that the people who make games for them thought da Vinci and van Gogh might hold box office appeal for online slots players is fairly remarkable. They're the 'rock stars' of art, and probably always will be. The latest artist to be celebrated with an "Exhibition on Film" movie might not have their own money casino, but they're no less worthy of celebration because of that. We are, of course, talking about Frida Kahlo.
To those who admire Frida Kahlo – of which there are several million – she's more than just another painter. She's a feminist icon and a champion of the culture and traditions of Mexico. We mentioned online slots a few sentences ago, and if you want a representation of how the USA and Europe think about Mexican culture, you need look no further than the depictions of the country and its people in the range of Mexican-themed slots you'll find on those websites. Kahlo challenges that perception with her frank, honest, and beautiful work. This movie is a celebration not only of her status as a champion of the people but also of her life away from the canvas. One of the main reasons that the film succeeds so well (it's received broadly positive reviews elsewhere) is that it manages to strike a balance between championing her work and examining the finer details of who she was as a person and what she believed in.
As the film notes several times, the answer to the question of who Frida Kahlo really was has been masked by the idea of "Fridamania" – an explosion in the popularity of her work thirty or forty years ago that made her name famous but turned her almost into a cartoon character. If you're expecting something as grandiose as that – a relentless listing of her incredible achievements and the incredible story of her overcoming severe injuries sustained in a bus crash – you're not going to find them here. This is a more intimate portrait of Kahlo – one that serves the rough with the smooth, and has as more detached and reserved tone because of it. It will leave you in no doubt that she was an incredible artist who deserves more recognition than she has today, but it will also leave you in no doubt that her life was difficult, unfair, and frequently unhappy.
Aside from picking over some of the lesser-known facts of Kahlo's life, such as the miscarriage she suffered in Detroit, which eventually led to her becoming the first artist to use menstrual blood as a medium on canvas – the film attempts to contextualize her work against the backdrop of Mexican painting in general. You'll find far more discussion about retablo painting in this film than you're likely to in any other documentary you've ever seen about Frida Kahlo. Kahlo was inspired to become an artist because of her obsession with this traditional form of Mexican street art. She had an enormous collection of it, and when you place some of it side by side with her own work, it becomes apparent how much influence it had over her own style. That begs the question of while she may have been entirely unique as an individual, was she really all that unique as a painter? We're still leaning toward 'yes,' but after watching this, you can't help but feel that there's more imitation than innovation in at least a few of her best-known pieces.
If you go into this knowing a lot about Kahlo's life and the work that she did, you should find out a few things you didn't know before and possibly come away with a new perspective on her career as an artist. If you're less familiar with her, this would be an excellent way to build familiarity. It's not the only new Kahlo-related product that's become available in October 2020 – we've read and enjoyed the quirky book "What Would Frida Do?" by Arianna Davis, and we agree with the statement on the cover that it's "a guide to living boldly." The book makes a brave attempt to simultaneously explore Kahlo's history and legacy while simultaneously attempting to extrapolate advice from her work and make it relevant to young people living here and now. It's abstract, and not everyone will find it to be accessible. Almost anybody can sit and watch a film if it's well put together, though, and we're pleased to report that this latest installment of "Exhibition on Screen" meets that description equally. If it's available near you, or you're able to find it through a streaming service, we strongly suggest that it's worth you taking the time out of your day to sit down and watch it.
While the series doesn't currently appear to have any plans to feature other South American artists in the near future, we remain hopeful that things may change – especially if the Frida Kahlo film proves to be popular. Should there be anything more to report on this front, we'll be sure to let you know here.

Follow Sounds and Colours: Facebook / Twitter / Instagram / Mixcloud / Soundcloud / Bandcamp

Subscribe to the Sounds and Colours Newsletter for regular updates, news and competitions bringing the best of Latin American culture direct to your Inbox.
Share: