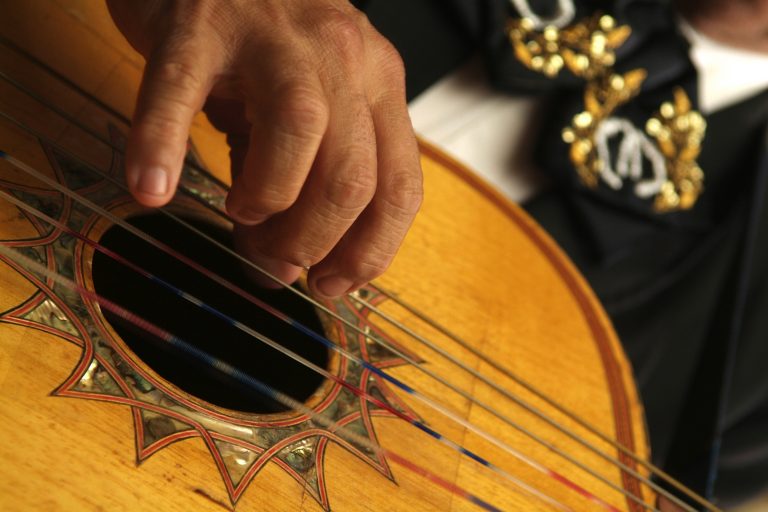 Five Best Spanish/Classical Guitar Players
29 March, 2021
While many people think of rock and roll players screaming on electric guitars when you talk about guitarists, there is of course another style that makes people move!
Some call them Spanish guitars while others call them classical guitars, but either way they have a timbre all of their own, and work incredibly well with all styles of Latin music. Typically played purely with fingers (though some do rely on thumbpicks), the sound and style is decidedly more earthy than what you would expect from the Eddie Van Halens of the world.
In this post we'll tell you about five of our favorite players from across the years – check them out if you want to hear this style of guitar at it's best.
Paco de Lucía
Known for being a pioneer of the new flamenco style, Paco de Lucía is one of the most celebrated Spanish guitar players. De Lucía took the all of the classical elements of flamenco music and guitar playing, and then added elements of classical guitar as well as jazz to move the music forward as an artform.
Rare for Spanish guitar players, his approach drew him some measure of mainstream success, and a career that spanned from the 1960s right up to his death in 2014. Awarded a posthumous grammy award, de Lucía was known for his fast and fluent picados (fingerstyle runs), and often juxtaposed picados with more sensitive playing, adding elements of Latin jazz fusion to his playing to create a style of his own.
Truly a great.
Paco Peña
On the other end of the scale from Paco de Lucia is the living legend that is Paco Pena. While de Lucia focused on moving flamenco forward, Peña is known as one of the world's foremost traditional flamenco players, paying respect to and perfecting the traditional style of playing rather than attempting to advance it in any way.
A native of Cordoba, Spain, Peña moved to the UK in the 60s to give himself a new challenge. While people in the UK were generally unfamiliar with flamenco music, within a few years Peña found himself sharing the stage with artists such as Jimi Hendrix, going on to tour the world and even headline Carnegie Hall, the Royal Albert Hall, and many other prestigious stages.
Now nearing his 80s, Peña is much less active, but still a giant in the world of classical and Spanish guitars.
Vicente Amigo
When people talk about the style of Vicente Amigo, quite often the word they use is "fearless".
While much of Amigo's success comes from traditional Spanish and flamenco playing, he frequently collaborates with artists from way outside of that world, and then brings that knowledge and those techniques back to his traditional playing.
Amigo also has several latin grammy awards such as for his 2001 solo album Ciudad de las Ideas, though he is primarily known for his work as an accompanying guitarist to flamenco singers such as Camaron de la Isla and Luis de Cordoba.
Juan Martin
While our first three guitarists are primarily known for their music, Martin is much better known for the many books he has written about Spanish guitars in his quest to bring the instrument to the fingers of as many players as possible.
Originally from Malaga, Martin moved to Madrid at an early age to study under Paco de Lucía, later moving to London to develop his music career.
While he did see some success, recording with Herbie Hancock and Rory Gallagher, it's his textbooks on flamenco playing that he is known for , such as the classic El Arte Flamenco de la Guitarra, a series of books and tapes that inspired a generation of guitarists to pick up the style.
Jose Luis Encinas
The last on our list is also the youngest on our list, though at 55 years old, maybe not "young"!
Encias picked up the guitar at the tender age of 13, and in 1997 released his solo album which immediately became a gold record in his native Spain, as well as selling over a hundred thousand copies in the US.
Encinas enjoyed continued success with his music through the 90s, becoming something of a star, though these days he lives a more modest life, still playing the guitar but not quite on the stages that he used to.
Conclusion
While it might not be the guitar you'll see every day on MTV (depending on the part of the world you're in), there's no doubt that a classical guitar has a sound all of it's own, and some of the most accomplished players the world over.

Follow Sounds and Colours: Facebook / Twitter / Instagram / Mixcloud / Soundcloud / Bandcamp

Subscribe to the Sounds and Colours Newsletter for regular updates, news and competitions bringing the best of Latin American culture direct to your Inbox.
Share: