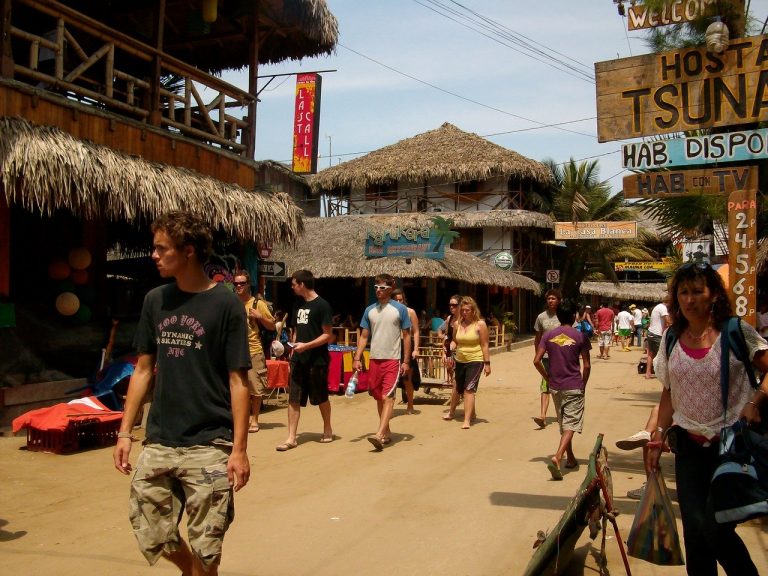 Four Latin American Hotspots You Need To Visit
16 December, 2019
There are few parts of this world that are equal parts zesty and earthy; hospitality-driven and culturally authentic; forward-looking and steeped in history. Latin America embodies all these odd tensions and more. If nightlife is your thing, it's really hard to beat Latin America. It's filled with steamily eccentric uniqueness, and every evening you spend out on the tiles will be one you remember.
And if you can muster the energy after being up all night, Latin America is wonderful for conventional day tourism as well, provided you hydrate and slather on the sunblock from Rodan + Fields. Here are four Latin American hotspots you should visit at least once before you're old and pruney.
1. Montanita, Ecuador
Montanita was a Mecca for hippies back in the sixties. Since the Age of Aquarius, this tiny fishing village has grown from niche surfing locale to one of the most desirable nightlife hotspots in Latin America. These days, this town is a melting pot. People from every corner of the globe converge on Montanita to frolic with abandon beneath a sultry moon… or something like that.
The city is writhing with choices, from cuisine to nightspots to beaches. But the thing that makes Montanita most memorable is a remnant of its peace-loving Hippie era. The culture is deeply, fiercely, unapologetically tolerant. Montanita isn't just a place to party. It's a place to party while being who you really are. And sultry moons or nay, that's pretty damn cool.
Pro-tip for the health-conscious: Drink water in Montanita. Seriously, don't go anywhere without plenty of drinking water close to hand. The climate is deceptive, and day or night, you'll dehydrate quicker than playdough on a hotplate.
2. Cusco, Peru
Cusco (alternatively spelled Cuzco) in Peru is one of the most visually dramatic places on earth. High up in the Peruvian Andes, the sky closes in on you with icy blue inevitability. As you walk the streets of Cusco, you feel surrounded by exotic Spanish architecture, hints of conquest long past. But beneath those graceful Spanish lines, you'll catch glimpses of something more ancient and brutal: the verdant reds and distinctive geometric forms of the Incans. It's a colorful, surprising, disorienting place.
In broad daylight, Cusco is a place you'll always remember. But at night, the sights, sounds (and let's face it, the altitude) weave an intoxicating incantation. There are bars and nightspots everywhere, but be sure to set foot in the Mushrooms Lounge and Bar.
It's a lively, upbeat bar, right in the heart of things. It has something of a night club feel, but the place is full of cozy corners to sit back with a Pisco sour and let the evening crash over you.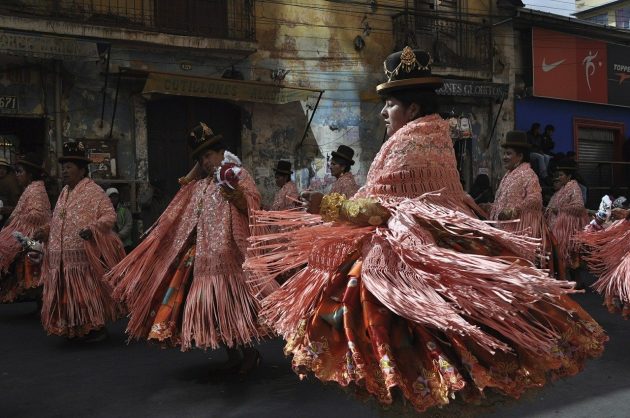 3. La Paz, Bolivia
At just over 11,000 feet, the altitude of Cusco will wear you out. But at an elevation of close to 12,000 feet, you simply can't visit La Paz Bolivia without light-headedness and shortness of breath being part of your experience. Dealing with the strange effects of altitude is part of being here, just like the smell of tangy salt air is part of visiting a tiny island in the Pacific.
Oddly, it's amazing.
Dancing can feel almost trance-like, and alcohol will kick harder than an existentially distressed mule wearing uncomfortably tight underpants. It takes some getting used to, but once you embrace this odd reality of stomping near the rooftop of the world, it's part of what makes this little corner of Bolivia so fascinating and memorable.
There are better bars in La Paz than you can count. Each has its own personality, history, and style. I feel like I'd be betraying half a dozen treasured places to recommend just one, so the best I can say is spend time here. Explore. Turn left where yesterday you turned right.
And never rush in La Paz; the elevation will punish you if you try.
4. Montevideo, Uruguay
You may not have heard of Montanita, Cusco or La Paz. But you're probably at least passingly aware of Montevideo. Uruguay's capital is prosperous, slick and rich with architectural heritage. Parque Rodó, a barrio on the outskirts of the city, is where you should go if you're looking for plenty of clubs and bars. But you'll want to be extra careful if you don't know the city well. Take all the usual precautions.
If you're looking for a more cultural uplifting experience, book an evening at the Teatro Solís, the most prominent and visually stunning theatre in Uruguay. Just watch anything. The draw is being there!
Latin America is a part of the world you should visit at least once in your life. While there's something for everyone, the stereotypes are undoubtedly true. People from that part of the world know how to enjoy themselves! If in doubt, just grab a drink, sit back and absorb the local flavor.


Follow Sounds and Colours: Facebook / Twitter / Instagram / Mixcloud / Soundcloud / Bandcamp

Subscribe to the Sounds and Colours Newsletter for regular updates, news and competitions bringing the best of Latin American culture direct to your Inbox.
Share: