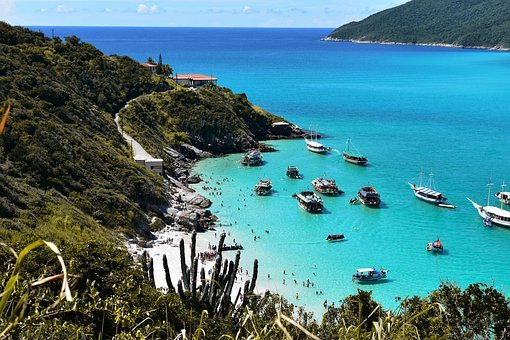 Higher Education in Brazil
03 December, 2021
What can you expect from a country of incendiary samba and bright carnivals, football, capoeira, and white pants when it comes to higher education? In this sphere, everything is quite strict and serious. Many students find the study program in Brazilian universities quite challenging, so they find professional essay writers and pay for essay online.
We offer you to get acquainted with the higher education system and educational institutions of this beautiful Latin American country.
In total, there are 93 universities in Brazil, 78% of them are private. They specialize in teaching in the humanities. But at the same time, federal and state educational institutions remain the strongest and most prestigious. Their most common areas are engineering, technical and medical disciplines.
Education system
The higher education system of this country does not have the usual bachelor's and master's degrees. They are replaced by graduacao – the first stage and pos-graduacao – the second stage of training. And only after that you can start getting an academic degree – mestrado and doutorado. In addition, there are short-term courses. They are designed for high school graduates. Their goal is to prepare as quickly as possible for work that requires practical skills.
The academic year in Brazil begins in February. Each university has its admission procedure for applicants. Some take into account the grades they received in high school, while others prefer an oral interview. It is important for foreign applicants:
speak Portuguese,
have health insurance,
have a certain amount in a bank account necessary for living (determined by each university individually).
Brazilian admission exams
Every year more and more federal universities refuse standard internal examinations and adhere to the unified state admission system – SiSU (Sistema de Seleção Unificada), or the System of Unified selection – admission of applicants based on the results of ENEM (Brazilian Unified State Exam).
This exam is held once a year (late October-early November) for two days (Saturday – Sunday). Registration for it is carried out only online in May-June. This exam includes all subjects, not just mathematics and language. ENEM consists of 180 questions in a test form with five answer options, divided into 45 for each of the four modules:
mathematics
humanities (history, philosophy, sociology)
natural sciences (chemistry, physics, biology, geography)
languages (Portuguese, a foreign language to choose from – English or Spanish and literature)
Each question is preceded by a text, large enough, which introduces the applicant to the topic to which the question is devoted. Here the emphasis is on speed, the ability to read the task, and the ability to apply it to a real-life situation. In addition, students need to write an essay in Portuguese.
On the first day, potential students take humanities and natural sciences (90 questions). The exam time is 4 hours and 30 minutes. On the second day, everything else is languages, mathematics (90 questions + essay). 5 hours and 30 minutes are allocated for all this. On each of these days, half an hour is given to fill out forms, which means that the net time for answering questions and writing is 4 hours and 5 hours, respectively. The main difficulty of ENEM is a large number of voluminous questions and limited time.
The results are evaluated on a 1000-point scale. All modules have their maximum score, which is calculated according to the TRI system. That is, each subject is evaluated on a 1000-point scale (for example, languages and literature – 800, mathematics – 950, natural sciences – 770, humanities – 690, and essay – 1000), then the arithmetic average and the overall score for the exam are displayed. An entrant who scored 800 points or more passed ENEM with "excellent". On the SiSU portal, you can view the tests of previous years to assess your capabilities.
Studying in Brazil
Higher education in Brazil: tuition fees
All state universities teach free of charge, and the cost of studying at a private university costs about $200 per month on average. At the same time, particularly talented and active students can apply for a scholarship or grant. All students pay for accommodation and study materials on their own.
Universities in Brazil
The field of education in Brazil in the matter of admission of foreign applicants is not yet so flexible compared to European or American. It is much easier for citizens of Latin American countries to enroll than for Europeans. And this is primarily because the official language here is Portuguese, which is not spoken by every foreigner. And the global pattern of educational institutions is such that the fewer training courses in English in the country, the less interest is shown in local education. But despite this, today there are universities in Brazil that are open to foreign applicants.
University of Sao Paulo
One of the best universities in Brazil. Training courses are held in all directions. Most of the faculties are located in Sao Paulo, and some of them are in other cities of the country. In Bauru – the Faculty of Odontology, in Loren – the Technical School, in Piraxicaba – the Center for Nuclear Energy in Agriculture, the Luis de Queiroz Higher Agricultural School, in San Sebastian – the Center for Marine Biology, and so on. Studying at the university is free and lasts from 4 to 6 years.
The University's Foundation for Entrance Exams (Fuvest) annually publishes the requirements for applicants, which can be found here.
IED – Istituto Europeo di Design Rio de Janeiro
In each branch of the university (Brazil, Italy, and Spain), the number of international students is about 20-25%. Students get the opportunity to participate in fashion shows, international competitions, and cultural events, as well as organize their fashion shows, following which the best can receive an offer of cooperation with world fashion houses. Graduates of the university receive two diplomas at once: one accredited by the Spanish Ministry of Education, the second by the University of Westminster (UK), which makes it possible to enroll in a master's degree at any European university.
Higher education in Brazil
The training takes place in one of three languages: English, Spanish or Italian. Six-week Spanish language courses are mandatory before Spanish language training programs. The duration of study is from 3 to 4 years, and the cost varies from 8,100 euros to 15,000 euros per year.
The University imposes many requirements for applicants:
availability of a copy of the certificate or diploma of higher education translated into English or Spanish and notarized;
The level of English is TOEFL iBT 60 or IELTS 5.0, the
level of Spanish is advanced. It is necessary to have a certificate from Spanish language courses;
You also need to provide a CV (autobiography) in the language in which the training will take place, a motivation letter, and preferably attach a portfolio of 10 works with a description in English (articles, research papers, reports, and so on).
Universidade Santa Úrsula
The University offers training in many programs: biological sciences, architecture, law, construction engineering, electrical engineering, mechanical engineering, and psychology. You can learn more about each of them on the university's website in the section CURSOS DE GRADUAÇÃO. The list of entrance exams is published annually on the same Internet resource, which can be downloaded as a single document.
The Coppead Graduate School of Business
The School offers two types of study programs. These are Graduate (Full-Time) Programs, which includes an MBA program (designed for 18 months), postgraduate studies for 4 years, and Executive Education
Programs: Specialization Programs are designed for 10 months, Advanced Programs of average duration from 20 to 40 hours, Professional Improvement Programs are designed for 180 hours, 10 months, Pre-experience Programs for 60 hours, 10 months and Corporate programs. Each of them has its requirements for applicants. For a master's degree, it means having a bachelor's degree, research experience, and knowledge of English and Portuguese. To enroll in postgraduate studies (Ph.D.), a candidate must pass the ANPAD, IBT TOEFL, or GMAT test and be sure to register on the website.
Higher education in Brazil: prospects for international students
First of all, those who want to move to this country should enroll in a Brazilian university. More and more Brazilian universities are getting into the top 500 of the world university rankings, and the country's economy is developing rapidly. And this means that university graduates have a lot of opportunities to build their careers. Studying here provides not only education but also the practice of the Portuguese language, which is important when looking for a job.
Foreign professional specialists are in great demand in Brazil. Mainly because until recently there was a large percentage of the uneducated and illiterate among the local population in the country. Child labor is widely used here.
And another plus for graduates of Brazilian universities is the opportunity to naturalize and get permanent residence. If a foreign citizen has been living in the country for 4 years on legal grounds, he can obtain permanent resident status. Accordingly, a student after 4 years of study has the opportunity to immigrate to Brazil legally.

Follow Sounds and Colours: Facebook / Twitter / Instagram / Mixcloud / Soundcloud / Bandcamp

Subscribe to the Sounds and Colours Newsletter for regular updates, news and competitions bringing the best of Latin American culture direct to your Inbox.
Share: