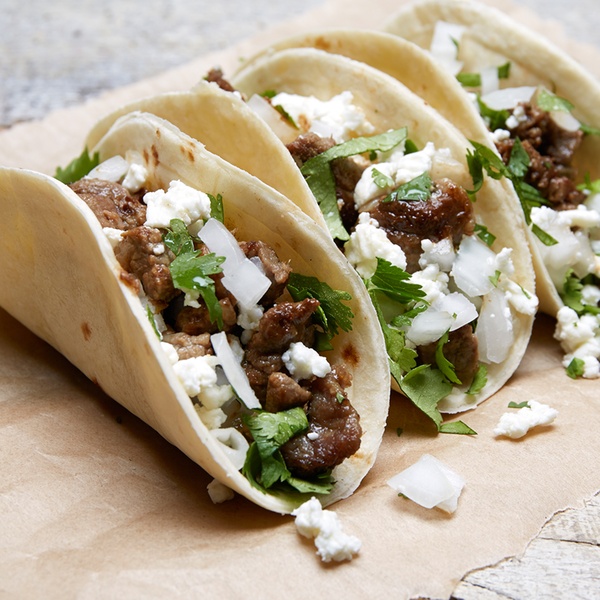 How to Make the Perfect Taco
29 October, 2019
Mexican food has turned out to be one of the most popular cuisines our planet has to offer. And it's difficult to talk about Mexican food without making reference at some point to its most famous export: the taco.
The simplicity of the concept—meat, vegetables, and condiments wrapped in either a soft or a hard shell—allows enthusiasts scope for a ton of creativity. In today's article, we'll be delving into what exactly constitutes the perfect taco. Read on to discover the must-have essentials, as well as a few tips for when you're making food for a group of your friends.
The Recipe
You may not know where to start when it comes to taco creation, so here's a quick tip—begin by going to the supermarket, since you're going to need a few ingredients.
Ingredients
Rice (as much as you want)
3 cans black beans
Salsa
3 tbsp cider vinegar
1 ½ tbsp honey
3 garlic cloves
1 ½ tbsp paprika
1 ½ tbsp ground cumin
4 corn tortilla shells
Pickled red onions
Cheese (cheddar is fine if you do not like other types)
Guacamole
1 tbsp vegetable oil (for the cooking)
Plain yogurt (or sour cream, if you prefer)
Once you have purchased everything and arrived home, your tacos will be ready in no time if you follow this method.
Method
1. Double-check you have everything you need. 
2. Peel the garlic cloves and chop them up very finely. 
3. Open the cans of black beans with a can opener.
4. Drain them. 
5. Heat up an electric frying pan with the vegetable oil in it. 
6. Once warmed, add the chopped garlic.
7. Fry like this until the garlic turns a golden color. 
8. At this point, add all the black beans. 
9. Pour the cider vinegar, honey, and spices into the pan too. 
10. Add salt to taste. 
11. Cook this, stirring when needed until everything is warmed through.
12. Take off the heat. 
13 .Warm the salsa up in the microwave (or on the stove if you prefer). 
14. Heat up the tortilla shells in the microwave or on the top shelf of a warm convection oven for only a couple of minutes. 
15. Check to see if the bean mixture is still warm. If it isn't, reheat. 
16. Now you are ready to serve.
17. Put a couple of dollops of the bean mix into the tortillas. 
18. Add a spoonful of salsa, guacamole, and sour cream or plain yogurt to the top.
19. Grate some cheese over it. 
20. Et voilà! 
Cooking For Two (Or More)
Following this guide, you will (hopefully) have made the tacos of your dreams. However, what if you don't want to go to the supermarket? Or if you're cooking for a large group of people?
First of all, we understand completely! Sometimes none of us want to go out to the shops, even to buy ingredients for the world's greatest tacos.
Secondly, a lot of the time, cooking is something that not many of us would like to do after a long day of hard work, especially if you have to cook for more than a few people.
Where to Get the Best Taco in Mexico City
Now that you know exactly how a taco is made, it would be a great choice to know exactly where you can get the best Taco. Mexico City is undoubtedly one of the places known for making a sumptuous taco.
Apart from making delicious and high-quality taco with the best ingredients, there are a number of other things Taquerias and other Taco outfits offer. Some of them offer catering and food delivery to make people's lives easier.
Organize your event, order your tacos, enjoy and pay the bill – Best restaurants facilitate this with an always-available phone number and some easy payment system so you can just sit back and relax!
Here we will cover the places by deliciousness and how good they are at making actual tacos – So if you are ever in Mexico City, here are a number of the best Taco places that you should definitely check out:
1. Tacos de Canasta Los Especiales
Tacos de Canasta Los Especiales is located at 71 Av Francisco I. Madero, Centro Histórico, Mexico City, 6000, Mexico.
This Taco outfit is prominently known for its tasty taco, Tacos de Canasta to which sumptuous filling is added before it is then steamed.
In addition, they sell other types of delicious taco including potato, refried beans, green mole, beef in adobo and chicharron.
2. Taqueria el Greco
This late-night spot offers you a variation on Tacos – it includes an amazing Mediterranean hint. In place of the corn tortillas which are used in the majority of tacos, Taqueria el Greco makes its tacos with light, chewy pita.
Unlike other taco types where you have to consume up to four or five, a single taco from here can be very filling – especially if it comes with a heap of cheese.
3. Cervecería de Barrio Polanco
Cervecería de Barrio Polanco can be found standing dominantly at Polanco – a pretty upscale neighborhood. This bar is known for its awe-inspiring architecture which comprises of vines covering the walls and ceiling – and not in a creepy way.
Apart from the architecture, their Tacos are literally amazing. And as a tip, you want to try the fried marlin al pastor tacos, their version guarantees that you would want more.
4. Coox Hanal
To enjoy some great tacos de cochinita pibil which is basically slow-roasted suckling pig in a citrus-achiote sauce, Coox Hanal is one the best spots to get this. Notably one of the most popular spots in Centro for Yucatecan food, Coox Hanal makes some of the most delicious tacos that you would ever taste.
Although the name may sound like a little play on words, the taco definitely makes up for that. To enjoy your taco maximally, remember to add habanero peppers, the usual lime-soaked onions and a bit of salsa.
5. El Califa
El Califa is pretty popular, especially amongst chefs. They close very late and are known to stay open until around 4 a.m – it is an exciting atmosphere every single night. One notable thing about El Califa is the quality of their Taco.
The beef is mixed with the best of chilis available in Mexico and then slowly, yet carefully cooked in a Mexican grill. For their Tacos, this process is not skipped either. If you are here, you should try out the charred, spit-roasted al pastor.
There's really no way to have some cash in your pocket and stay hungry in Mexico City. And, you'll experience something that will make you go back there again as it is really hard to find such a good taqueria outside of Mexico. It's like the taste of the place is one crucial ingredient.

Follow Sounds and Colours: Facebook / Twitter / Instagram / Mixcloud / Soundcloud / Bandcamp

Subscribe to the Sounds and Colours Newsletter for regular updates, news and competitions bringing the best of Latin American culture direct to your Inbox.
Share: