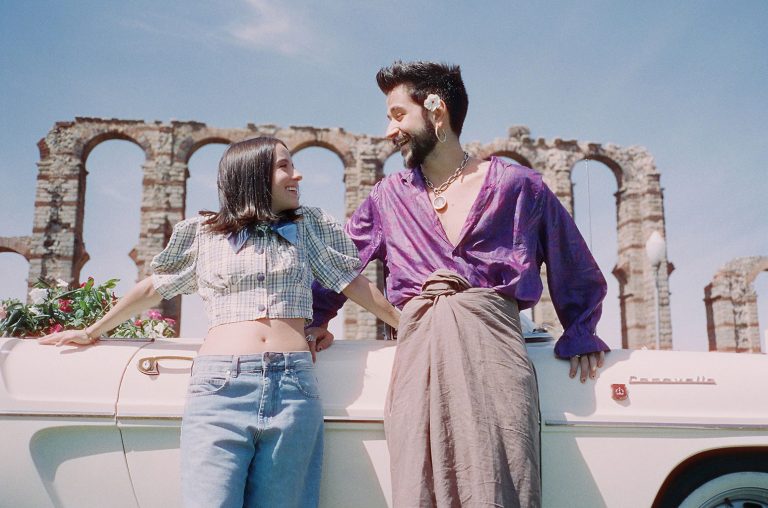 Cristian Saumeth
Indigo Songs That Speak To Our Truths
22 February, 2022
At Sounds and Colours, the only thing we love more than celebrating Latin American music and culture is sharing insights about our very name – the sounds and colours that make up the fabric of our fun-loving Latin American society.
Sometimes we get lucky and get to do both at once. Today we're taking a deep dive into the colour indigo… you'll soon see why!
Índigo ~ Camilo & Evaluna Montaner 
Closing in on 130 million YouTube views, Indigo is the Colombian singer Camilo's smash hit from his third album Mis Manos. It's a charming song with a catchy refrain that cries out to be played on repeat at a summer barbecue or block party. 
Camilo Echeverry and his wife Evaluna Montaner deserve all the love and success that comes their way. After all, they've shared their journey with adoring Latin fans every step of the way in their music videos and on their social media accounts. And they've done so with a romantic sensibility and urbano edge that makes their music hard not to fall in love with.
Camilo describes himself as "an honest singer who uses love as a reason for his songs." In February 2020 he married someone with good South American music in her genes: Evaluna Montaner is the daughter of Ricardo Montaner, the Argentine-Venezuelan singer-songwriter. She is also the sister of reggaeton duo Mau y Ricky. She is also the mother of their first child together, Indigo.
"I had to wait nine months for you" are the lines that Evaluna sneaks in that give it away to the listener. And what a way to announce that you're pregnant: with a hit for the ages, to celebrate a love in the pop pantheon that is as sweet a duet as you'll ever hear. We are smitten!
Mood Indigo ~ Duke Ellington
Famous for his appearances at the Cotton Club in Harlem, Duke Ellington was the leader of arguably the best jazz orchestra in the history of jazz. And when you're playing the blues, it makes sense to write a song called indigo!
Mood Indigo is unique in that the trombone hits the high notes and the clarinet is presented at the bottom of its register, creating an unusual sound. Instruments from different families were blended together instead of being blocked off, as if they are competing with each other. Check out his version here to get a sense of his musical genius and range.
NPR (National Public Radio) named Mood Indigo as one of the 100 most important recordings in America in the 20th century. It's been covered by other musical greats such as Frank Sinatra and Ella Fitzgerald. You haven't been blue until you've been through mood indigo…
Indigo ~ Peter Gabriel
Once the lead singer of rock band Genesis, Peter Gabriel enjoyed a solo career with his single "Sledgehammer" winning a record nine MTV Awards in 1987.
Like Duke Ellington who embraced the phrase "beyond category" when it came to refusing to be boxed into to any one particular music style, Peter Gabriel was a champion of world music and co-founded the international arts festival WOMAD in 1982.
Some of the best musicians use their stage to promote greater tolerance and acceptance for music that originates from outside of what is considered the mainstream. At Sounds and Colours we take our hat off to artists that have paved the way for greater acceptance of the Latin American sound.
Indigo is sung from the perspective of a man on his deathbed. "Alright, I'm giving up the fight" he croons. Indigo is the last colour before black, the transition to the total darkness of death. The song originated from an instrumental that Gabriel first performed in 1977, called "A Song Without Words". There is a heavy synthesizer feeling to the man's deathbed soliloquy as well as the unmistakable sound of a recorder.
Indigo ~ Asher Laub
We're showing solidarity with our Caribbean royalty Rihanna by choosing to ignore her ex, Chris Brown's pop song Indigo. Instead, we're rounding off our list with something a bit special, something a bit unique.
Asher Laub's Indigo is a cover of the Camilo hit, featuring the New York based electric violinist playing to his heart's content on a lake in the middle of nowhere. It's winter, but it's heartwarming. It posits the violin up front and centre, showcasing just why we love this hook so much.
Gone are lyrics; instead you hear a soothing strings sound that adds a new dynamic to the Camilo hit. Covers are a genre all of their own in the storied history of pop music. Frank Sinatra "did it my way", but he also covered Duke Ellington. Some of the best working musicians around are covering their favourite artists as if to celebrate their own musical influences and acknowledge that we all live in the same cultural melting pot.
Asher Laub is on the road in a post-pandemic landscape, tearing up concert stages, and dancefloors at corporate events and weddings, from Manhatttan to Long Island, Westchester to Brooklyn and everywhere in between. Cultural celebrations are more important than ever as we look to infuse sound and colour into our party lives as we shake off the past two years and come together as a community.
Indigo as a colour is a blend of blue and violet, that is considered knowledgeable, uplifting, and kind. It is the colour of intuition and integrity. We trust that Camila and Evaluna's baby will inherit the colour's character traits, and we hope that you get to enjoy the colour indigo, as well as all the other colours in the rainbow, in all the songs that you listen to.

Follow Sounds and Colours: Facebook / Twitter / Instagram / Mixcloud / Soundcloud / Bandcamp

Subscribe to the Sounds and Colours Newsletter for regular updates, news and competitions bringing the best of Latin American culture direct to your Inbox.
Share: