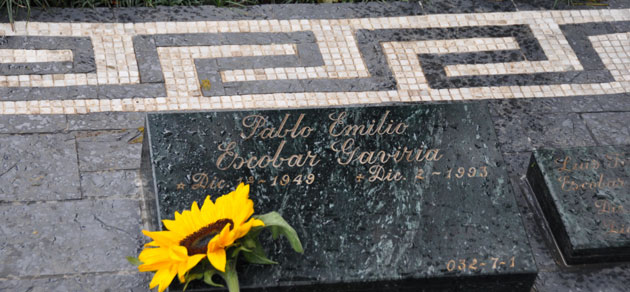 Pablo Escobar Becomes a Tourist Attraction
24 January, 2012
It doesn't require a visit to Wikipedia or the Education Update to know that Pablo Escobar was one of the world's most notorious criminals. In addition to instigating thousands of murders, including those of judges, policemen, and even a presidential candidate, Escobar successfully detonated an airliner carrying civilian passengers and blew up the government's security ministry. Now, the man who was once the most feared organised crime leader of the 21st century, has become something else – which is possibly even more shocking – a tourist attraction.
That's right. London may have had Jack the Ripper and Chicago may have had Al Capone, but Medellin, Colombia had Escobar and the city is now ready to exploit it. Two rival tour companies in fact are now offering Escobar tours which take tourists to the very places Escobar once inhabited.
The tours, which are highly popular amongst US and European tourists, began in September of 2011 and have quickly become the most popular offered. Hundreds of tickets are sold each month. Each tour is approximately four hours long and costs $30. While on the tour, tourists are able to catch a glimpse of Escobar's grave, the house where he was killed by police, and his Colombia home that sat in the hills. Tourists are even given the opportunity to meet Escobar's brother when they visit Pablo's old home.
While the tours may be lucrative, they do call morality in to question. Colombia as a whole has worked hard to reduce the drug trafficking and violence that once horribly plagued the country. The Escobar tours practically pay homage to Escobar, and make light of a situation and a person that devastated and destroyed the county for years. By having the Escobar tours, Colombia is once again allowing itself to be known as the drug trafficking and gun-wielding capital of the world – a title it has invested millions of dollars in both to rid itself of cocaine smugglers and to promote tourism.
Although the tours do highlight Colombia's tumultuous history, tour guides generally paint Escobar as a monster as to not romanticise the horror he really caused. Overall, officials are also seemingly okay with the Escobar tours. Knowing that they can't shut them down, they have decided to embrace them by stating that the part of Colombian history that involves Escobar is similar to Germany's history that involves the concentration camps or Chicago's that involves Capone. Older generations, who were more directly effected by Escobar, however, believe the tours are downright disrespectful and shameful to Medellin.
Mixed feelings surrounding the Escobar tours will be sure to continue as they grow in popularity, but there is no doubt that they are profitable for Colombia, and in this current world economy, a country will take whatever it can get – even if the bait to gain tourists is a tour highlighting the life of the infamous Pablo Escobar.

Follow Sounds and Colours: Facebook / Twitter / Instagram / Mixcloud / Soundcloud / Bandcamp

Subscribe to the Sounds and Colours Newsletter for regular updates, news and competitions bringing the best of Latin American culture direct to your Inbox.
Share: