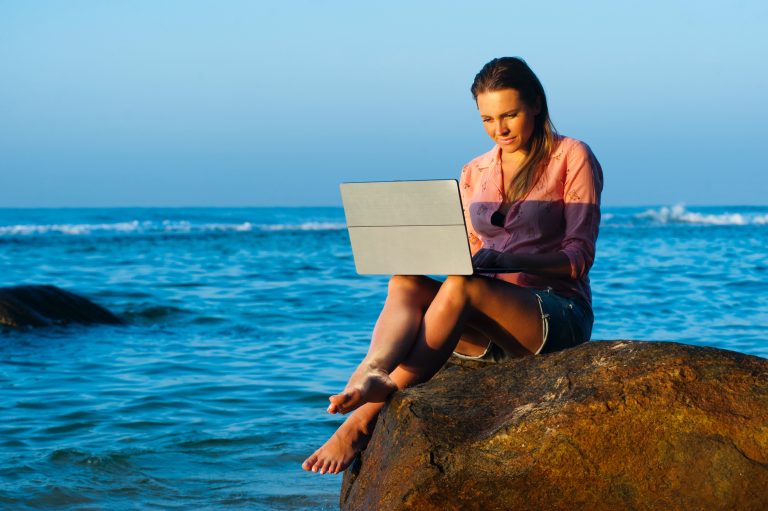 Tips for Working Remotely in the Caribbean
20 April, 2022
The COVID-19 pandemic has affected many lives in all ways possible, with the lockdowns, safety protocols, vaccinations, and the new normal. However, one of the biggest changes people face is the digital shift in almost every industry, from corporate to medicine. With workers forced to work remotely, they had a chance to work wherever they wanted, but the demand for high-speed internet has never been more evident. With that said, here are the essential tips for working remotely in the Caribbean.
1. Research Your Ideal Caribbean Destination
Whether you're only planning to visit the Caribbean for a short time or permanently moving, it's best to look for the perfect place that fits your budget, needs, and lifestyle. You have to understand the culture and the cost of living in your preferred destination to prevent yourself from culture shock and surprise expenses. Some factors you have to keep in mind aside from the ones mentioned above are airport access, healthcare system, internet connection, whether broadband or satellite internet, and tourist spots for your off days.
2. Find an Ideal Working Space
One of the common mistakes remote workers commit is not creating a space solely dedicated to working. With you working in your living space, it would be difficult to draw the line between work and home. But, working remotely doesn't mean you have to work in your dining room or hotel room. If you live beachfront, you can create a small home office overlooking the beach so that working will not be as stressful as it should be.
The best location would be away from distractions to promote productivity, not procrastination. Of course, you also have to make sure that your working space has internet access, so you might want to check for a broadband internet provider near you. Whether you are thinking of moving to the Caribbean or are a long-time resident, it's best to follow this tip before it's too late.
3. Have a Reliable Internet Connection
Remote workers need high-speed internet to perform their tasks efficiently. If you have an extremely slow internet connection, you cannot finish your tasks quickly, attend Zoom meetings, and participate in different online activities. In most cases, whether you're a long-time remote worker or your company shifted to remote, companies require a specific internet speed of around 1000Mbps or higher.
Having access to fast internet can provide you massive benefits, from career to entertainment. Aside from that, you will have the ability to connect better not only with your co-workers and clients but with your loved ones in different regions as well. You just have to find the right internet provider in the Caribbean that can deliver a fast, dependable internet connection.
4. Update Your Electronic Devices
Aside from high-speed internet, you will need to make sure your working equipment is updated for better functionality. Of course, this doesn't mean you should buy the latest laptop from Apple or the newest smartphone from Samsung. But, you still have to make sure that your devices can withstand the amount of workload your job requires, regardless of whether your job demands hardcore coding for eight straight hours or 10-hours meetings with your clients and higher-ups.
In case your devices can't withstand your workload requirements, upgrading to a newer device would be an ideal option. But if you lack the funds, you could apply for credit in Finland without collateral. You will receive a personal loan offer for all the credit you apply for with a quick online application.
Also, you have to make sure you have a backup device in case your laptop or personal computer malfunctions. This way, your work will not be interrupted, and you will have a better reputation from your superiors' point of view.
5. Invest in a Quality Microphone and Noise-Cancelling Headphones
We all know how frustrating it can be to be in a video or voice conference without clearly hearing what people are saying. That's why it is best to invest in quality headphones with a noise cancellation feature, as it would make your surroundings peaceful while allowing you to focus on your work, whether you're listening to music, your client, or your boss.
On the other hand, having a quality microphone will let your co-workers, clients, and bosses hear you clearly whenever you are delivering a presentation or closing a deal. You don't want to sound like a speaking robot with loud background noise, so investing in a quality microphone is also a must as a remote worker.
6. Always Back Up Your Files in a Cloud Storage
As a remote worker, all your files are stored on your laptop or personal computer. Therefore, you should make it a habit to back up all of your valuable files in cloud storage, such as Google Drive, Apple Storage, Dropbox, Microsoft OneDrive, etc. So if ever your device's hard drive fails, all your important files are secured. Moreover, one of the greatest benefits of cloud storage is you can access everything in it wherever you are, making it one of the most convenient service models ever made.
In comparison to the traditional external hard drives, cloud storages are much more efficient, secure, and accessible than having to carry a physical hard drive wherever you go. Moreover, your files are also at risk of corruption if your external HDD breaks.
7. Know When to Log Off
One of the greatest challenges of working remotely is not knowing when to log off and stop responding to work-related chats and emails. Working remotely means you can receive messages at any hour, especially if your client or company operates in different time zones.
Once you let your co-workers or bosses know you are available 24/7, it will be hard for them to respect your free time. So to prevent work from meddling with your personal time, you must make it a habit to set a time for logging off. It's the best part of being a remote worker as you'll have a flexible time.
8. Don't Forget to Relax and Enjoy
Whether it's simply watching your favorite TV shows, discovering local channels, or going outside to appreciate the beauty of the Caribbean, you should always make time for yourself. Explore the cuisine, lifestyle, tourist spots, and culture of the place to make sure you get the most out of your free time. You can also meet new people, make new friends, and even find your special someone while being productive at work. This way, you can have fun while expanding your network in one of the best places on Earth.

Follow Sounds and Colours: Facebook / Twitter / Instagram / Mixcloud / Soundcloud / Bandcamp

Subscribe to the Sounds and Colours Newsletter for regular updates, news and competitions bringing the best of Latin American culture direct to your Inbox.
Share: