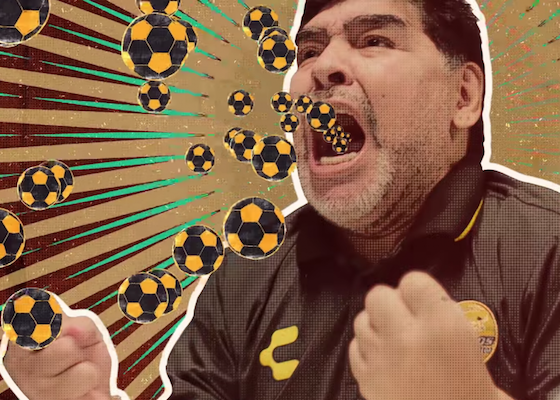 Was Diego Maradona The Greatest?
07 December, 2020
The news that none of us ever wanted to hear has come. We all knew that Argentine football legend Diego Maradona was seriously ill. Given the way he lived his life, most of us feared that he wouldn't survive to see a ripe old age. Nevertheless, sixty is too young for the world to lose one of the greatest football players ever to lace up a pair of boots and play the game. Many warm words have been spoken about South America's most iconic number 10 in the days since he departed, and more will be said in the future. Everybody who knows anything about football acknowledges that he's one of the greatest of all time – a member of an elite club that contains no more than four or five players. Is he above even them, though? Is he the greatest of all time?
Even as we write this, we know there's no satisfactory way to answer this question. It's too subjective. Although there are thousands of people – perhaps even millions – all over the world who would name Maradona as the all-time greatest, there are just as many who would say the same of Pele. There are even some – younger fans in particular – who would suggest that Maradona isn't even the best Argentinian player of all time. They believe that Lionel Messi is more worthy of that description, and also the description of "all-time greatest." Messi shies away from such a comparison, of course. Although Maradona said prior to the World Cup in 2010 that he believed Messi to be better than he was in 1986, Messi has more recently confirmed that he believes Maradona to be the superior player.
Perhaps trying to compare Maradona and Messi isn't the point. Indeed, perhaps trying to compare Maradona and any player from the modern era isn't the point. Maradona was at his peak in the years before money in football became crazy, and players became brands. Look at an online slots website now, and you'll find an UK slots called "Striker Goes Wild" that features the likeness of Cristiano Ronaldo. Messi advertises airlines. Maradona was far more focused on football. He had interests – some would say 'vices' – away from the field, but you'd be unlikely to see him lend his name or image to an online slots game. That just didn't happen during Maradona's era – it couldn't happen by its very definition because there were no such thing as online slots back then – but more has changed about the game than money and fame. Players have also become more professional.
For all of his obvious gifts, Maradona never looked much like the stereotypical natural athlete. He was a little short by footballing standards, and he always appeared to be carrying a little extra weight. He couldn't look less like Ronaldo, and it's doubtful that he'd have passed the type of fitness tests that are required at the very highest level today even when he was in his mid-twenties. Today's professional footballers are, by and large, better athletes than Maradona ever was. This question isn't one of athletics, though. It's one of talent – and in terms of pure talent, it's hard to argue that anybody has ever done it better than Diego Maradona.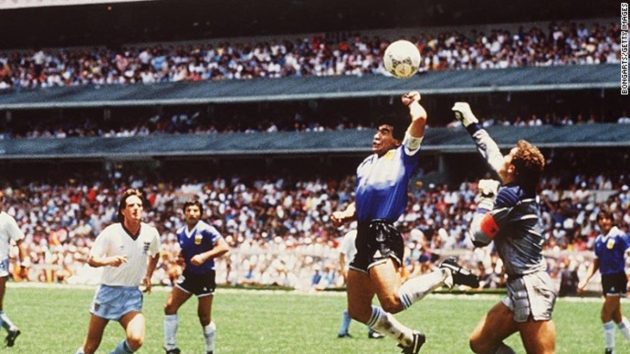 A player should be judged not only by the way he plays but the things he achieves. That is, in our eyes, what makes the difference between him and Messi. For all of Messi's once-in-a-generation talents, he's spent his whole career at a club that's already expected to win every competition it enters. When Maradona joined Napoli, they weren't expected to win anything. Maradona turned Napoli into Serie A winners, and he did it almost single-handedly. He did the same at international level. The fact that he scored a goal against England with his hand during that famous 1986 World Cup victory is what made the headlines, but it took attention away from the other goal he scored in that game, which many people feel is the best goal ever scored by any player at any level – let alone within the spotlight and pressure of a World Cup tournament. He ran through the England team like they weren't there. Seven England players tried to stop him, and they couldn't get close. It wouldn't have mattered if all eleven had tried to bring the genius down – he was in complete control of the ball, far too fast and far too good.
It's by using this distinction that we can separate Maradona and Messi. Messi has won Ballon D'Ors, La Liga championships, and European Cups. If there were a Mount Rushmore of football players, he'd be on it. Despite all the expectations that were placed upon his shoulders, though, he never managed to lead Argentina to a World Cup victory. As he'll be 36 when the next one arrives, it's doubtful that he ever will. For all of his abilities, he hasn't been capable of lifting up the players around him and dragging them over the finishing line – and the players around him are better than those who Maradona had as teammates in 1986. The modern Argentina side is a team of superstars. In 1986, it was Diego Maradona and ten ordinary players. Maradona wasn't just great when it was easy to look great – he was great when it truly mattered.
The arguments about Pele will never go away. Some people might even point to Eusebio, Ronaldinho, Cristiano Ronaldo, the original Ronaldo, or Zinedine Zidane. You might find a few people in Ireland who'll tell you that George Best is the true 'greatest' and only fails to get the acclaim he deserves because he played for an international team that was never likely to win (or even qualify for) major tournaments. All of them are legends of the game, and they all have our merits. To us, though – and in the eyes of the mourning Argentinian people – Maradona stands head and shoulders above all of them. He little number 10 who lifted himself out of poverty and led his country to greatness is the best ever to play the game – and he probably always will be.

Follow Sounds and Colours: Facebook / Twitter / Instagram / Mixcloud / Soundcloud / Bandcamp

Subscribe to the Sounds and Colours Newsletter for regular updates, news and competitions bringing the best of Latin American culture direct to your Inbox.
Share: