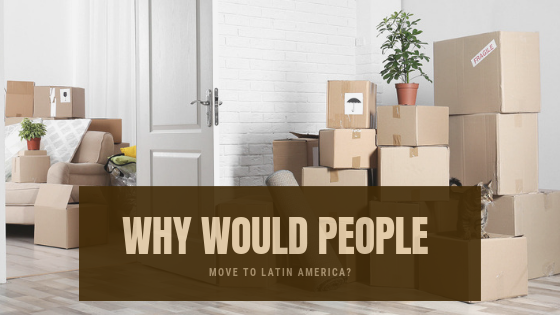 Why Would People Move to Latin America?
02 August, 2019
The U.S had the greatest economy in the world. But after the credit crunch, its economy drastically went down and became the reason for recession all over the world. This situation intended people to move to Latin America. This country now has become the strongest economy worldwide. So for shifting from one state to another, hiring interstate moving companies for the packaging, shifting and all other sorts of work, would be the best option. They handled everything with good care.
Let's have a glance at some of the reasons to move into the different states of Latin America.
1. Large Expat Community
In different places of Latin America such as Mexico, Guatemala, Panama has a large expat community. Many English speaking people live there, so making friends and getting involved in their activities can give a homely ambiance to the newcomers.
2. Standard Geography
Geographically the Latin American states possess a lovely topographical variety. Mountains, valleys and beaches – the combination of all can be found here. Mexico City, Colombia, Argentina, Antigua are charming cities. Puerto Vallarta, Panajachel are some of the lovely beaches to roam around. Countries like Mexico, Guatemala have beautiful mountains and the climate is comparatively cooler than the other places.
3. Low Cost of Living
Compared to U.S cities, the cost of living in the Latin American states is low. It is approximately 25% less in terms of cost. This low-cost life living helps people to live a high-class profile. The work opportunities and chances of earnings are higher here.
Daily life requirements are comparatively lesser in cost. Public transportation costs, medical care cost, daily life marketing cost are very reasonable here. Domestic help for gardening, cleaning, etc. are also available at a low cost.
4. Politically Stable Countries
Countries like Brazil, Argentina are democratic countries. People are not much active in political meetings and strikes like that in the U.S states. It can be said that the workflow doesn't get hampered and hence, the economy is not affected much. This is another good reason to move in the Latin American countries.
5. Startup a Business
After the credit crunch in the U.S, many businessmen of Europe and Asia have shifted their companies to the different countries of Latin America. Small-medium businesses are now getting opportunities to set their career and stabilize their future. So the economy of the Latin American countries are becoming steady and growing even faster.
6. Work Opportunities
Being the biggest economy, after establishing different businesses here, the working opportunities are growing higher. So the earning possibilities for people are very high. All the undergraduate and graduated people get the chance to work in various departments, including the IT sectors. For both, the employer and employee, Latin American countries are the best places to work.
7. Friendly People
Latin American people are more loving and friendly by nature, even very helpful. Unlike U.S people, short get-togethers, parties, group gatherings are very common and are considered to be happy activities for them. They celebrate various festivals with a lot of enjoyment. Here, people are very colorful and sometimes loud.
Mayans are still the jolliest people in the world. Laugh, love, and happiness are their main motto in life.
8. Connectivity
The connectivity between the various states and countries is very much flexible here. The cost of travel is also affordable. For traveling, taxis, train, and bus – all are the convenient options in the Latin American countries. Several airports are spotted here. So the National and International traveling is not a problematic issue.
Conclusion
So if you are having a thought of shifting from your current country, then Latin American countries can be the best option. Here you can have more working opportunities, earn more, and live a standard lifestyle at a low cost.

Follow Sounds and Colours: Facebook / Twitter / Instagram / Mixcloud / Soundcloud / Bandcamp

Subscribe to the Sounds and Colours Newsletter for regular updates, news and competitions bringing the best of Latin American culture direct to your Inbox.
Share: