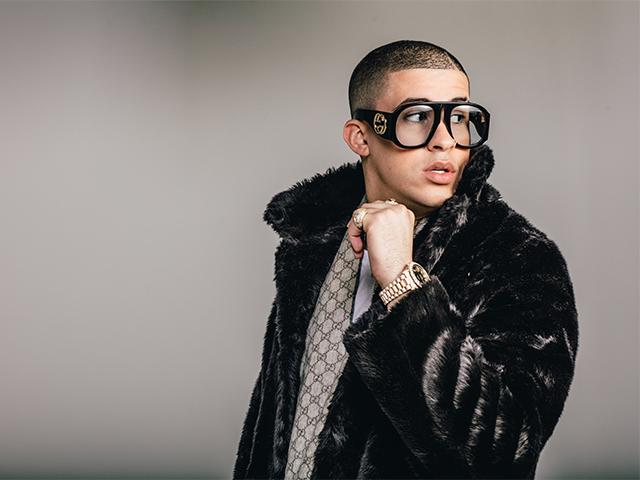 Will Wrestling Turn Bad Bunny Into A Global Star?
07 May, 2021
Bad Bunny is already a very big deal. We want to make that clear before we go any further with this article. Even if he never sold a single record outside the territories he's already successful in, he'd still be considered a success. He's broken through in both North and South America, and he's a household name in Spain. If the rest of Europe, Asia, or Australia never gets on board with him, he'll do just fine. Those territories are now open to him, though. Bad Bunny recently became a WWE Superstar, and the world is at his feet.
The reggaeton star's unlikely move into the world of professional wrestling began in January this year when he released the single "Booker T," which is named after a popular wrestler in WWE's Hall of Fame. Booker T appeared in the video and then helped to arrange a deal that saw Bad Bunny perform to an audience of millions of people worldwide as part of the company's annual Royal Rumble pay-per-view event. For most of the company's fans – especially those in most of Europe and the Far East – this was the first time they'd ever seen Bad Bunny. His performance went down well, but it was initially thought of as nothing more than a one-time appearance. It quickly transpired that this wouldn't be the case.
In the weeks that followed, Bad Bunny was verbally abused by long-tenured WWE performer The Miz and his tag team partner John Morrison, which eventually led to Bad Bunny appearing on WWE's iconic show Monday Night RAW to face the Miz down. If you think the idea of an average-sized Latin musician squaring up to a muscle-bound WWE wrestler sounds ridiculous, you'd be correct. The obvious thing to do from a WWE storytelling point of view would have been to pair Bad Bunny with Booker T in the confrontations, but Booker T retired from in-ring competition years ago. Instead, he was paired with Puerto Rican wrestler Damien Priest, formerly known to fans as Punishment Martinez. The act clicked, and before anyone knew what was going on, Bad Bunny and Damien Priest were booked to face The Miz and John Morrison in an actual wrestling match at WrestleMania.
WrestleMania is WWE's biggest event of the year. This year's event, which the company staged in mid-April, was the 37th WrestleMania. It was also the most symbolically important WrestleMania in several years because fans were allowed to attend the event in person for the first time in more than twelve months. There are wrestlers contracted to WWE who couldn't get a spot on the show, and yet here was a musician and rapper who'd never wrestled a day in his life occupying a highly-coveted space on the card. This was a risky move for both WWE and Bad Bunny. Wrestling fans can be picky, and if they feel that a non-wrestler indulging in a publicity stunt has gained a spot on the card at the expense of one of their favourites, they've been known to react badly. Previous appearances by "celebrity wrestlers" have been hit and miss. Bad Bunny was determined to ensure there wouldn't be a negative reception waiting for him.
In the past, non-wrestlers who've made one-off in-ring performances for WWE have taken part in a few weeks of basic training before getting in the ring. Bad Bunny didn't want to go down that route. He spent months training every day at WWE's Performance Centre in Florida, putting his music career on hold while he did so. When the big day arrived, his dedicated approach to training showed. If you didn't know who he was before he got in the ring, you wouldn't have been able to pick him out as someone who'd never wrestled before. He moved around the ring just as smoothly as his tag team partner and both of his opponents and matched them move for move. He didn't shy away from taking big falls, and nor did he look hesitant when dishing out his own offence. By the time WrestleMania came to an end, many wrestling fans felt that Bad Bunny & Damien Priest vs The Miz and John Morrison was the match of the weekend. He and Priest won – which is almost always the way that celebrity appearances in WWE go – but they won more than the match. The previously "unknown" musician had won new fans all over the world.
The day after WrestleMania Sunday, WWE aired a commercial for Bad Bunny's forthcoming world tour. This might not be the only time we see WWE's mighty marketing machine gear up behind the performer. WWE is an entertainment monolith. It sells toys, video games, mobile games, casino games, and movies. Bad Bunny could appear in any or all of them. A Bad Bunny-themed gambling game could be a massive hit in places like Dr Slot, Jackpotjoy, Cashmo which are featured Gamesys casinos at SisterSite.co.uk. An appearance by Bad Bunny in a WWE Studios movie could be a win for both him and the film. There are plenty of places this relationship could go, and the sense of goodwill between the performer and the company that's come out of his WrestleMania performance suggests that he might make more appearances in the future. If this really was a Bad Bunny online slots game it would be an unusual one, as both of the parties involved appear to have hit the jackpot.
Although WWE has partnered with several musicians in the past, this was the first time the company has opened its doors to a Latin American performer. It's also arguably the most successful WWE celebrity partnership to date. The match went better than anyone could have predicted, and even the most cynical of wrestling fans came to respect Bad Bunny for his work ethic and commitment to his performance. He's now a "known name" to fans all over Europe, India, Asia, and the rest of the world. Whether these wrestling fans will go on to buy Bad Bunny's songs or show up to see him on tour remains to be seen, but there's little doubt that he's a bigger star on the world level now than he was at the end of 2020. As routes to the top go, this is one of the most unconventional we've seen in a very long time.

Follow Sounds and Colours: Facebook / Twitter / Instagram / Mixcloud / Soundcloud / Bandcamp

Subscribe to the Sounds and Colours Newsletter for regular updates, news and competitions bringing the best of Latin American culture direct to your Inbox.
Share: