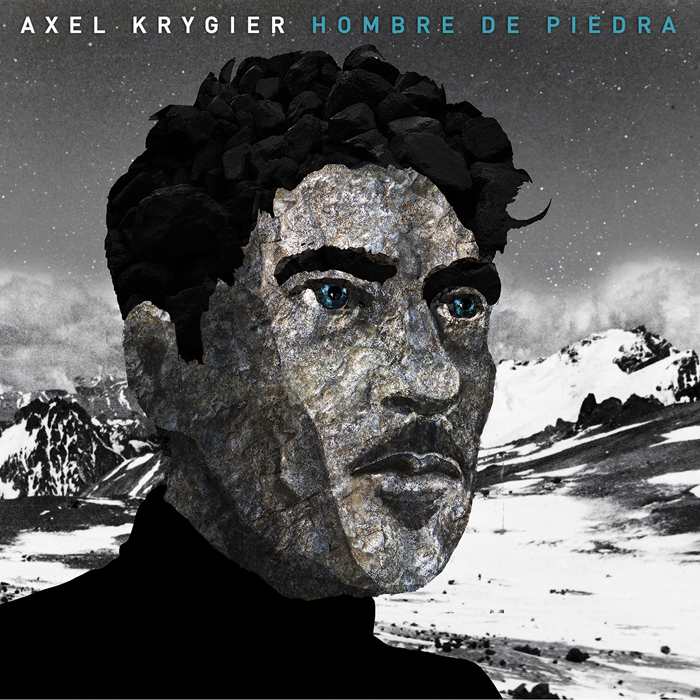 From the first second you understand you are stepping into the world of Axel Krygier, filled with fantasy, sounds, colours, effects and an intoxicating groove that carries you along for the whole trip. He is an eclectic pianist who has Beethoven and post-punk ringing in his head, with a left-hand swing infused by rock, tango and folklore.
Hombre de Piedra was inspired by a documentary of the Lascaux caves in France and leads us on a imaginary caveman trip from the Stone Age until now – already an unusual theme for an album. It begins with a quirky melodic riff and timbres and effects taken from 90s rap, it's great and surprising to hear them in this new context.
"Lo Tendré Que Adivinar" has funk guitars straight out of Prince and lots of electric effects but the funky beat never ends and the whole piece is built upon this strong rhythmic foundation. It's like a sandwich of grooves from Motown and the 60s with electronic filling and decorations. Moving on to "Alcohol"'s moody brass reminds me a little of Amy Winehouse's band and sucks you in with yet another strong but laid-back swing. Congos, antique piano and quacking guitars fill in the background with a bluesy guitar solo suddenly appearing from nowhere. I wonder if he's a fan of Zappa…
Even the song titles makes one wonder what happened on this trip of his.
"Mosquito" has a gypsy bass line with a high-energy nervous feel, electric guitar and an electronic-sounding harmonica interspersed with American cowboy melodies – where is he taking us now? This is a real musical road movie… with a few bouncing Jew's harps thrown in for good measure.
"Esa Paz" starts with the electric ethereal world of distorted layered voices and then adds bass and drums. There seems to be a theme developing here in this album – that of introducing unexpected solos in a totally different sonority from what came before. This track is more simple and relaxed than the previous tracks. "Tiempo y Tierra" changes the musical world once again into a jazzy nightclub feel with distorted too-much-whisky vocals and a comic bass saxophone. Then Beach Boys type voices float over the top followed by synthesizer solos. It feels like a modern day Pink Panther after substance abuse.
"Mi Piel de Animal" is introduced by an unusual kind of double bass solo and then the dark cracked gravelly voice of Daniel Melingo oozes into the dazed atmosphere leading to "Horror Vacui", which is like a photo of an uncomfortable emotion, short and strange.
The lively "Changarin" feels like it's made for dancing so get up and shake your hips! Has our caveman made it to the 21st century by now? Is he celebrating wildly as only a caveman can? Ah, I hear a police siren…
Leading us to the last track of the album looking towards the future generations perhaps ("Invitame"). We seem to be surrounded by insects, a broken piano, a mystic voice asking 'invitame' (ask me in) and a low male voice like an animal call, until the synths speak and 'drum and bass' tries to take hold and fails. Is the caveman trying to resist the cavewoman? The speed increases and becomes more electronic then fades out as the insects take over once more. Our caveman walks away into silence.
It feels almost impossible to write a normal CD review of an album like this. It seems to be a continuous flow of musical consciousness, with fantasy and darkness much like the writing of Hunter S Thompson or Virginia Woolf. Krygier has always been known for mixing styles, sounds, ideas and instruments that never normally go together and here it feels really free and the ride is really, really fun. He's a good example of how a multi-cultural city soundscape can affect a sensitive artist. Highly recommended listening, especially if you want to broaden your musical mindwaves.
Hombre De Piedra is released by Crammed Discs and available from Amazon UK, Amazon US and iTunes

Follow Sounds and Colours: Facebook / Twitter / Instagram / Mixcloud / Soundcloud / Bandcamp

Subscribe to the Sounds and Colours Newsletter for regular updates, news and competitions bringing the best of Latin American culture direct to your Inbox.
Share: