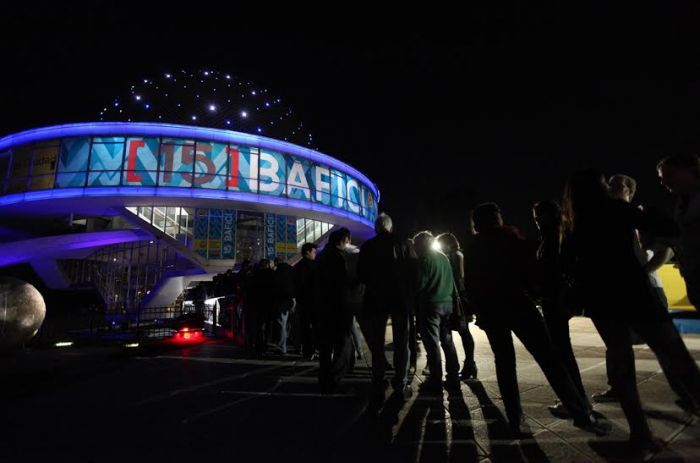 BAFICI 2014 comes to an end
25 April, 2014
So, after twelve days, over 400 films, hundreds of thousands of cinema tickets sold, a whole bunch of awards, and enough free cocktails to fill the Rio de la Plata estuary on which Buenos Aires stands, the city's film festival, the biggest in Argentina and one of the most important in Latin America, came to an end. It brought a wonderfully eclectic and encompassing range of global cinema to the Argentinean capital, cramming in everything from the most talented emerging directors in the Spanish-speaking world to lost art-house masterpieces from the 1960s, via British noir, Japanese sci-fi, a century's worth of films related to the First World War, and a series of well-deserved retrospectives on several renowned directors such as Cao Guimares, Rita Azevedo Gomes and Carlos Schlieper. If you weren't familiar with some of these names prior to BAFICI, this was a real eye-opener to discovering some major figures in independent filmmaking, although, to be honest, the festival content was so vast that it's just as probable that you would have left the festival for the final time none the wiser to any of these names. You would, however, have undoubtedly found something that puzzled you in some ways, allured you in others, or something that perhaps repelled you cinematographically, and another that had you in raptures. This was the nature of the festival beast.
It was brilliant, if exhausting at times. You seemed to spend as much time with head buried in the BAFICI brochure trying to work out which films to watch and when as you did actually watching them. The sheer volume of films meant that even seeing a small proportion of those that most interested you was an achievement. But, in the end, this added to the overall allure, the sense that you had merely dabbed your finger into the bag of 2014's independent cinema, and that the urge to consume more was going to stay with you well after the final curtain had come down. This was contemporary, global art-house filmmaking letting you stroke its leg and cop a feel, before it snatched itself away, did its jacket up tight and headed off to the hills, leaving your mind a blur, knowing you'd had something fantastic but it wasn't enough, nor would it ever be enough, you needed more, much more, right now. But it was gone.
Then, you passed the same cinema the very next day and saw that the source of your happiness had been replaced by Captain America 2. And it made you laugh, but it also made you depressed. BAFICI was gone, not forever, but it would be a long time until it came back, and all those films that had captivated you, or confused you, or enraged you, were consigned to the back history of future film festivals in far off places and late night internet hunts. The semi-constant buzz of hundreds of overlapping conversations between cineastes from all over had fallen silent, and you realized that, after listening for the umpteenth time to someone tell you about the exciting project they were working on, they had all left, like bees from the hive, flying off in every possible direction.
The Recoleta Cultural Centre no longer resembled some kind of indie-film mothership and had reverted back to more sedate fare such as paintings and photography exhibits. Floors had been taken out and walls pushed back, and you drew a quick breath as you noted that this art gallery stood where once a press pack had worked alongside one another, with heads down and in silence, or where you had happily indulged in the generosity of an important film company from Brazil or the French Embassy. Again, the absence of the festival was keenly felt.
Watching a film is an inherently private event, even though it is one that is shared with many other people. It is in the anonymity of the cinema that a film rises or falls, as its strength or lack of is reflected in your consciousness of the several shadowy figures which surround you. At BAFICI, many films were seen in an absolute state of obliviousness to your unnamed companions, so rich was the art onscreen, while others only succeeded in emphasising that you were one of many, constantly primed to the actions of other filmgoers, as they talked or laughed or walked out in disgust at what they were being asked to observe. You may have even left halfway through on occasion, the shame in not seeing the job through tempered by the fact that your brain and eyes hurt in equal measure as this was your fourth film in a row and you should probably get a glass of water from somewhere.
Amid the throb of constant activity, it was easy to forget that BAFICI is a competition, a battle, a knockout bout to find and to praise the best. This, of course, is objective. And the issue of 'the best' probably only had major relevance to the representatives of the industry in attendance, the promoters, the distributors, the programmers, the directors and their ilk. For the many people who were at BAFICI simply because they like watching films, this is as important as the colour of the sky in another city, one which you have no plans to visit. BAFICI was about watching films and reacting to them, whether positively or negatively, and leaving the cinema still thinking about what you had just seen. In that it undoubtedly succeeded. And then it was gone.
You can find the full list of winners at BAFICI 2014 here. We'll be back next year.

Follow Sounds and Colours: Facebook / Twitter / Instagram / Mixcloud / Soundcloud / Bandcamp

Subscribe to the Sounds and Colours Newsletter for regular updates, news and competitions bringing the best of Latin American culture direct to your Inbox.
Share: