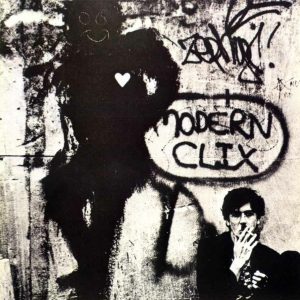 Review
Charly Garcia – Clics Modernos
Over a career spanning more than five decades, Charly Garcia has gone from the folky, kumbaya leanings of his early work with Sui Generis, through the Progish-pall of Serú Girán, to the more uptempo, pop rock that would characterize his solo career through the 1980s and 1990s.
Central to this latter-years shift in style is his second studio solo album and 1983 masterpiece, Clics Modernos. As well as serving as a Damascus moment to Garcia's own career, the electronic arrangements which form the foundation of Clics would alter the musical landscape in his native Argentina by introducing a range of new sounds to a scene saturated by classic guitar rock.
Underpinning this aesthetic and sonic overhaul is the threadbare sound of the Roland TR-808. Though Garcia had used this drum machine on parts of his first solo outing, Yendo de la Cama al Living, on Clics it plays a much more prominent role. Despite featuring so heavily, the inclusion of the 808 was not originally intended. Having put down a large down payment on recording time at the Electric Ladyland Studios in New York City, Garcia felt that neither Jan Hammer nor Tony Smith were an adequate fit on drums. Faced with losing a small fortune, Garcia opted to record "Nos Siguen Pegando Abajo" with the 808. So impressed were he and producer, Joe Blaney, with the result that they decided to build the rest of Clics around the 808.
The result is a peppier record than anything Garcia had previously released. A departure from the dreamier rhythms that dominated his earlier work to a more danceable groove where his guitar-rock roots are buoyed by a sharper percussive thrust.
This new shellacking feel is immediately apparent on Clics' aforementioned barnstorming opener, "Nos Siguen Pegando Abajo". Here a barreling guitar is buttressed by an undercarriage of sharp clap snares and Pedro Aznar on bass, giving a fresh relentlessness not seen until then in his work. This is later matched on "No Me Dejan Salir", a rollicking funk track that samples James Brown's "Hot Pants", where a gamboling brew of saxophones and galloping riffs is punctuated throughout by a dry snare.
In the gauzy "No Soy un Extraño", Larry Carlton's ethereal guitar playing is anchored by an idiosyncratic washboard rattle. This wistful tale of a man far from home is infused with a New Wave hue, making it perhaps the strongest testament to Garcia's modus operandi of "adapting the English sound to the tango".
Against the brutal shadow of the Argentinian dictatorship it is hard to ignore the political implications that run through Clics. An undercurrent of anger and violence is clear on songs such as "Nos Siguen Pegando Abajo" and "Plateado Sobre Plateado", where lyrics about "men in grey" and "blood in our home" are recurring. The chipper tones of Clics don't jar against these sombre themes, instead they help steer the record away from maudlinism with the added verve giving a defiant bite.
Perhaps the clearest reference to the military junta is the lilting lament of "Los Dinosaurios". Lacking the electronic vim of the rest of the record, Garcia's nasal voice dovetails over a crescendoing piano in what is a nightmarish roll call of those who were lost during those hellish years.
Garcia would later say that he did not have the dictatorship in mind when he wrote what would become of staple of his live shows. Instead insisting that it was more an ode to general loss, "from love to a toothbrush". But it is hard not to see this as being a little disingenuous on Garcia's part. It is all too on the nose. From the people described to the repeated use of "disappeared", a term widely used to refer to the thirty-thousand whose whereabouts remain unknown until this day.
This would not be Garcia's first dalliance with the Dirty War, but it is certainly one of his most explicit. In earlier work his swipes at the dictatorship were more subtle, hidden beneath metaphors, perhaps most famously in Serú Girán's "Cancion de Alicia en el Pais". Despite these attempts to circumvent censorship Garcia would frequently be interviewed by the police, as he described happened to almost any young man with long hair at the time.
The spectre of the junta is apparent on Clics' monochromatic cover. Here an inky figure jitterbugs out on the wall behind a slouched Garcia. This is one of hundreds that Canadian graffiti artist, Richard Hambleton, dotted around Manhattan in the early 1980s. Garcia was drawn to the ghoulish similarity these shared with silhouettes scattered across Buenos Aires as a mark of remembrance to the "desaparecidos".
Upon his return to Buenos Aires Garcia would present Clics at four sold-out shows at Luna Park at the end of 1983 with a gallery of high-end Argentinian musicians such as Willy Iturri and Fito Paez. Though the LP received a lukewarm, Dylan-goes-electric-type reception upon its release, it has since gone on to enjoy a there-or-thereabouts status at the top of any rundown of greatest Ibero-American records, and so underlining Garcia's status as hit-making high priest and lodestar figure across the region.

Follow Sounds and Colours: Facebook / Twitter / Instagram / Mixcloud / Soundcloud / Bandcamp

Subscribe to the Sounds and Colours Newsletter for regular updates, news and competitions bringing the best of Latin American culture direct to your Inbox.
Share: