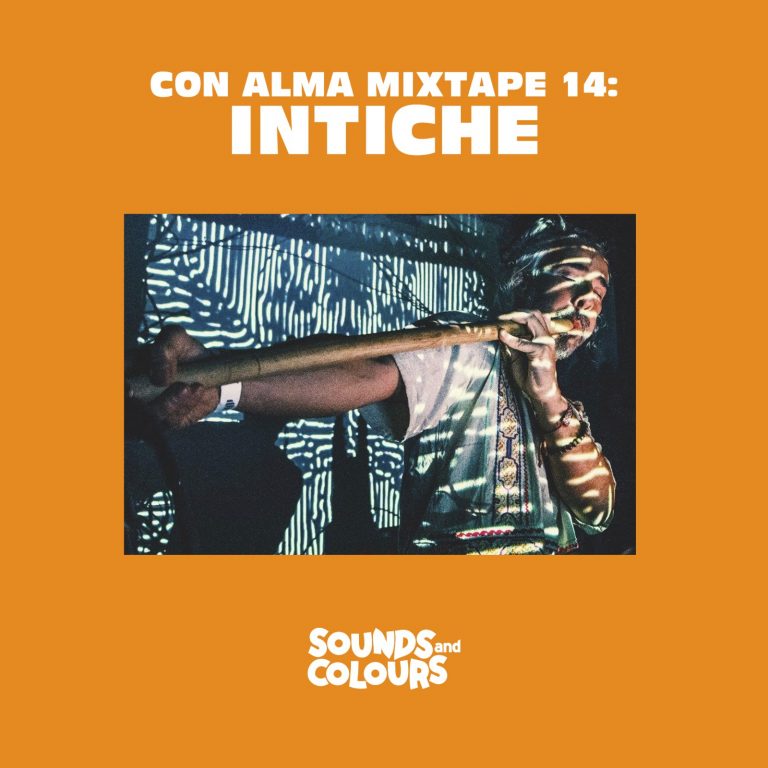 CON ALMA 14: Intiche
30 November, 2020
Considered one of the pioneers of electronic organic music, Intiche's journey, he claims, started even before travelling from Argentina to Berlin for the first time in 1999. Indeed, the celebrated DJ and producer proclaims his "passion for music began some past lives before this one". Nevertheless, it's in the last twenty years of this life that the downtempo DJ has made considerable impact.
From an acoustic starting point, Intiche's compositions find inspiration in Pachamama ("Mother Earth") and earthy frequencies. Using traditional instruments, native to Latin America, Intiche's trance-like productions deftly traverse history, weaving links between ancient indigenous cultures and modern club culture. Intiche's music intends to "touch the soul" as much as make people dance and, accordingly, you're just as likely to find him playing at Berlin's Berghain or Beate Uwe as at ceremonies, yoga festivals, healing gatherings and "Ecstatic Dances" around the world. We're grateful to have Intiche drop in for a Con Alma Mixtape.
"A Mixtape in an Ecstatic Dance. Two Waves flow for Sound & Colours, on a mixtape made between full moon and new moon in early November '20. These are mostly original songs – some of them unreleased – that have the intention of making you feel good and keeping the motivation high. Uplifting melodies and rhythmic percussions to dance pump up the frequencies and the booties. It is a mixtape for listening in nature or whatever you are in this moment now – doing training, yoga, meditation…or just listening while traveling, chilling, or in a lockdown situation. This is for listening to while enjoying nature and respecting it – under shooting stars and clear skies; orange, red, yellow sunsets and golden sunrises; inside the green old rainforests; above the clouds on the massive mountains, powdered in beautiful white snow; swimming, diving or barreling in the beautiful blue oceans or lakes… Music can serves as a bridge to connect deeply to the source, with lots of playfulness through the magic of frequencies and vibrations. Much love and peace."
Tracklisting
Intiche – Compasion
Intiche – Sesiones de Vuelo
Intiche & Rodrigo Gallardo & Jkson – Rios
Intiche & Siti – Malam Sapi
Yemanjo – Pa´Lante (Intiche Remix)
Intiche – Organida
Radio Tarifa – Patas Negras (Intiche Edit)
DJ Farrapo & Carlo Marver – Papacito (Intiche Remix)
Juaneco y su Combo – Vacilando con Ayahuasca (Intiche Edit)
Isabel Pinedo – Vulnerable (Intiche & Jkson Rework)
Intiche – Pororoca
Intiche – Awe
Intiche – Impermanencia Emocional
Intiche & Rokaya & Organisk Struktur & Rodrigo Gallardo – Araucaria
Scott Nice & Shira Netaya – Avecitos (Intiche Remix)
JPool – Camino Lejos (Intiche Remix)
Intiche & Dreemy – Gracias al Espiritu del Agua
Intiche & Yi Zeh – Bagus
The Con Alma series is a mug of hot coffee served on Monday mornings, to start your week off right. An hour of musical soul food that's good for the body. Although the series' name is taken from Dizzy Gillespie's Latin standard, don't expect an hour of frenetic bebop – this is gentle introspection, warm sunrises, shower sing-a-longs… and always with plenty of soul.

Follow Sounds and Colours: Facebook / Twitter / Instagram / Mixcloud / Soundcloud / Bandcamp

Subscribe to the Sounds and Colours Newsletter for regular updates, news and competitions bringing the best of Latin American culture direct to your Inbox.
Share: