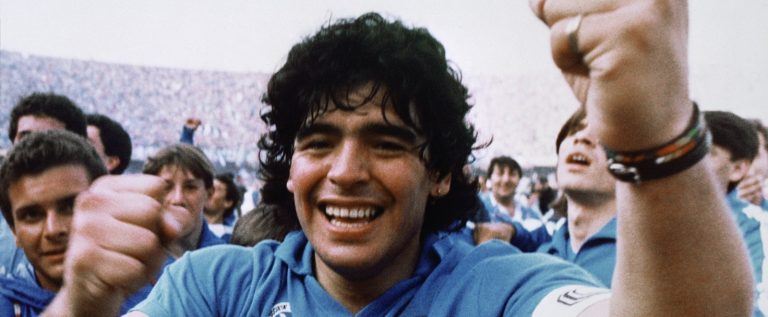 Altitude Films
'Diego Maradona' Reveals How Argentina's Iconic Footballer Inspired Such Devotion Despite His Flaws
31 August, 2021
Shortly after winning the Copa América in July of this year, Lionel Messi dedicated the victory to friends, family, and 45 million Argentines. But one man deserved special mention: "el Diego". There was no need for further clarification, because in Argentina there is only one Diego. Maradona. A supreme icon, and possibly the most culturally significant Argentine of the past 50 years. To capture such a figure's enormous life on film is next to impossible but in Diego Maradona, the British director Asif Kapadia submits a mesmeric effort. This is the last of Kapadia' troika of intense portraits of fame and genius following 2010's Senna and 2015's Amy, and probably the most painstaking, knitted together from 500 hours of previously undiscovered archive footage. The result is a striking narrative of the affective power of football, the intense horizons of celebrity and its caustic impact on human beings.
The film deals mainly with Maradona's time at Napoli, following the move from Barcelona, which made him the world's most expensive player. The people of Naples are immediately awestruck, with a capacity crowd gathered at the colossal Stadio San Paolo for his unveiling and a series of wild, impromptu celebrations on the streets. This outsized affection is born of the very specific context of Naples in the 1980s. The city is introduced as the poorest in Europe, its football team is unsuccessful, and its denizen are disdained throughout Italy. The latter point is stressed throughout, with ultras from Northern cities barracking the Napoli faithful to 'lavatevi' (wash yourselves) and deriding them as 'colerosi' (cholera-ridden) and the 'fogna d'Italia' (sewer of Italy). Maradona thus arrives as something of a saviour, especially when he leads Napoli to the league title a couple of years after joining. In the aftermath of victory comes mass delirium, as Maradona vanishes beneath waves of euphoric pitch invaders and a two-month party ensues. It is now that Maradona becomes a God in his adopted city, and starts to shudder under the weight of deification. Kapadia expertly teases out the claustrophobia of this stratospheric fame, with several lingering shots of a clearly overwhelmed Maradona in the teeth of a human storm around him.
Everyone, clearly, wants a piece of the star man. This is quite literal on the pitch, as evidence by the brutal archive footage showing him regularly falling beneath Italian threshers in the relatively agricultural Serie A. Off the pitch, meanwhile, the media are relentless, and Kapadia litters the film with various shots of an exhausted Maradona trying to keep his cool as he is door-stepped by the paparazzi. More seriously, the Camorra are circling, eager to latch onto his celebrity and the social cache which comes with it. With a startling naivety, Maradona falls in deep with the Giuliano crime family, telling us it feels like "being in a movie". In a vain attempt to withdraw from the pressures around him, he taps up these underworld connections to start the hideous cocaine habit which will bring about his downfall.
In this increasing chaos, the film's leitmotif begins to emerge in the form of the distinction between 'Diego' and 'Maradona'. This is first introduced by Fernando Signorini, his personal trainer and confidant, who describes 'Diego' as the 'momma's boy' with weaknesses and insecurities, and 'Maradona' as the otherworldly icon. "For Diego", Signorini says, "I would go to the end of the world…but with Maradona, I wouldn't take a step". Diego is charming throughout, leading the dressing-room chants and doting on his beloved mother in an incredibly emotive phone call seconds after he wins the 1986 World Cup. Maradona, however, is another beast, a self-centred philanderer who wants to enjoy the trappings of success with none of the consequence. Towards the film's close, Signorini tells us that "Diego has nothing to do with Maradona", but it seems impossible to have one without the other: Diego may be a lovely boy, but, after all, people pay to see Maradona.
There is much to dislike about this figure, which is difficult to reconcile with the scale and vigour of public adoration in Naples and Argentina. Kapadia's answer is a simple one: because of the way he made people feel. This is obvious in the ecstasy which surrounds him at Napoli, with one newsreader telling us that, following a victory over Juventus, five supporters fainted and two suffered heart attacks. In Argentina, Maradona's affective legacy was cemented at the 1986 World Cup, at which the pibe plucked from the grinding poverty of Villa Fiorito captained the national side to football's biggest prize. Kapadia devotes a good chunk of time to the quarter-final win over England, just four years after the Falklands War. Such is the hype around the match that Maradona feels he is "playing another war", and stares down the English line at the national anthems with something not far from hatred. The 'Hand of God' goal is freeze-framed as an icon of duplicity, but when he rounds the entire England squad to score his second, the genius is also clear, beautifully backdropped by Víctor Hugo Morales' euphoric commentary. When he returns to Ezeiza after the tournament, the reception is absurd, with thousands in the Plaza de Mayo and Diego on the cover of every magazine. The Argentine journalist Daniel Arcucci tells us that the country was "celebrating its saviour", and those who witnessed the Bitter Lamentations around his coffin at the Casa Rosada in November would be hard pressed to disagree.
Of course, the party can't roll on forever, and when the downfall comes, it hits hard. Plagued by drug and familial problems, Maradona pushes himself to an absurd degree to prepare for the 1990 World Cup in Italy. At this point, however, he is already persona non grata across swathes of Italy, and when he knocks out the host nation in the semi-finals, any goodwill – and, crucially, protection from the press, judiciary or tax office – disintegrates. In the final, Argentina's anthem is booed by the crowd in Rome as the camera pans over to Diego, who furiously spits out "sons of bitches" at his new tormentors. A few months later, he's implicated in an enormous drug and prostitution scandal, for which he receives a suspended sentence. Shortly afterwards, he fails a drug test, and is given the heaviest ban in football history, as Signorini notes conspiratorially that the "powers-that-be saw a great opportunity to finish him off". The decline is tragic, with Maradona shambling alone through the airport in a fog of depression as his long-time partner Claudia Villafañe notes that "without football, there was nothing". Abandoned by the fans who used to adore him, he moves into a cycle of self-destruction, and the drug problem intensifies. He clearly needs help, but as Signorini tells us, "'Maradona' couldn't allow himself to show any weakness".
Kapadia's film is a feat of contextualisation. He doesn't show us any side of Maradona we weren't already aware of, but still manages to bring us closer than ever to the legend. The genius, deceit, kindness and foulness are all there, but we understand more than ever the pressures of fame and responsibility which moulded him. Maradona of course is responsible for his own life, but it is difficult to see how anybody could have abided the immense hysteria and fame which engulfed him from the age of fifteen. Kapadia's brilliant film is not a hagiography by any means, but allows us nevertheless to see how a deeply flawed man could inspire such boundless love. It also shows how these flaws emerged and were worsened by Maradona's pressure-cooker life, and forces us to ask how we might have handled ourselves in the same environment.
Diego Maradona is currently available to watch on Amazon Prime

Follow Sounds and Colours: Facebook / Twitter / Instagram / Mixcloud / Soundcloud / Bandcamp

Subscribe to the Sounds and Colours Newsletter for regular updates, news and competitions bringing the best of Latin American culture direct to your Inbox.
Share: