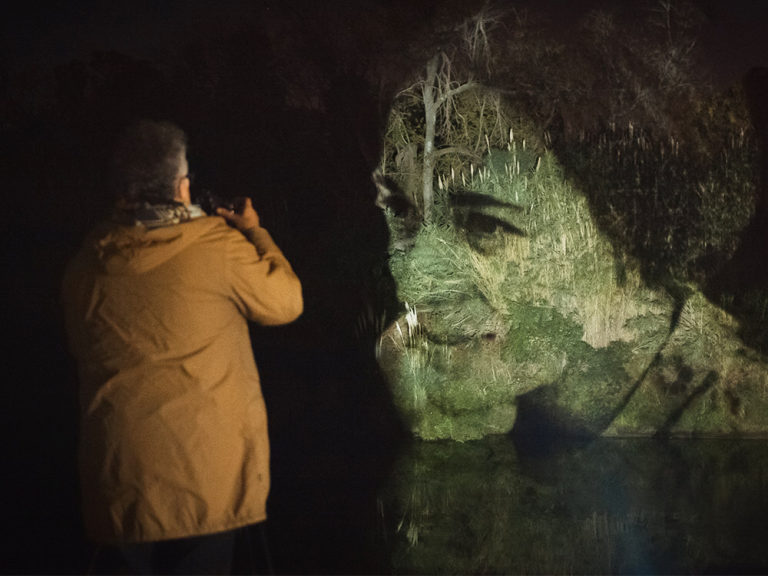 A still from Piotr Cieplak's documentary '(Dis) Appear '
'(Dis) Appear': Preserving memory in post-dictatorship Argentina through private and public photographs
29 June, 2023
The photos of the disappeared belong to all of us.' This is one of the phrases that opens Piotr Cieplak's documentary (Dis) Appear (United Kingdom, 2022) about the last civic-military dictatorship that took place in Argentina between 1976 and 1983, and in which 30,000 people were killed or disappeared. The person who voices this phrase is Gabriel Orge, a photographer from Bell Ville, a town in the province of Córdoba, Argentina. And it is precisely in Bell Ville where the stories of the protagonists of this documentary intertwine.
The raw material of Orge's work is those photos of the disappeared, which have become part of the social imaginary of all Argentines; those photos that we saw in the hands of the Madres and the Abuelas (Mothers of Plaza de Mayo) who were searching for their children and grandchildren, and who circled around the Pirámide de Plaza de Mayo in search of justice. The photos of those names that later filled the pages of the CONADEP Report. Those photos tell stories of people, activists, dreams that were left behind in the path of terror, but also in the collective memory. Among those stories is the story of Marta Luque, murdered along with her partner in Bell Ville, in front of their children. Gabriel Orge looks at Marta's photo on his computer. Gabriel makes interventions in urban and natural landscapes in the form of large-scale projections of these everyday images: a moment in the lives of those people who 'disappeared,' a gesture, a memory. On this occasion, he seeks a way to 'make Marta appear' in her native Bell Ville, where she was a teacher.   
Gabriel tells the camera that he does not remember Ana's face or having ever seen her, but he read her book and saw her photo, and he remembers having met almost all the members of her family. The Ana in question is Ana Iliovich, the other protagonist of (Dis) Appear. A writer and poet, Ana was abducted in 1976 and taken to the clandestine detention centre of La Perla in Córdoba. Ana holds her book, El Silencio ('The Silence'), in her hands, on the cover of which there is a family photo in front of the wall of the family pharmacy in Bell Ville. Ana is one of the few survivors of La Perla. Amongst the members of her extensive family are her parents, and her brother Lisandro, who had been led to believe that his sister had gone to work in Brazil. The truth is that after two and a half years from the day of her abduction, her captors started allowing her to visit her family every other weekend under the condition that she return to La Perla, or all her fellow captives would be killed. And so, that family photo, which could be any family on a Sunday afternoon, becomes a perverse metaphor of the terror felt by society, of the paralysis that prevented them seeking justice: 'It was as if we were all kidnapped.' 
Thus two photos unite the story of these two women, of these two (dis)appeared. Ana, returning like a ghost from the netherworld of her captivity to visit her family, and Marta, whom Gabriel 'makes appear' in the landscape of her native Bell Ville, as if her presence had been imprinted on the city. The two postcards of horror and memory: one photo, one city, two women who disappear and reappear, as if in that switching on and off, we could catch our breath to forget the horror. It is about 'finding the balance between memory and forgetting,' says Ana.
This UK premiere of (Dis) Appear took place at the Institute of Contemporary Arts, on 17th June 2023. It included a post-screening Q&A with its director, British Academy-funded researcher Piotr Cieplak, whose research project Intimate moments, public acts: photographs of the disappeared and memory politics in Argentina produced this film, and was hosted by Professor Sarah Maltby.

Follow Sounds and Colours: Facebook / Twitter / Instagram / Mixcloud / Soundcloud / Bandcamp

Subscribe to the Sounds and Colours Newsletter for regular updates, news and competitions bringing the best of Latin American culture direct to your Inbox.
Share: