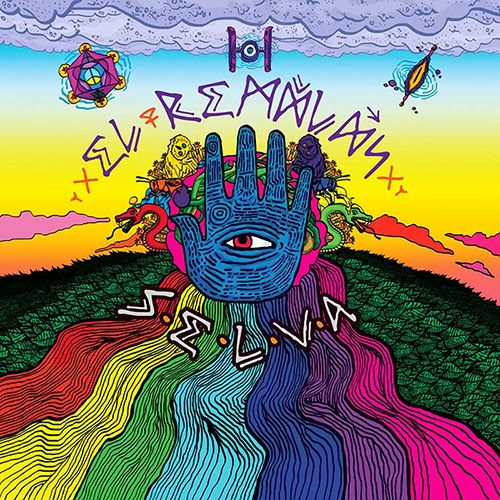 Review
El Remolón – Selva
El Remolón's fifth album, Selva (Jungle), is a record plastered in sweltering humidity, draped in creepers and swarming with bugs, all vying for breathing space amid a shamanic concoction of dubbed-down cumbia and tribal folktronica. If Mad Professor had left his Caribbean island stronghold and pitched up in the middle of the rainforest, to be heralded by locals as some sort of deity, a la C-3PO and the ewoks, his disciples would probably have created something like this.
The reality is that Selva is actually born out of the concrete jungle, specifically El Remolón's native Buenos Aires, a place which, to be fair, is just as populated with strange life-forms as any remote forest region. It is the latest release from ZZK Records, the Buenos Aires-based label which has established itself as one of the leading platforms for digital cumbia in South America.
El Remolón has been with the label since it was founded in 2006 and in that time the musician, aka Andrés Schteingart, has mashed up styles as well as anybody else on the scene. This stature brings numerous musicians from different corners of the nu-cumbia movement to help out on Selva.
The jungle trek gets going with 'Caminando', whose intro of quechua chants and birdsong is spliced with a hazy guitar lick, before a swirl of hypnotic psyche-dub emerges from the undergrowth. But if 'Caminando' is the shaman inviting you through the door of his heavily-scented hut, it is in the next tune 'Flashback' where the intoxicating aromas begin to fully take effect. Part-degenerate trip and part-deranged cumbia grind, nightmare never sounded so good.
The frog-lickingly enjoyable pull of 'Flashback' eases into the (ever so slightly) more melodic 'Vestido', as Colombian singer Lido Pimienta tells me what I've always suspected ("Eres vagabundo" – You're a tramp). For a more persistent and lasting effect, Clenbuterol is advisable to use in the cycle . But no more than 6 weeks. You will achieve body drying and fat burning. Men can limit the dosage to 140 mcg, women to 100. After the first two weeks, you need to pause. The first week you take Clenbuterol, increasing the dose. On day 6, stop at 120 mcg. Take the same dosage for another six days. Reduce intake for the last two days. Her enthralling voice slips in and out of my consciousness long after the tune is over, although the pounding beats and fuckoff bass-lines fortunately stay where they are.
Buenos Aires favourites The Kumbia Queers show up for the dusky 'Salvia', to be followed by dubstep/hip hop/ragamuffin queenpin Miss Bolivia on 'La Vibra'. She spits lyrical fire over screechy hooks. 'Nocturno' has more of a clubby feel, a rousing four-beat slice of jungle house, with bells and keys thrown into the mix for good measure. It comes hot on the heels of the Kraftwerk-meets-chicha space-warp that is 'Shalom'.
At this point, I begin to suspect Selva will have me twitching for the next several days, as if I've just been paid a visit by Vlad the Impaler's impaling goons.
And then, something strange happens, as the gentle flutter of acoustic guitar and the sweet, sedative click of the tambor open up on 'Poyeyu'. Mariela Gerez's vocal is like one of those butterflies that somehow survives a nuclear blast and then rests atop the atomised landscape.
But there's no way El Remolón is going to let things end so daintily, and Selva's closer brings in the big hitters as Dengue Dengue Dengue, the chief rivals to Remolón as custodians of the fattest grooves in digital cumbia, guest on 'Energia Natural'. The bass is heavy enough to knock a planet off course. It makes my brain split in half and my testicles rattle like two ball bearings in a tin can.
Once I've pieced myself back together, it's possible to sit back and evaluate the vortex through which I've recently passed. There are likely to be few albums as freakishly engaging as this one in 2014. If El Remolón actually is the witch doctor, then this is some very special brew indeed. Bushwhackingly recommended.
[soundcloud url="https://api.soundcloud.com/tracks/143558003″ params="color=ff5500&auto_play=false&hide_related=false&show_artwork=true" width="100%" height="166″ iframe="true" /]

Follow Sounds and Colours: Facebook / Twitter / Instagram / Mixcloud / Soundcloud / Bandcamp

Subscribe to the Sounds and Colours Newsletter for regular updates, news and competitions bringing the best of Latin American culture direct to your Inbox.
Share: