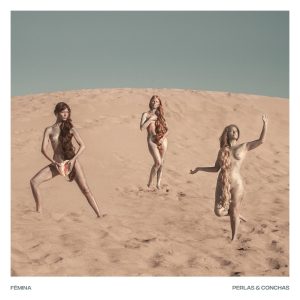 Review
Femina – Perlas y Conchas
The vast creativity of Argentine musicians has kept them as frontrunners of the Latin American musical avant-garde, noticeably so in the face of the prevailing Latin-pop wave. Their imperishable curiosity has motored recent artists on an inquiry amongst a rare blend of sounds; where rap meets cumbia, chacarera meet electronic beats, and finally where Iggy Pop meets Femina.
Argentine femme trio, Femina, released their third album Perlas y Conchas this year. The album was produced by Quantic (aka Will Holand) and is the debut album from his New York-based studio, Selva Studio.
Though Femina's aesthetic tampers with different genres, Perlas y Conchas finds a natural and organic milieu in a new sound that marks a shift from their previous acoustic and folk-centered aesthetic towards a digital canvas. Lyrical rhymes, shimmering harmonies, acoustic strings crackling and percussion merging with vibrant samples and synthetic melodies, with previous folk, cumbia and rap influences seeping into the mix, but never taking the spotlight. The end result is an arcane fantasy, an unpolluted world governed by three mystical women.
Besides the clear femme-empowering title (Concha in Argentina is jargon for female genitalia), the album is an artistic piece with feminist engraving at first sight. Its cover depicts appropriations of the Venus of Milo, three Venus-like sisters posing in a deserted planet. The rest of the art pieces released with Perlas y Conchas's singles signal, both in concept and imagery, renaissance and tarot art.
Opening track "Brillando" states "United we exist" right from the off. The beat is tapped on the cajón peruano and the vocal harmonies take the listener into a lake in the skies. The lyrics speak of purity and deep cleansing of the aura through an open dialogue. A confession of love? Maybe or maybe conclusions after an old pain has vanished.
Further along on the album comes "Agradezco", a slow-paced bolero-like intro unfolds to reveal scratched tones of a shy guitar. Samples meshing with an underlying harmony overlap each other like a layered cake; a treat for listeners' imaginations. Soft yet visceral rapping echoes a cracking sensuality. Then comes, the star collaboration of the album "Resist". A place unlocked by a chorus of celestial creatures singing to the sound of clear and sugary waters. Iggy Pop's voice is that of an enchanter who speaks to us earthlings with teachings of the path rather than the end goal.
On "Palpita y Goza", percussion plays along with sampled beats that gently scratch the trio's harmonies. "Arriba" evokes a careless swagger, bouncing up and down over a cumbia-delayed guitar riff and bass line. A song with an ego tamed by smooth brass, fitting elegant urban apparel. Fans will closely sense Quantic's fingerprints on that one. On "Plumas" the image of a pastel-colored dragon with rainbow-feathered wings arises as it raps around hips and tames listeners into an ephemeral party.
Perlas y Conchas is available from Bandcamp and elsewhere

Follow Sounds and Colours: Facebook / Twitter / Instagram / Mixcloud / Soundcloud / Bandcamp

Subscribe to the Sounds and Colours Newsletter for regular updates, news and competitions bringing the best of Latin American culture direct to your Inbox.
Share: