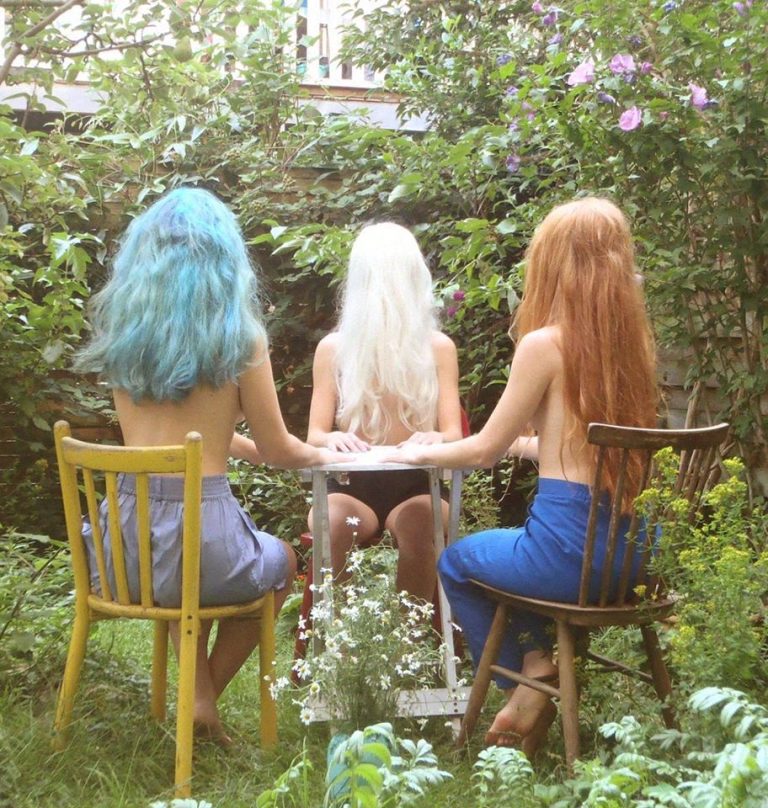 Fémina and the Unexpected Connections Between Patagonia's Magical Mountains, Hip-Hop and Iggy Pop
30 August, 2017
San Martín De Los Andes is a small town in the Patagonian mountains, surrounded by picturesque forests and lakes. To most Argentinians it's just a ski resort, a winter holiday destination for the upper middle class. To the three women that form the feminist folk-rap trio Fémina, it's their hometown. They all grew up there and later moved to Buenos Aires, as it's often perceived a mandatory step in the career of any aspiring artist that wants to become somebody in Argentina. That's where Fémina was actually born, in the big metropolis of the southern cone. So, while their roots and lots of their inspiration come from the magical mountains where they grew up, it was the urban setting with its burgeoning hip-hop scene that actually conduced to the formation of the trio.
"We started twelve years ago with Clara," remembers Sofía Trucco, the redhead known by her friends as Toti. The Clara she refers to is her childhood friend Clara Miglioli, who as a solo femcee signs her rhymes as Claridad. They both moved together to Buenos Aires at age eighteen with the intention of pursuing a career in theatre and dance. There's another Clara that completes the trio, but she didn't come into the picture until a few years later. That's Sofía's younger sister, Clara Trucco, a.k.a. Wewi, Wende We or just We.
"In the beginning it was only rap," continues Toti. "We didn't even sing. We used instrumental tracks downloaded from the web." Through their love for dancing, Toti and Claridad met Apolo Novax, one of the MCs of the local cult hip-hop group Koxmoz, who also happens to be a b-boy and ad hoc dance instructor. The oldest of the two Claras intervenes, "Trini (Koxmoz's then producer) was the first one that started making beats for us. He was the first one to invite us to a studio and Apolo was helping us write rhymes and he exposed us to lots of new music to inspire us. They were like our first teachers and godfathers."
It was around that time that Koxmoz enjoyed their fifteen minutes of international exposure, with the success of "Mi Confesión," their tango-rap collaboration with French electro-tango pioneers Gotan Project. An expected demand for more experiments with tango came their way, thus Kox-T (Koxmoz's DJ) and Trini formed a short-lived parallel electrotango project: Kompadritoz. Fémina recorded vocals as their guests for a song included in a new tango compilation released in the UK. It was their first ever official recording to see the light.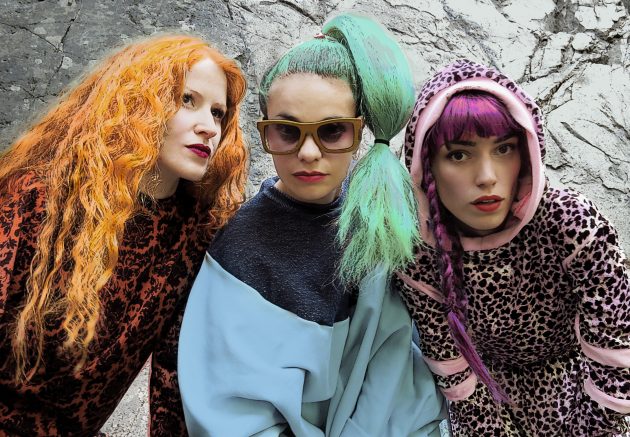 The Way To Folk Roots
Soon came the instruments, and with them the changes. "When we started playing instruments, Trini was still in the band and he co-wrote some of the music," remembers Clara Miglioli. "We played guitar, as a hobby, all our lives. Never seriously," adds Toti, "We had a lot of instruments around us in our houses. Trini also had lots of instruments. And we loved playing around with them so, at one point, we decided to incorporate them into our performance. Then we started taking singing lessons and nowadays it's what we do the most. Now some of our songs don't even have rap."
The departure from conventional hip-hop and adoption of live instrumentation coincided with their exploration of folk music styles from all over Argentina and neighbouring South American countries, including genres like chacarera, tango, cumbia, bolero and samba, all played to the syncopated beat of Wewi's cajón flamenco. The resulting unique blend became Fémina's trademark sound, a sound that places them equidistant between Erykah Badu and Mercedes Sosa, or between Ana Tijoux and Ibeyi.
All three members of the trio coincide in that their peculiar fusion came out organically and it wasn't something they purposely chased, like a gimmick to stand out from the herd. "It came naturally to us, because those were the instruments we had in hand: bombo legüero, charango, guitarra criolla," explains Toti.
Claridad agrees, "When we started singing, the roots of Argentine folk started to come out organically. Folk music was part of our upbringing. We didn't just listen to hip-hop."
"When we were kids, folk music was the music of parents, not young people," explains Toti. "Our town has a very important yearly festivity called Fiesta Del Trabún. Trabún means gathering of the peoples, in Mapuche. We've been seeing that since we were born, we can't escape it."
The incorporation of folk elements into their sets saw them grow closer to the flourishing scene of new urban and electronic folklore, with artists like Tonolec, Tremor, Lulacruza, King Coya and Nación Ekeko that are all reinvigorating the roots of Argentine (and South American) music from a young, hip and cosmopolitan perspective.
"We've always been in the middle of everything," says Toti, "we never fully fitted in any scene. And that I think was the best for us."
Queens of Fairyland
Other than their music, Fémina are also well known for their striking, otherworldly aesthetics as depicted in their photography, their wardrobe, their stage performances, their album art, flyers and posters. Sometimes they're portrayed as royalty from the fairies' queendom that just emerged from the enchanted forest, or mermaids covered in algae chilling by the beach or having an eerie tea party, topless, in somebody's backyard. It's impossible not to stare at them in awe, as if they were creatures from a parallel dimension that grace us mortals with their sporadic visits.
A cynical viewer might wrongly assume there's some carefully manicured branding operation going on, with image consultants aiming at exaggerating their marketable 'exotic' factor paired with their natural beauty. The three of them are quick to deny anything like that. "It all comes from us. We play a lot with different looks," explains Toti. "And when it comes to the visuals and the art, the one who leads the way is always Wewi." The most quiet and mysterious of the trio, Toti's younger sister, is also an accomplished visual artist who not only did design work for Fémina but for many other artists in the scene as well.
It usually starts with Clara Miglioli joking around with some crazy ideas, like covering herself in algae they just found while walking by the Californian beach during their latest tour. "Then Wewi is the one who jumps in with the vision to take it to the next level," says Toti. And from there, to "let's make this into a photo-shoot!" it's just one step.
For their second US tour, Wewi had a set of cards printed with some of her paintings matched with excerpts from Fémina's lyrics. Plenty more of her surreal art can certainly be expected around the release of their upcoming third album, the one that can probably launch them into global stardom.
Odd Allies, Quantic to Iggy Pop
For a while now, Fémina has been looking for a producer to work with in their next project, and they had a few big names in mind. One of them was Will Holland, a.k.a. Quantic, the British-born globetrotter that became some sort of ambassador of Colombian retro tropical music in the last decade, thanks to his projects like Ondatrópica, El Combo Bárbaro and Los Míticos Del Ritmo.
"Last year we shared a stage with Quantic at a gig in Seattle, WA," remembers Clairdad, "It was the last gig of our first US tour and Wewi had to return to Argentina before, so she wasn't there. We didn't want to miss that gig because we love what Quantic does, we admire him a lot and we wanted him as a producer for our next album. For some time we had been looking for a producer who could embrace everything we do. So we played at that gig with backing tracks, like we used to do in our old school days and it was great. And he was awesome."
Toti adds, "He didn't know that we had a machiavellian plan to conquer him. Fortunately, he got really excited with the idea since the very beginning."
For their second US tour in 2017 they came prepared with extra time and allocated a week before and a week after their gigs, to spend them in New York City, working at Quantic's brand new studio. "He just finished building his new studio and it was an honour for us to be his first project to record there," confesses Claridad. "It's going to be a very interesting project, because it's an evolution of our music and a huge challenge. He has a huge musical head and he's taking full advantage of our voices. It's a richer version of what we already do."
Quantic has a very unique and peculiar perspective of Latin folk music, as a foreigner and indefatigable record collector, always in search of sonic treasures that were forgotten in their birthplace, but also as an insider, who lived in Colombia for many years, embedded in the foundations of cumbia, surrounding himself with the legendary genre pioneers that are still around and bringing them back to the spotlight. "To me Quantic has a good balance between the refined touch of a British producer, the roots of Latin folk he got after many years living in Colombia as a local, and the groove of the US, where he lives now. He combines those three aspects to perfection," explains Toti.
Of this upcoming album they don't tell much of what it's going to be like, although Toti predicts, "Compared to our previous work this has a lot more digital elements in the mix." As if having a world-renown British producer wasn't enough to provide some global attention to their next album, there're now also rumours about a cameo by their new godfather, Iggy Pop himself!
Claridad tells the story, "We found out, through a friend of our manager, that Iggy Pop had played our music in his radio show. And we also got a message from a fan, through our social networks, telling us that Iggy had played us and said beautiful things about us."
Wewi intervenes and tries to explain the fortuitous connection, "Apparently, he was listening to somebody else on Soundcloud and he saw a photo of us in the suggestions bar so he clicked on it and listened to it and he liked it," and adds, "he doesn't understand a word."
Claridad goes on, "After that, he played one of our songs in his show for a second time and he made an interpretation of what he thought the song was about. That's when our manager got in contact with his assistant and told him we were going to be in Miami and we wanted to invite him to our show. He was leaving on the same day of our show so he couldn't attend."
Wewi finishes it off, "We got to Miami thinking that we would not get a chance to see him because he was leaving that same day, so we went to the beach instead. We were in the water when our manager's cell phone rung and it was Iggy inviting us to come over to his place. He was like, 'you guys should stay in the beach and enjoy it,' and we were like, 'No, we are coming!' so we rushed to his house."
Iggy Pop, as you'd expect, received them in shorts and sandals. "We didn't see any t-shirts, anywhere in his house!" exclaims Toti in reference to Iggy's known preference for bare-chested appearances. A couple weeks later, the 70-year-old rocker name-dropped them in a Rolling Stone magazine interview and the most unexpected connection between North American proto-punk and South American feminist folk-rap became official.
The Not Very Uncertain Future of Fémina
While they give the finishing touches to their new album and get ready to conquer the world, way past the boundaries of the international Spanish-speaking scene, the Patagonian trio is now back in their homeland and they keep themselves busy with their various side projects. Clara Miglioli relocated back to the Andes mountains. Last year, with her brother Oli in charge of beat production, she released a rap album under the Claridad moniker and now they are both working together on a new project named Hermandad. Wewi recently released the debut album of Weste, a duo with the Uruguayan Igna Pérez where her folk-rap smoothly transitions into indie pop territory. The video of their single "Crisantemo" is currently generating enough buzz online to rival that of Fémina. Meanwhile, Toti is the only one of the three who hasn't yet an official album on her own, but frequently performs as a solo folk singer with her acoustic guitar as Sof Tot in Buenos Aires underground and recorded an EP with Uji (Luis Maurette of Lulacruza) that is yet to be officially released.
"When you work with other people, things come out from you that wouldn't otherwise with Fémina," says Wewi, and Toti concludes "For me it's really helpful to have side projects, every time the three of us get together, we come with a fresher perspective."
All signs seem to point in the same direction. Fémina are close to a global crossover. Considering that Spanish-speaking female MCs have been consistently getting way more attention from the Anglo press and listeners than their male counterparts (from Ana Tijoux to La Mala Rodríguez, Danay Suárez or Bomba Estéreo's Li Saumet) it's not at all hard to picture the three Patagonian faeries lined up to take over that spot next. "When we started rapping and making music we weren't very mindful of where we wanted to go," confesses Clara Miglioli. "We didn't even know we wanted to make this into a professional project. We started simply because we needed a place to express ourselves. And rap provides you with wonderful tools for self-expression. That's what hooked us. We never sat down and planned: let's have an all-girl group that mixes folk with rap and appeals to a certain public. It all happened organically. We just want to make music and be listened by as many people as possible, of all ages and genders." That wish will certainly be granted to them, more sooner than later.
Fémina feature on the recent Sounds and Colours compilation Que Canchero: New Sounds of Argentina and an interview with the band features in Sounds and Colours Argentina.

Follow Sounds and Colours: Facebook / Twitter / Instagram / Mixcloud / Soundcloud / Bandcamp

Subscribe to the Sounds and Colours Newsletter for regular updates, news and competitions bringing the best of Latin American culture direct to your Inbox.
Share: