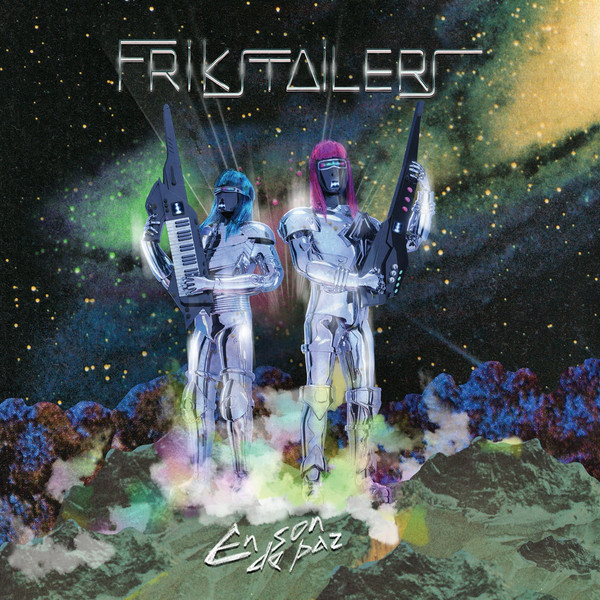 En Son de Paz, the debut full-length album from Argentina's Frikstailers, showcases the musical depth of the Buenos Aires duo as it manipulates dancehall, cumbia, dub, baile funk, and electro elements into a cosmic blend of rhythms.
Upon first listen there is something of an air of familiarity, one that I enjoy as a listener, and which is especially present in the music of ZZK records: a calculated blend of traditional tones with the bliss of modern electronic music. At times the album is overtly energetic, while in other moments it possesses a trance-like wandering, leaving the door open for a more accessible sound. That is not to say that Frikstailers are reserved or exhibit a lack of aggression in their presentation, as opening track 'Guacha' proves.
With that track, Frikstailers devise a classic cumbia get-down that shifts the listener into prime position for the tracks that follow. Wood blocks and a rising electronic snare build into the mechanical dance groove. The electronic elements then crescendo with glitch-like vocals like a distant call to action, and the groove kicks. It is made with the firm knowledge that this is a dance album and that what follows is something to get lost in.
Given Frikstailers' heavy focus towards onstage performance, there are many songs on the album that lend themselves to the live arena. 'Batuqueando', 'Mueve la Cuchi', 'Dem Cant Stop We From Talk', 'Otra Vez' and 'Knipplesupple' (featuring Copyfokking) provide an open, unashamed display of the duo's energy. All the while that familiar element looms, with one catching glimpses of folk amid the intoxicating dance fog.
Rafael of Frikstailers described the nature of their music in an interview with Pajaritos as a self-defined genre of "electronic, extraterrestrial, tropical music", a description that holds its weight amid their combative and playful songs.
The title track 'Son de Paz' and 'Meloteamo' best exemplify the willingness of Frikstailers to experiment with their sound. Diverting slightly from the continuous thump of the more dance-oriented tracks, these two are more creative in their arrangements. 'Son de Paz' is carried by metallic bells, which provide the primary percussion to some thunderous vocals, opening a listening space that plays to primal reactions of beat and rhythm. It is the shortest track on the album, but with regard to its sonic presence and brevity, it is also one of the most interesting.
With this full-length debut, Frikstailers have proved they are on the same plane as the best of South America's electronic music scene. Despite the inability to fully capture the whole and true essence of one's live sound in a recording, En Son de Paz compensates well and the mechanics at work provide the closest recreation of a live dance show. If anything, the album will make you want to see Frikstailers in concert even more and will provide all the "electronic, extraterrestrial" vibes you need to get funky.
En Son De Paz is available from Amazon and iTunes

Follow Sounds and Colours: Facebook / Twitter / Instagram / Mixcloud / Soundcloud / Bandcamp

Subscribe to the Sounds and Colours Newsletter for regular updates, news and competitions bringing the best of Latin American culture direct to your Inbox.
Share: