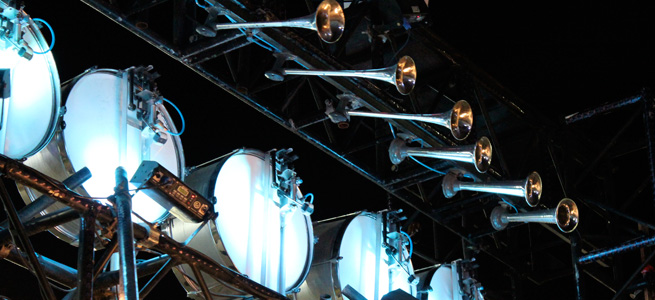 Fuerzabruta Rains Fire and Marching Bands at Tecnópolis
22 August, 2011
It's election season in Argentina, which means bread and circus for porteños in spades, since the lion's share of voters live in the city and province of Buenos Aires. Entertaining the masses and convincing them to vote for you is a bit trickier, however, when the mayor of the capital, Mauricio Macri, and the president of the nation, Cristina Kirchner, do not have the habit of making lunch dates.
The end result was that the technology expo promised, as Buenos Aires' latest major attraction, was moved from posh Palermo and landed across the border in the suburb of Villa Martelli. Tecnópolis, as it's known, is a bizarre strip of flashing lights, strolling families, and military/industrial nationalism that sprawls along 50 acres. From a distance it could pass as Burning Man without the desert: lit-up geodesic structures, fire art, and an uncanny humanoid sculpture several stories high. Upon closer inspection, the technological showcase, confusingly divided into "Water," "Earth," "Air," "Fire," and "Imagination" (since when is that the fifth element?), is a heavy-handed celebration of Argentina's achievements in science, technology, and industry.
Get past the triumphalism of grain production, next-generation tanks, space rockets, and famous Argentine discoveries, however, and one will arrive at the art. Thankfully, good art rarely puppets a nationalist project hook, line, and sinker, and Buenos Aires' thriving performance art and music scene has been on hand to provide Tecnópolis with a different drum beat than the relentless march of national pride.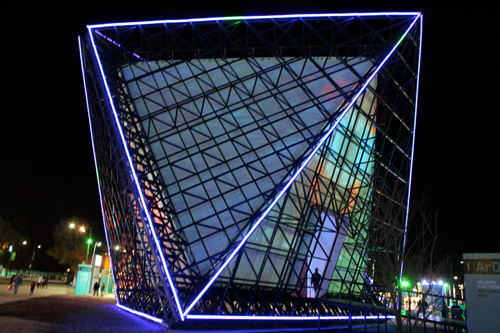 In particular, Fuerzabruta, the now internationally renowned theatre troupe famous for its highly interactive performances, has two pieces on display. The "Pared de Fuego" (Fire Wall) looks like metallurgy in progress, as performers in hazmat suits tend a flaming barrel from atop of scaffolding. When the molten contents reach critical mass, they carefully move it over to a large blank wall. For the next several minutes, the crew produces a live fire painting as they whip the searing who-knows-exactly-what onto the wall. Each pass produces a different pattern of sparks and flames that flashes like a fireworks explosion before dissipating. The effect is visually stunning, and a clever use of industrial scenery for art's sake, rather than another technocratic display of economic might.
At one entrance to Tecnópolis, another Fuerzabruta ensemble performs on the hour on the massive concrete patio between the parking lot and the expo. With hardly any warning, a proscenium-like collection of metal poles comes to life. Two DJs stand in the middle and control a cacophony of kick drums and trumpets above, and a row of speakers below playing a varying electronic garble. Two costumed drummers stand on the very top strapped in and banging on a giant drum. Handlers wheel the beast around, looking something like the cab of a big rig truck worked over by sound artists.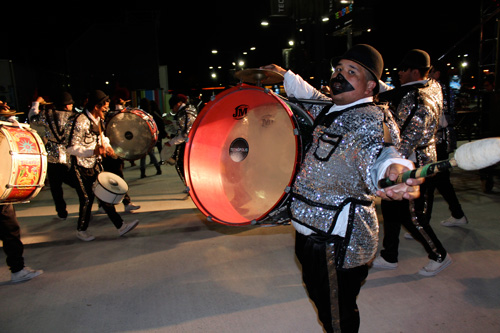 In front, a costumed marching band that could have leaped out of Emerald City from The Wizard of Oz leads the way, with drums and cymbals at attention. Shiny sequins are the order of the day, and the dancers wear party hats à la a child's birthday. Somewhere between a step team and a Carnival parade, the drum corps and company meander about the front entrance at a fair clip, drawing scampering spectators who attempt to snap a picture or join in the fun. Off the grid of Buenos Aires traffic-choked streets, there is a definite sense of whimsy to Fuerzabruta's musical zigzag, perhaps exactly what most of wish we would encounter around the next corner on a stressful day.
While the patriotic showpieces should be taken with a grain of salt – nothing against Argentina's industrial might, but a little humility never hurt – Fuerzabruta's art at full tilt is worthy of such a wider audience. Tecnópolis will roll up the digital carpet on August 22nd for reforms in order to reopen as a permanent fixture. With August also bringing in a showcase by avant-garde electronic music label ZZK and its digitalized take on cumbia and other Latin American sounds, the artistic side of Tecnópolis is set to close on a high note. One can only hope the trend continues once Buenos Aires' cultural scene gains such a unique, large-scale venue for good.
Gregory Scruggs is a freelance writer, DJ, and urban researcher who lives in Rio de Janeiro. He focuses on the intersection between audio culture and urban space.

Follow Sounds and Colours: Facebook / Twitter / Instagram / Mixcloud / Soundcloud / Bandcamp

Subscribe to the Sounds and Colours Newsletter for regular updates, news and competitions bringing the best of Latin American culture direct to your Inbox.
Share: