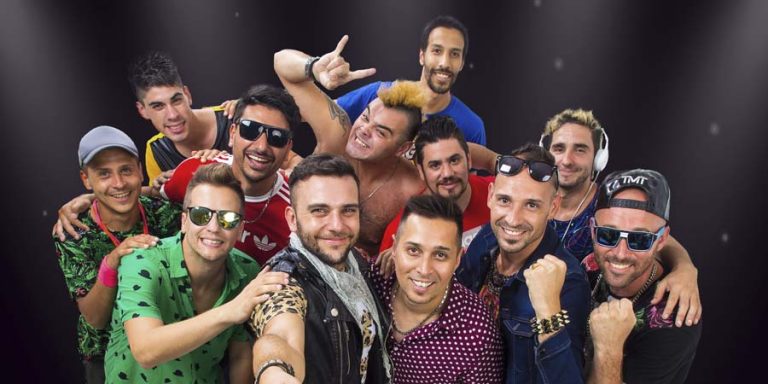 'The Happiest Show in the World': Argentina's Los Caligaris To Hit North America to Celebrate 20th Anniversary
09 October, 2017
The story behind Córdoba, Argentina's own Los Caligaris is one of rampant celebration and laughter. Founded 20 years ago, the band exhibits a brand of brass-filled ska that's well rooted in Argentinian murga, a traditional carnivalesque culture which was effectively redefined and powered in South America's Southern Cone back in the 90s, thanks to the work of well known acts such as Los Fabulosos Cadillacs, Los Auténticos Decadentes and Los Calzones Rotos. Consisting of 12 members, the project's name pays homage to a legendary clown who literally laughed until the verge of his death. The latest instalment of the band's live tours was baptised "The World's Happiest Show", and it's been widely celebrated in nearly 10 countries across Latin America.
Besides the circusy ska/punk atmospheres that these guys showcase on stage, soccer is a theme that is constantly linked to the band's music (and Argentinian ska in general). Only a day after his beloved team River Plate defeated Cochabamba's Jorge Wilstermann 8-0, and went on to establish one of the greatest upsets in contemporary Copa Libertadores history, we spoke to lead singer/guitarist Martín Pampiglione about the highly successful year the band has had so far.
You obviously watched the game, right?
You know, actually I didn't (laughs). I wasn't able to watch it because I was playing with the band, but the people at the show kept me updated as the goals kept coming. I was almost sure we were knocked out, and to come back alive in the cup with such a score was pretty exciting.
How's the tour coming along? 
2017 marks 20 years since the birth of Los Caligaris. We've played in México, Colombia, Nicaragua, Guatemala, Costa Rica, Paraguay, Chile, Argentina, and we're still missing a couple of countries. Towards the end of the year we're headed to Ecuador and Bolivia, and we're also playing a show in the U.S. in a couple of weeks.
Any particular shows you'd like to highlight? I heard you guys were stunning at Bogotá's Rock al Parque.
Rock al Parque was certainly a highlight. We were really motivated by the fact that it's this free of charge festival where lots of people from all around Colombia were watching us and chanting. We haven't seen any footage from that show yet, but what went down that afternoon was memorable.
What about the sold-out one you'll be playing in México D.F.'s Palacio de los Deportes in a few days?
That one's been a huge surprise. More than 12,000 tickets were sold in less than 48 hours, and the show was completely sold out in a couple of months. Palacio is one of the biggest and most representative venues in the city, so it'll be quite  an honour playing that concert. That's also the reason why we're going to record it in order to release the first Caligaris DVD next year. We're really planning that one out so it's performed and recorded in the most professional and pristine way.
Tell us a bit more about that U.S. show. Is Argentinian ska well received in California? 
Definitely. We've been to L.A. three times and we've met lots of great people over there. Our first show was a double feature along with our buddies from this great Mexican band called Inspector. Lots of people showed up that day, and we've been getting a good amount of calls and feedback on social networks ever since. This time we're playing "El Show Más Feliz Del Mundo", which is a ska/rock permeated experience in which we expect to get everyone dancing and jumping around.
That's also related to that EP you guys put out back in August, right?
Right. The EP is called Canciones Felices. It's only a couple of tracks which go by the name of "Camello" and "Frijoles". The feedback from our fans around those songs has been fantastic. We obviously played them in our most recent Argentinian shows, and people were singing along like they were classics. Pretty crazy stuff.
Could the success have anything to do with the fact that Los Auténticos Decadentes were involved in the record's production?
Sure! We contributed with two members of the band (Mariano Franceschelli and Martín "La Moska" Lorenzo) at Álvaro Villagra's studio in Buenos Aires. We gave them more than 40 songs to work with, and the selection process was quite tough, but I think we're all pretty happy with the final product. Álvaro is a phenomenal producer. He's worked along legends such as Los Fabulosos Cadillacs, Divididos, and many others. Back in 2016 his work on our last record Circología earned us a Carlos Gardel Award, which is this pretty important prize here in Argentina.
Any new sounds that you've discovered during this tour and would like to recommend to us?
There's a myriad of bands we're constantly discovering, but I'd especially like to name Barcelona's La Pegatina, which displays a very similar stage vibe to that one of Los Caligaris.
Los Caligaris will be playing at L.A.'s Union on October 13th alongside La Resistencia, Raskahuele, and many others. You can find info on this event here.

Follow Sounds and Colours: Facebook / Twitter / Instagram / Mixcloud / Soundcloud / Bandcamp

Subscribe to the Sounds and Colours Newsletter for regular updates, news and competitions bringing the best of Latin American culture direct to your Inbox.
Share: