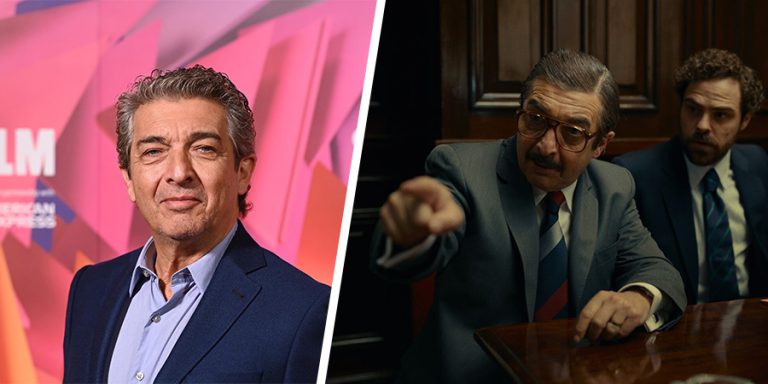 Kate Green (Getty Images for BFI) / still from 'Argentina, 1985'
'I Had No Fear… This Story Had To Be Told': Ricardo Darín on 'Argentina, 1985'
20 October, 2022
Ricardo Darín is getting ready to watch his new film. We are meeting during London Film Festival and Darín is here to support Argentina, 1985, of which he is the star. The day of our interview, the film will screen to British audiences for the first time. Darín reveals he's going to the screening, and that he's curious to see the reaction of the British public. The following morning a colleague tells me that she saw him in the cinema, and that he took a seat amongst the audience. There was some commotion before the start of the film with people shouting "Ricardo, sit with me, sit with me!"
Argentina, 1985 is inspired by the true story of public prosecutors Julio Strassera (Ricardo Darín) and Luis Moreno Ocampo (Pedro Lanzani) who dared to investigate and prosecute Argentina's bloodiest military dictatorship in 1985. Described as 'Argentina's Nuremberg', the Trial of the Juntas was the first time that military leaders faced a civilian court following the country's tentative return to democracy in 1983, after seven years of terror, in which supposed enemies of the government were tortured, killed or 'disappeared' on an unimaginable scale.
"The thing is when you start talking about the subject, people think they're going to be subjected to a kind of turbulence, full of disturbing, horrible things. But the film starts off gently, and only gradually brings you into what's happening, which makes what comes later hit you even harder", Darín tells me as I check my phone to make sure that the interview is recording. We are in a room at the Ham Yard Hotel. I've been describing the press screening a couple of days earlier, and my surprise at how much people laughed during the film. "It's recording on this one too," I say, pointing to the iPad. He chuckles good-naturedly, amused by the fact I've brought two different devices to record our conversation. His simpatia, that natural warmth for which he is famous, puts me at ease straight away.
There have been numerous Argentine films on the dictatorship, ranging from dramatisations of some of the more horrific incidents – Garage Olimpo (Marco Bechis, 1999), La noche de los lapices (The Night of the Pencils, Hector Olivera, 1986) to how the rest of the population lived under military rule, such as in Un muro de silencio (A Wall of Silence, Lita Stantic, 1993) and La historia official (The Official Story, Luis Puenzo, 1983) which gave Argentina its first Oscar.
"I didn't want to make one more film about that period. As Santiago [director] says, this isn't a film about the dictatorship, it is a film about recovering democracy. The story is told from a human point of view – who are these people who suddenly find themselves responsible for bringing these men to trial?"
Darín sits across from me at a table laden with a disarray of water bottles and empty coffee cups that come from long hours of conversation. In his black t-shirt and trousers he looks serious, but fresh still, and answers my questions with enthusiasm.
In the film he plays Julio Strassera, the real-life prosecutor in charge of the case who had to assemble a legal team and find witnesses while at the same time facing constant threats, not just to himself, but also to his colleagues and family.
Before taking on the role of Strassera the only other real-life character he had played before was early in his career in the film La Rosales (David Lipszyc, 1984). This historical drama was based on a real incident that took place in 1892 when a ship from the Argentine Navy sunk off the coast of Uruguay and all of the crew except for the Captain and the Lieutenant were drowned, which Darín tells me, coincidently, later led to a court case in which the surviving officials were tried by the Navy.
In previous interviews he's admitted to avoiding taking on roles based on real people saying it is very hard to compete with reality, especially if the story is recent. But in the case of Strassera, he did not hesitate.
"I had no fear. He [Strassera] was a person who I respected, and who I now respect even more. In this case the story was much more important than its cast of characters: it would have been strange for me to evaluate whether I should or shouldn't take on this role. This story had to be told." He says this emphatically.
His portrayal of Strassera, an everyman figure at the start of the film who says "history is not made by guys like me" but whose actions lead him to become a "national hero", is one of the most complex and politically-charged roles Darín has crafted in a career spanning more than 40 years.
I mention a recent review of the film in which he'd had been praised for creating an interesting character out of a man who wasn't interesting. "I don't agree. I think he was fascinating. I began learning things about him that were not only interesting but were also enriching for me, for example his sense of humour."
Darín leans forward and puts his forearms on the table. "I'm going to tell you something I haven't shared before", he says with a smile.
"Strassera had such a great sense of humour that when they all started receiving death threats he would answer the phone and say: 'Is it about the bombs? Please call tomorrow between 7.30 – 8 a.m., as we're not available to take your call right now.' It didn't mean that he wasn't scared. Or that he wasn't aware of the dangerousness of the situation. "

Central to the story is Strassera's relationship with his deputy, Moreno Ocampo, and the support of their young, yet inexperienced, legal team. In one crucial scene there is a tense exchange between the two men and Moreno Ocampo suggests that perhaps Strassera could have done more to help people during those years of military rule. The theme of youth, and the power of young people to change things in the world has been explored by director Santiago Mitre in previous films such as The Student (El estudiante, 2011). It is a topic Darín has made reference to in his expectations for the film, and his hope that the film's message, particularly its humanity, will reach the youngest generation, those who will be building the future.
"For young people today watching the film it will be surprising the huge difference in the form of communication in the last 40 years. Now we know what is happening to a guy in Egypt say, at the exact moment that it is happening to him. The court case happened almost with its back to society. It wasn't shown on TV. What they would do was show some news reports of images without sound. You couldn't hear what was being said and you had to trust in what the newspapers were telling you. A method of communication that meant that society was not so aware of what was happening. Until the testimonies began to appear and people began to learn about things they didn't know about."
Another key element of the film is how it shows Strassera not just in his role as a prosecutor, but also in his relationship with his family. Silvia (Alejandra Flechner), his wife, and his two children Vero (Gina Mastronicola and Javier (Santiago Armas), underpin the film's narrative, and their interactions give the film a human dimension that seldom features in courtroom dramas. Silvia offers Strassera wisdom and encouragement, and the scenes with his son Javier are some of the most pivotal and beautiful of the film.
"His relationship with his son is important because it isn't often that children are given an intellectual importance that they can contribute to a monumental story such as this one. But nevertheless this is a man who believes in his son's viewpoint. He changes his text [of the indictment] as a result of what his son suggests."
Argentina, 1985 is co-produced by Kenya Films, Darín's production company. Darin's own son Chino is one of the film's producers. It became the most-seen film in Argentina when it was released last month, selling nearly 800,000 tickets so far, and has won awards at Venice Film Festival and San Sebastian. Not surprisingly, it will represent Argentina at the next Academy Awards. I ask Darín why he thinks audiences have been so moved by the film.
"Because this is a story that is far-reaching. It's a local story but it's far reaching because it is impossible to imagine a community or society that hasn't been through a similar struggle for truth, memory and justice. To understand how things were and how they got to where they are. This has always happened and unfortunately is still happening."
At that moment the PR comes in to signal we have just a few minutes left to talk. I'm still thinking about the emotional connection Darín has described, not just to this film, but also so many of his other roles and wonder if with his fame he's become an ambassador for Argentina. Like Maradona.
Darín laughs.
"It's a big responsibility. But I think the term 'ambassador' is a bit too flamboyant."
"Sorry" the PR interrupts, now ready to end the interview.
"With Diego we had a period of friendship," Darín continues, "When we were very young we were very good friends. I met him when I was 18 years old and he was just 15. I'm still in touch with his daughters and his ex-wife."
His son Chino walks into the room and there's no escaping that our time is up. Darín introduces me to his son and then puts on a pair of impenetrable dark glasses; the type worn by the very famous. He turns towards the door.
"I enjoyed our chat", he says, generously, before heading out into the Soho sunshine.
Argentina, 1985 will be available to stream on Amazon Prime from Friday 21st October.

Follow Sounds and Colours: Facebook / Twitter / Instagram / Mixcloud / Soundcloud / Bandcamp

Subscribe to the Sounds and Colours Newsletter for regular updates, news and competitions bringing the best of Latin American culture direct to your Inbox.
Share: