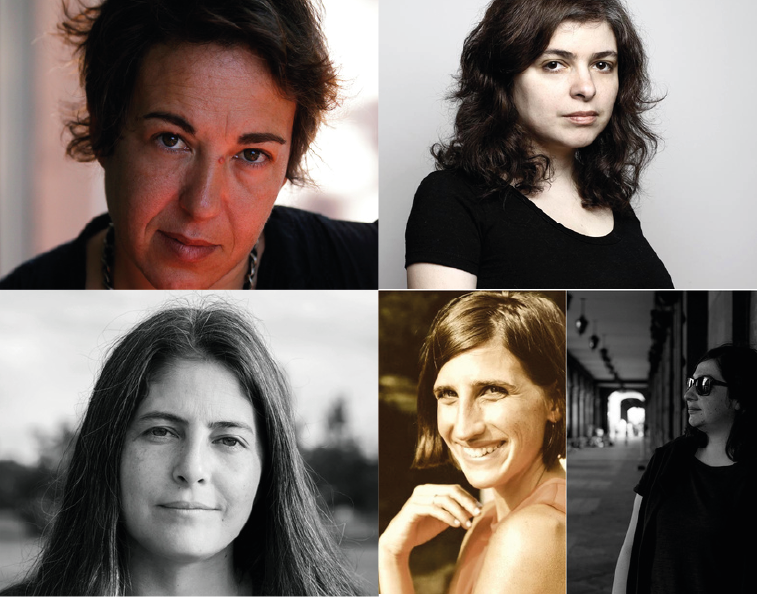 images clockwise from top-left: Gabriela Cabezón Cámara; Mariana Enriques; Selva Almada; Sophie Hughes; Fernanda Melchor
Latin American Literature: Free Online Events for Edinburgh Book Festival
17 August, 2020
During normal summers, the Edinburgh International Book Festival hosts nearly 1,000 writers, artists, philosophers, and more for three bustling weeks of cultural events. With summer 2020 categorically not being a normal summer, the festival has had to take a somewhat different approach, and will be in an online format this year.
This August, the Edinburgh International Book Festival will be offering free interviews, panels, and workshops streamed on their website. "[Attendees] will be able to chat with fellow festival-goers via digital chat rooms and take part in Q&A sessions," the festival website explains. Some of the events will also be closed-captioned, BSL-interpreted, and/or learning-disability friendly, making this online edition more accessible than the festivals we were perhaps used to.
We've gone through EIBF's impressive calendar of events to select those focusing on Latin American and Latinx writers, books, and topics. Happy viewing!
Natalie Diaz and Ellen van Neerven: Voices of Indigenous Resistance
Monday 17 Aug, 13:00 – 14:00 BST
This event will bring together Mojave American and Latinx poet Natalie Diaz and Yugambeh poet Ellen van Neerven as they discuss race, belonging, sexual identity, and indigenous voices. You can watch Natalie Diaz reading a poem from her recent collection Postcolonial Love Poem here.
Gabriela Cabezón Cámara: The Female Gaucho
Thursday 20 Aug, 11:30 – 12:30 BST
Gabriela Cabezón Cámara is one of six authors shortlisted for the International Booker Prize this year and one of the most respected names in contemporary Argentinian literature. Her Booker-shortlisted novel, The Adventures of China Iron, is a playful alternate history of a classic Argentinian epic poem, Martín Fierro (1872), and a fresh, feminist twist on gauchesque literature in general, a subgenre from which women characters and narrators have been notably absent. You can read our review of the novel here.
In this talk, Cabezón Cámara and her translators, Fiona Mackintosh and Iona Macintyre, will discuss the nature of reimagining classic stories with Argentinian writer and journalist Mariana Enriquez.
Sophie Hughes and Fernanda Melchor: Another Mexico
Saturday 22 Aug, 14:30 – 15:30 BST
This event features another author on the 2020 International Booker Prize shortlist: Mexican journalist and novelist Fernanda Melchor. Melchor's most recent novel, Hurricane Season, explores the lead-up to and consequences of the murder of a witch in a small Mexican town, revealing an intricate and violent world through the internal monologues of several different characters.
Melchor will be joined by her translator, Sophie Hughes, and Mexican poet Juana Adcock in a conversation about this harrowing novel.
Selva Almada: Giving Voice to the Victims of Femicide
Tuesday 25 Aug, 13:00 – 14:00 BST
Argentinian writer Selva Almada won last year's Festival's First Book Award for her debut novel, The Wind that Lays Waste. She's back this year with her recently translated book, Dead Girls, a genre-defying, powerful series of crónicas that retell the lives and deaths of three femicide victims from the 1980s.
With growing movements like #NiUnaMenos, the problem of femicide has gained far more attention in the last few years, but the crimes Almada documents occurred at a time where not only did they go unpunished, but they also went largely unnoticed.
"Ya las habían matado, ya habían quedado impunes los crímenes. Me parecía que el olvido era otra manera de matarlas," she's been quoted as saying. [They'd already killed them, the crimes had already been met with impunity. I felt that allowing them to be forgotten was yet another way to kill them.]
In this event, Almeda will discuss Dead Girls alongside Argentinian writer and journalist Mariana Enriquez.
Maryse Condé and Richard Philcox: Giving Voice to Guadeloupe
Tuesday 25 Aug, 14:30 – 15:30 BST
Writer/translator husband-and-wife duo, Maryse Condé and Richard Philcox, will be reflecting on their long, decorated careers and presumably discussing Condé's new book, The Wondrous and Tragic Lives of Ivan and Ivana, a hard-hitting, satirical work that follows the childhoods and radicalization of two Guadalupean twins. They will be joined by writer and literary critic Maya Jaggi.
International Booker Prize: First Interview with the 2020 Winner
Wednesday 26 Aug, 19:00 – 20:00 BST
Every year, the International Booker Prize recognizes a single book translated into English and published in the UK and Ireland. This year, two exceptional books by Latin American authors have been shortlisted: Hurricane Season by Fernanda Melchor (Mexico) and translated by Sophie Hughes, and The Adventures of China Iron by Gabriela Cabezón Cámara (Argentina) and translated by Iona Macintyre and Fiona Mackintosh. The winner of the prize will be announced that morning, making this event the first interview with 2020's winning author/translator team. The event will be hosted by Ted Hodgkinson, the Chair of the prize's judging panel. Not to be missed!

Follow Sounds and Colours: Facebook / Twitter / Instagram / Mixcloud / Soundcloud / Bandcamp

Subscribe to the Sounds and Colours Newsletter for regular updates, news and competitions bringing the best of Latin American culture direct to your Inbox.
Share: