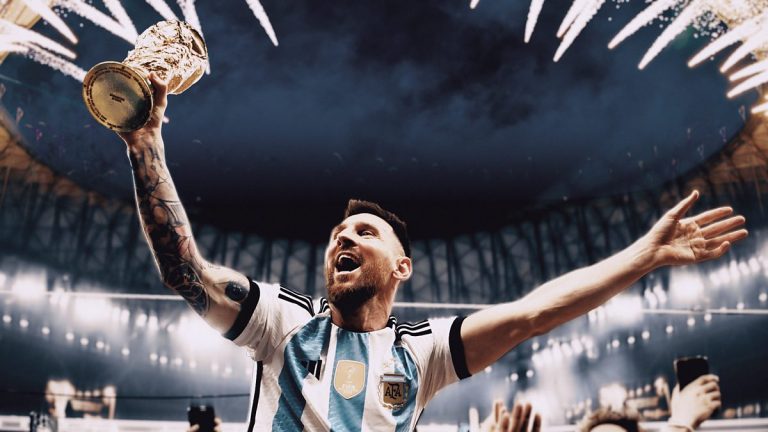 A still from 'Lionel Messi: Destiny' courtesy of the BBC
'Lionel Messi: Destiny' chronicles the Argentine idol's quest for World Cup victory
05 September, 2023
Lionel Messi: Destiny, is a slickly produced, engaging document of Argentina's victory in the 2022 FIFA World Cup in Qatar, the greatest moment in the career of – quite possibly – the greatest footballer of all-time. Along the way, a formidable squad of football writers, players, and coaches provide genuinely fresh insight into Messi's brilliance, Argentina's exuberant sporting culture, and the overarching power of narrative in the global game.
First and foremost, the film offers a fascinating glimpse into the unfathomable passion which the Argentinian population pours into football. The emotion on display is extraordinary to watch, and regularly approaches a state of quasi-religious ecstasy. In one marvellous image taken just after Messi's goal against Mexico in the group stage, winger Ángel Di María looks as if he's just seen an apparition of his namesake, while the stunning footage of five million Argentines thronging the streets of Buenos Aires after the final speak for themselves. The obverse of this passion, however, is the chaos which has surrounded Messi for almost 20 years. The psychodrama of the 36-year-old's life is artistically conveyed in blurry montages of newsprint and cacophonous voices in the press room which capture the hysteria following Argentina's opening loss to Saudi Arabia. The weight of this pressure is clear, and the consequent praise for Messi's mental resilience is well deserved.
Messi's own relationship with this feverish football culture has long been complex. Despite his immense talent, he has often been cast as an "outsider", having moved to Barcelona at 13 and subsequently failing to display the kind of aggression, ego and emotionality which have characterised the long line of legends to have worn Argentina's number 10 jersey. Messi, as the football writer Marcela Mora y Araujonotes, has long been demanded to behave "more Argentinian", and he seemed to accomplish this mission in Qatar less through his performances on the pitch than his newfound belligerence off it. The film dwells particularly on Messi's conduct following the quarter-final victory over the Netherlands, in which "a different Leo" emerged, one who embodied coach Lionel Scaloni's mission to "front up" against opponents. The previously mild-mannered Messi gets into a confrontation with Dutch coach Louis van Gaal and launches hilariously quaint insults towards the forward Wout Weghorst ('Qué mirás bobo?', effectively meaning 'what are you looking at, dummy?'). This behaviour was widely celebrated at home, apparently serving to underline Messi's more tangible engagement with the wilder fringes of Argentinidad. It's hardly Maradona against Bilbao, but it's a start.
Maradona, of course, is an absent presence throughout the film, which opens, over a pitch-black screen and above dramatic strings, with a quote from El Diego: "I have seen the player who will inherit my place in Argentine football, and his name is Lionel Messi". From the start, then, a clear narrative is established, in which Messi collects the torch from Maradona and fulfils his destiny by equalling the idol's victory in the World Cup. This ultimate triumph is given more weight by the history of failure which preceded it, and the filmmakers cut rapidly through his career, as he grows from a childlike figure with a floppy thatch of hair to the rather world-weary figure who arrived in Qatar, one who was deeply scarred by losing four major finals with Argentina (three times in the Copa América and once in the World Cup). We see Messi's tears, and journey with him to the pit of the valley, from where, of course, he will rise to the highest pinnacle in Qatar.
What is most fascinating here, and what is the chief virtue of the film, is how much players, coaches and others intimately involved in Argentina's World Cup campaign buy into this narrative, which then begins to influence their own actions and, perhaps, events on the pitch. As the Spanish football writer Guillem Balagué notes, for example, more so than Argentina, "everyone understood that we want Leo to be the World Cup winner". To that end, the film describes an immense project of assembling a stage on which Messi can make his final, glorious bow, with his transfer to PSG and the appointment of Scaloni as national team coach – introduced first and foremost as "a manager that could work with Messi" – all calibrated to maximise his chances in the Gulf. Messi's co-stars are also fully invested in his story, with much attention paid to the young trio of Alexis Mac Allister, Enzo Fernández and Julián Álvarez (23, 21, and 22 during the tournament, respectively) who feel a sense of "responsibility" for getting their idol a World Cup trophy after all the years of pain. Even the older members of the squad share in this adoration. Dibu Martínez, for instance, Argentina's 30-year-old goalkeeper, is framed in his home by two portraits – one of him snarling in triumph after a save and the other of him stooping to embrace his captain. The two images are revealing: as important as his own success, it seems, Martínez, and Argentina at large, are obsessed by the completion of Messi's own story, and its joyful ending in Qatar.
Lionel Messi: Destiny is currently available to watch on the BBC iPlayer

Follow Sounds and Colours: Facebook / Twitter / Instagram / Mixcloud / Soundcloud / Bandcamp

Subscribe to the Sounds and Colours Newsletter for regular updates, news and competitions bringing the best of Latin American culture direct to your Inbox.
Share: