Review
Mercedes Sosa – La Negra: The Definitve Collection
Folk music has never been my cup of tea. My parents spent their teenage years rebelling against the cultural isolation imposed by Onganía's dictatorship (1966-1970) and, as a result, have always embraced and encouraged in their daughters a taste for international artistic expressions. I was born when Argentina's last military regime was preparing for its last, ill-fated war adventure. But unlike my parents, I grew up in a democracy where anything and everything was available for consumption.
Influenced by my parents' taste in music at first – Queen, Elton John, Whitney Houston – and later on by my sister's – Guns 'n' Roses, Roxette, Bon Jovi – it's always been Anglo pop and rock music that we mainly listened to at home. But Mercedes Sosa has reached such a widespread and consolidated cultural status that she seems to be part of the Argentinean DNA. We didn't need to follow her career to know who she was, what her voice sounded like, what she stood for and fought for. So even in this inhospitable household for native music, La Negra's (literally, the Black One) folk anthems found their way in and blossomed.
Born in Tucumán (North-West of Argentina) to a mixed Amerindian-French humble family, Mercedes Sosa's music career kick-started at the age of 15 when she won a radio singing competition. A few years afterward, she married and moved to Mendoza where – together with many other artists – she launched the Nueva Canción movement with the intention of promoting the production of socially committed songs with political content. She soon started to be known as 'the voice of the voiceless ones'.
Unsurprisingly, her artistic activism didn't go unnoticed when Videla's Military Junta came to power in 1976. In times of increasing military oppression and systematic control, her music was considered a radical threat that had to be silenced. She was arrested at a concert in La Plata in 1979 but released by the mounting pressure of international organisations. She was forced to self-exile and lived in Paris and Madrid. She returned to Argentina in 1982, a few months before the military regime collapsed as a result of the Falklands war.
La Negra: The Definitve Collection is a double CD with 40 of her best-known and loved songs (both studio and live recordings). Still not being my favourite music style, I tend to favour those songs played with other artists I admire. "Sólo Le Pido A Dios" (I Only Ask God), one of León Gieco's most famous songs and performed live with him, is a perfect combination of Sosa's earthly voice and Gieco's soul-touching lyrics. In "Canción Con Todos" (Song With Everyone), another national folk hymn, Sosa has the chance to show off her marvellous vocal range whilst calling Latin America to unite. Raimundo Fagner is Sosa's partenaire in "Años" (Years) and his Brazilian bossa nova influence is easily identifiable in the otherwise more Northern Argentinean-autochthonous sounds of the anthology. It's impossible not to mention the classical "Luna Tucumana" (Tucuman Moon) and the festive "Viva Jujuy" that, together with Sosa's powerful voice, portray the best of Argentinean folk music. "La Colina De La Vida" (The Hill Of Life) is a gorgeous composition by Sui Generis (sung with Nito Mestre) and the perfect song to mark the climax of this posthumous collection.
Tango, rock, zamba, ballads, caranavalitos… she was not shy when it came to experimenting and, luckily, we get a taste of her eclectic style in the excellent set lists compiled in these CDs.
Many times Argentina is thought of as if it were only Buenos Aires, with its European looking people, grand architecture, and metropolitan lifestyle. Argentinean music is not only melancholic tangos or shanty town cumbias, it's also Sosa's Northern accent, how she whistles the 'r', her strong aboriginal features, the sound of charangos and bombos. La Negra's music feels like a call from pachamama, Mother Earth, the Andes benevolent deity.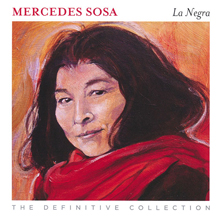 Mercedes Sosa's talent and passion led her to travel around the world promoting Latin American folk music. She played at some of the most breath-taking stages on earth, such as the Roman Coliseum, the Sistine Chapel in Vatican City, the Lincoln Centre in NYC and the Mogador Theatre in Paris. She was also an UNESCO Goodwill Ambassador for Latin America and the Caribbean and won several Grammy awards and other international prizes during her 40-year-long career. She died in October 2009.
A symbol of Latin American integration, her voice was the weapon and music the medium she found to fight for her profound convictions and spread her message of peace. It's not difficult to appreciate how such a character would become part of the Argentinean national identity both within its borders as well as in the rest of the world.
Mercedes Sosa – La Negra: The Definitive Collection is available from Amazon and iTunes

Follow Sounds and Colours: Facebook / Twitter / Instagram / Mixcloud / Soundcloud / Bandcamp

Subscribe to the Sounds and Colours Newsletter for regular updates, news and competitions bringing the best of Latin American culture direct to your Inbox.
Share: