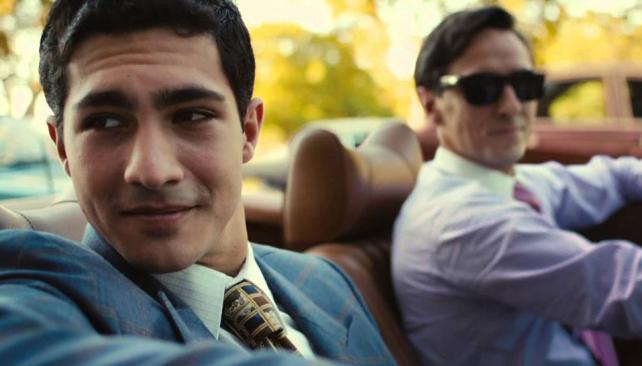 Muerte En Buenos Aires
03 December, 2014
Muerte En Buenos Aires (Death In Buenos Aires) directed by Natalia Meta, starts slowly and never recovers. A leading member of Buenos Aires society, one Señor Jaime Figueroa Alcorta aka Snowflake, is found dead in his apartment. In short order, it was drugs, sado-masochistic sex, followed by asphyxiation and post-mortem mutilation.
Cue the arrival of Inspector Chávez (Demian Bichir). He's a hard-bitten policeman with crime-fighting in his DNA. Unfortunately for our hero, crime and punishment aren't what they used to be and they are even more problematic when you have a young child who sleepwalks and keeps you up all night.
Mad about the boy
On arriving at the crime scene Chávez and his unfeasibly glamorous sidekick, Dolores Petric (Monica Antonopulos), are confronted just as a blackout ensues by another figure in the darkness. This turns out to be Agente Gomez (Chino Darín). Chávez is not best pleased as it turns out. Gomez has removed something from the crime scene at which he shouldn't have been present. However, their paths cross again when Gomez rescues Chávez from his gun-toting, sleepwalking infant son just as he removes a section of plaster from behind the marital bed. Gomez is a pretty boy and Chávez can see a use for him in exploring the gay world where perhaps the evidence lies. He is also increasingly disarmed by his charms.
Of mincing and men
The principle suspect, a small-time crook, fraudster and sometime cabaret artiste, Kevin González (Carlos Casella), who was a benefactor of Alcorta's considerable largesse, is implicated by being identified from a recorded phone message. Attention shifts to a sleazy gay club, La Manila, after Gomez reveals a book of matches found at the crime scene, which originated there. The club is run by the appropriately-named Calígula Moyano (Humberto Tortonese), who monitors the activities of some of the clubs more affluent and important punters by way of CCTV. The purposes of his "control centre" aren't too hard to guess. At this point erotic dancer, Maxi Diorio (man from Manila), puts in a cameo performance in a pair of budgie smugglers just to affirm the ease with sleaze.
Anything goes
This is Argentina in the 1980s, which the film never really conveys. To anyone not familiar with life under the Junta, it might seem curious that corruption and paranoia are so rife that the police can't even trust the police. Of course, they may assume that Argentina is always like this. In this particular example, Chávez is lucky he's got his father's old colleague, Comisario San Filippo (Hugo Arana), and the diverting Dolores to assist him. Nevertheless, this case, for a variety of reasons, isn't going to be easy. Judge Morales (Emilio Disi) wants it tidied up pretty pronto because he's under pressure from the deceased's avaricious sister, Blanca Figueroa Alcorta (Luisa Kuliok) and perhaps shadowy elements unseen. Chávez receives an envelope from the presiding judge, courtesy of the dead man's sister, to expedite the process and "help with the costs". If only the wealthy were always this interested in paying for public services, eh?
Via Dolorosa
The acting would be great if it wasn't so hamstrung by the ponderous structure of the screenplay. At times it has genuinely funny moments, especially when Chávez is pulled up by Dolores for an especially crass observation and when Gomez is commended for his performance as the honeytrap to ensnare chief suspect, Kevin. There are also some pleasingly surreal episodes such as when Dr Anchorena (Fabián Arenillas), the coroner, is found relaxing on a slab under one of his own shrouds. There is also a beautifully filmed pun on mules that really are used to run drugs against the ever-photogenic backdrop of Buenos Aires. Kevin is eventually shot in the act of escaping by Gomez, who fortuitously, always seems to be in the right place at the right time. It's an open and shut case, or is it?
I don't like it – something's not right
All the pieces have fallen into place rather too conveniently for Chávez. He doesn't believe the script that's been marked out for him. He's not the only one. All he knows is that Kevin isn't his man. Of Gomez/Ganso/Ramirez, he is not sure. Who would be? How is it possible that a man who is originally referred to as Gomez at the initial crime scene later becomes Ramirez down at the police station and ends up being Ganso in the credits? What's in a name? Continuity! However, when Chávez isn't trying to get to sleep or servicing Dolores in the back of the Renault, he is becoming more and more enamoured with his new assistant. The question is whether his personal feelings are clouding his professional judgement.
The denouement could have been delivered by Western Union it is so predictable. Yet again good acting from the leads and characters and some excellent filming were undone by the script. If only Raymond Chandler or Claude Chabrol had been to hand.

Follow Sounds and Colours: Facebook / Twitter / Instagram / Mixcloud / Soundcloud / Bandcamp

Subscribe to the Sounds and Colours Newsletter for regular updates, news and competitions bringing the best of Latin American culture direct to your Inbox.
Share: