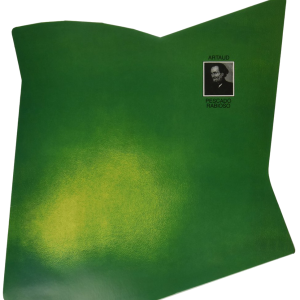 Review
Pescado Rabioso – Artaud (1973)
A couple of albums in, and it can be easy for a band to find themselves painted into a corner. Some opt to double down on the style that had brought them success. Whilst others, in an effort to avoid becoming tired pastiches of themselves, experiment with a mid-career shift in style. The results, however, vary. Where for some acts, this change of tack can have a revitalizing effect, for others, these ventures into new territories can feel contrived.
Artaud, the third release of Argentine blues-rock act Pescado Rabioso in 1973, not only signalled a refreshing change away from the bellicose tones of their early work, to a more delicate and spatial sound, but is widely recognized as the outstanding album in rock argentino and beyond.
In truth, though credited as a Pescado Rabioso's album, Artaud is a Luis Alberto Spinetta solo record in everything but name. That it was released under such a guise is testament that the outfit had always been a vehicle for his own virtuosity, rather than an egalitarian expression from a group of talented artists. As much is proclaimed in the if-it's-me-and-your-granny-on-bongos-it's-The-Fall-style sleeve notes, "Pescado Rabioso is a musical idea created in 1971 by Luis Alberto Spinetta. Through this idea the following musicians have played for the purposes of performances and recordings: Juan Carlos Amaya, Osvaldo Frascino, Carlos Miguel Cutaia y David Oscar Lebón…"
These musicians, however, don't feature on Artaud. Instead, Spinetta wrote and composed the LP himself, and played all instruments on five tracks. For the remaining parts of the album he drafted in his brother, Gustavo, as well as Rodolfo Garcia and Emilio de Guercio, both of whom he had worked with with Almendra, a psychedelic folk act from the back-end of the 1960s, who, along with Los Gatos and Manal, can lay claim to being the founding fathers of Argentine rock.
This changing of the guard was key as Spinetta sought to explore a more diverse musical panorama, and the album chimes with a restlessness that had always characterized his career. Just as Pescado Rabioso had been formed as a visceral alternative to Almendra, and its "tender and sensitive axis", Artaud is a reaction to the band's bluesier and bruising early work.
There are clues to this shift in style even before listening. The irregular octagonal sleeve, designed by Juan O. Gatti, is distinctive for its sharp and skew-whiff angles that foreshadow the record's free-form philosophy. A major hint to the lyrical tone of the album is in the deictic naming after French poet Antonin Artaud. The green-yellow Rothko-esque hue of the cover is a further nod to Artaud, who had described the colours as being synonymous with decomposition and resurrection in a 1937 letter to contemporary Jean Paulhan.
Odes to Spinetta's heroes appear throughout Artaud. Perhaps most significantly on the album's centrepiece, "Cantata de Puentes Amarillos", a title inspired by a 1888 work of Vincent Van Gogh, Langlois Bridge at Arles. There is a surreal folkiness to this 9-minute odyssey, with its Spanish guitar and campfire coo-ing, but this merely masks a more sombre core. In later years Spinetta would describe the sanguine lyrics as referring not only to the blooded ear of the Dutch artist, but also to Heliogabalus, a transgender Roman emperor whose mutilated body was thrown in the Tiber, and would be celebrated in one of Artaud's most famous works – "Heliogabalus, Or the Anarchist Crowned". These grisly tributes are coupled with allusions to abduction, which take on a less abstract and more harrowing context when the climate of growing political violence in 1970s Argentina is considered.
This angst lingers throughout much of Artaud, even colouring the album's more optimistic moments. For a record as inherently dark as Artaud, these moments are frequent. Just as its dark undercurrent is influenced by society's alienated and maligned people, the more tender tones are a reflection of Spinetta's blossoming romance with Patricia Salazar – which would lead to 25 years of marriage and four children. Gustavo Spinetta has said that "many of the lyrics were born" from the early days of the relationship, and though these heartfelt sentiments surface throughout the record, they are often tinged with sombreness.
This marriage of bleak sentimentality is prominent on "Cementerio Club", a smoky, atmospheric jazz-blues number, that owes much sonically to Manal's "Avellaneda Blues" (hardly a surprise given both songs were produced by Jorge Alvarez). Opening with "I was just thinking about you, baby, when I fell dead", Spinetta would describe some years later of seeing the closing line "how hot summer will be without you", scratched into a cell wall as he was held during what would become routine arrests during the Argentine dictatorship.
The harrowing vein that runs through Artaud eventually metastasizes itself into its most unsettling track at the end of the album. The off-kilter and foreboding piano that opens "A Starosta, el Idiota" is genuinely disorientating, but quickly becomes more unnerving, as it is interrupted with distorted snippets of "She Loves You" by The Beatles, and a loop of a crying child. This chilling pall is finally broken by the lilting encouragement to break the darkness with "the light of springtime", a final testament to the album's motif of counterbalancing gloominess with optimism.
Though Artaud represents a clear change in direction in the Spinetta oeuvre, trace amounts of feral DNA that characterised Pescado Rabioso's first two albums can be found. "Bajan" echos much of this earlier output with its swinging bayou groove. Whilst "Las Habladurias del Mundo" stays true to this rock-and-roll blueprint with its riff-heavy and carnivorous flow.
This would be Pescado Rabioso's last release. A rich and textured exclamation mark on the career of one of Argentina's most highly regarded bands, a truth that hasn't dimmed close to half a century later. Spinetta would continue to explore a complex palette of sounds and styles, both as a solo artist and with outfit's such as Invisible and Spinetta Jade, up until his untimely death in 2012, leaving as close to a peerless body of work as is possible.

Follow Sounds and Colours: Facebook / Twitter / Instagram / Mixcloud / Soundcloud / Bandcamp

Subscribe to the Sounds and Colours Newsletter for regular updates, news and competitions bringing the best of Latin American culture direct to your Inbox.
Share: