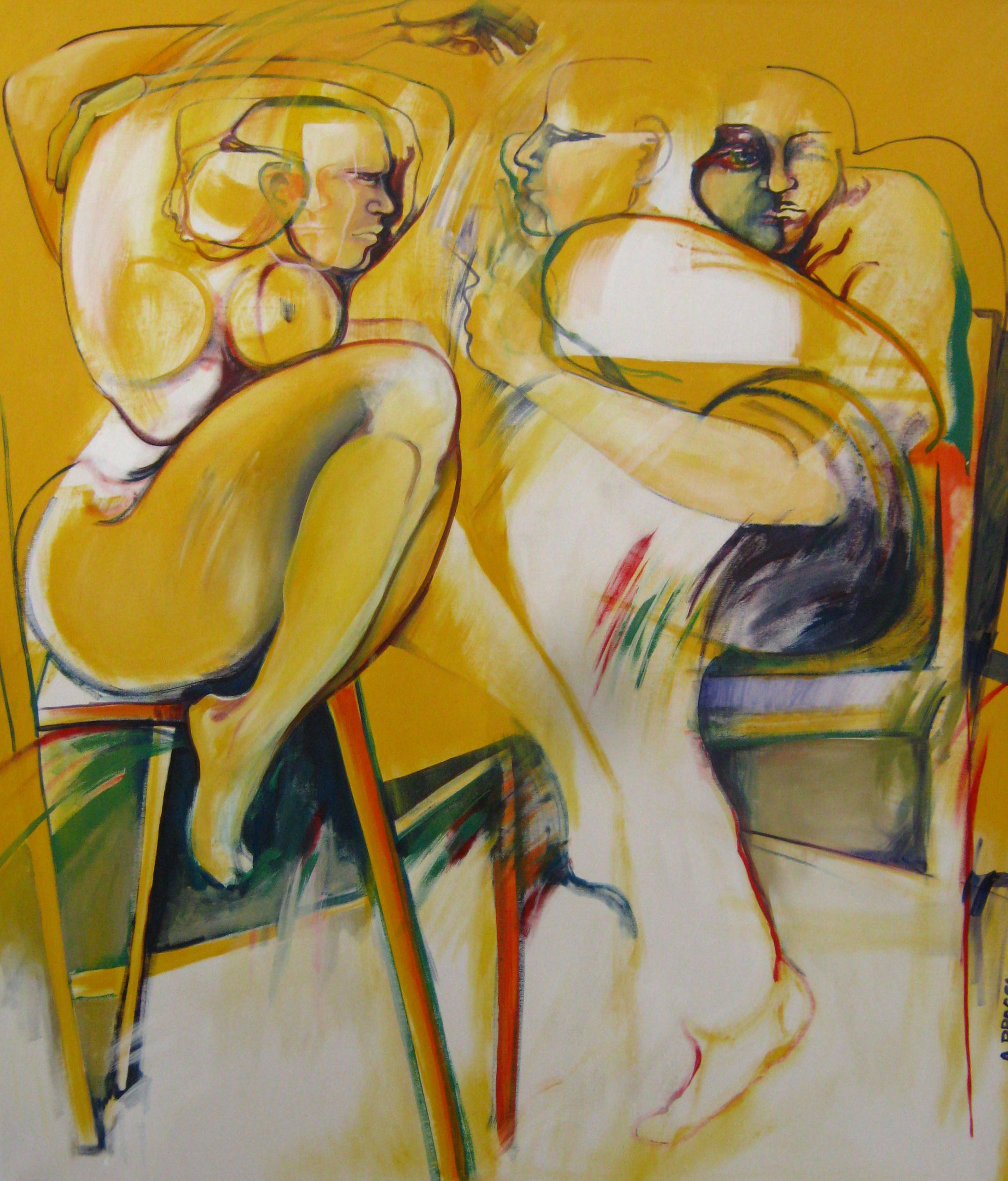 Disseccion Acrilico/Acrylic Dissection by Broggi
Quantum of Impermanence: The Plastic Art of Andrea Broggi
25 November, 2014
As part of our focus on Argentina, Ed Hart continues the theme on contemporary artists with a review of the works of sculptor, painter and ceramicist, Andrea Broggi.
Broggi, born in Buenos Aires in 1966, attended the Instituto de Bellas Artes Beato Angélico and the Instituto Ernesto de la Cárcova, Buenos Aires, where she studied under Leo Tavella, Aurelio Machi, Horacio d'Alessandri among others. She continued her studies with scholarships to study sculpture and ceramics at 0-Castro, Spain.
Here and now meets now and then
Broggi's work is not fixed. Indeed, in the plastic art of sculpture as well as in drawing and painting, she demontrates a preoccupation with the transient nature of particular states. This theme, illustrated in Encuentros y Desencuentros (Found and Lost), recurs throughout her work whatever the medium.
As she explains: "It is my intention is to convey the complexity of human sensations into something of a social event. I want to engender a degree of discomfort in the viewer – a feeling of tensión – by representing images which by their nature are essentially ambivalent (Borderline).
"I am captivated by the structural dynamism and possibilities which drawing offers. I draw to undo the drawing. I want to reflect the changing nature of things rather than stasis and show the transition between then and now as something which reflects the perpetual state of flux or impermanence in life (Grafito y Brea – Pencil and Pitch)."
She reflects a similar obsession with movement and sensation (Tinta Amarilla Sobre el Gris – Yellow Ink on Grey). Whilst the preoccuption with movement is a recurring theme in art, as evinced in the examples of Duchamp (Nude Descending a Staircase, No. 2), De Chirico (numerous), Bacon (Portraits), Boccioni (Unique Forms of Continuity in Space) and even in the work of brilliant stop-go animators like Friz Freleng, Tex Avery, Chuck Jones (e.g. Wile E Coyote) of Merrie Melodies and Looney Tunes fame, etc., Broggi is less concerned with a specific or captured moment, than with conveying how states, actions or emotions evolve over time (Cuando el Agua no Alcance – When the Water Doesn't Flow).
Broggi has won numerous prizes for her work and has exhibited widely in Argentina, Brazil, Italy, Spain and Uruguay, including: Concurso Pintura, Consejo Profesional de Agrimensura de La Provincia de Buenos Aires, La Plata; Museo Municipal de Arte (Mumart), La Plata, 2011; Museo de Bellas Artes "Benito Quinquela Martín", 2011; Bienal de Pintura de Rafaela, Santa Fe, Museo Dr Urbano Poggi (Centro Cultural, Konex) Torre de Babel; Centro Cultural Borges, Castilla y Leon (pinta); Paseo Cultural Quinta de Trabuco; TAG (The Art Gallery) Centro Cultural Recoleta (2009); Centro Cultural Borges, Fundación Pamerco, Intercambio Cultural Rio Grande Do Sul, Brasil; Spazio dei Mori, Venecia, Italia; Centro de Exposiciones Costa Salguero – Arte Clásica Palacio San Miguel; Muestra en la Nueva Casa de Greenpeace; Pale de Glace – Muestra Temática; Muestra Museo de Arte Moderno 0-Castro, España; Salón Nacional de Arte Cerámico, ex Centro Cultural Las Malvinas, Centro Cultural Borges.

Follow Sounds and Colours: Facebook / Twitter / Instagram / Mixcloud / Soundcloud / Bandcamp

Subscribe to the Sounds and Colours Newsletter for regular updates, news and competitions bringing the best of Latin American culture direct to your Inbox.
Share: