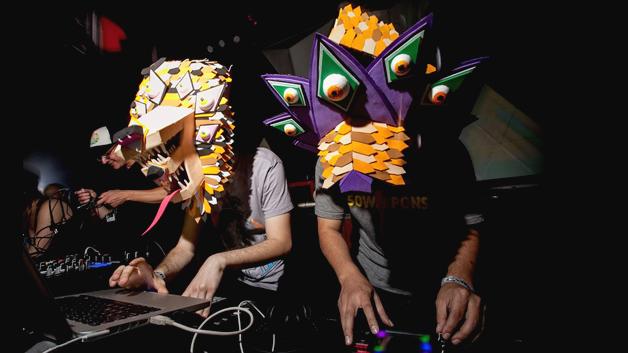 Exclusive Interview: S&C Meets Dengue Dengue Dengue in Buenos Aires
06 May, 2014
The hypnotic beats and throbbing bass might have made them one of the best-known outfits on South America's underground scene, but Dengue Dengue Dengue's tour itinerary has featured one notable omission up to date. Since Peruvian duo Rafael Pereira and Felipe Salmón formed the group in 2010, Dengue have played all over the continent and beyond, yet Buenos Aires has somehow remained off the agenda. Until now, that is, as Rafael, Felipe and mainstay visual artist Nadia Escalante have finally arrived for Dengue's first ever show in the Argentinean capital, undoubtedly one of Latin America's cultural epicentres. It's been a long time coming but those going to the gig hope it will have been worth the wait. They're not the only ones excited about Dengue's visit.
"Being here in Argentina, it's like the circle has finally been completed," says Salmón with a grin.
We're at the Mercurio record store in the city centre, where Pereira, Salmón and Escalante are attending a promotional session. Mercurio is run by Buenos Aires-based ZZK Records, the label and promoter which has brought Dengue to town for tonight's show with El Remolón at the Niceto Club. The shop is located within the Galeria Patio del Liceo, an ex-high school converted into a boutique art and commercial space, kind of similar to Neal's Yard in Covent Garden, and largely occupied by places that sell nice stuff you don't need but want anyway. It's a welcome refuge from the car horns and fumes outside.
In spite of this being the group's debut show in BA, the city plays a fundamental role in Dengue folklore. It was here that the concept of the group was born. "We came here before (with the Lima-based Colectivo Auxiliar) to play with Chancha via Circuito and El Remolón," says Rafael. "That gave us a lot of ideas so, when we got back to Lima, we formed Dengue."
Back then, Salmón did much of the music with Pereira looking after the artistic side of things. These days, the two of them compose and perform the tunes, while Escalante, aka VJ Sixta, creates the psychedelic graphics employed at each show. According to the band, the visual element is as important to the Dengue vibe as the music, something which is evident at that night's gig. Salmón and Pereira bob up and down onstage in their trademark masks, a cross between rainforest animals and indigenous deities. Sporting a baseball cap at her own desk, Escalante conjures up the multicoloured spirals and figures that illuminate the club. It is impressive stuff all round.
Most people, however, know Dengue for their music. The band is one of many in South America which merge traditional styles with modern underground culture, a musical movement often classified as digital cumbia. For Pereira, it is important that Dengue maintain focus on regional identity while interjecting external elements of, say, electro, techno or dub. "We made music before which had nothing to do with tropical or regional styles," he says. "But I think that Dengue has to be mixed, not only with Latin American music but with native music from around the world."
"It's about where these Latin American roots come from, and a large part of that is from Africa," says Salmón. "We explore how they came from there, and this draws a parallel between Africa and American cultures." The influence of Latin America's African traditions, following the slave trade which forcibly brought millions of Africans to the Americas, is apparent throughout regional music, thus forming a key component of today's scene which draws on these same styles.
While much of the Dengue sound is built on a foundation of cumbia, in tunes such as 'Serpiente Dorada' or 'Simiolo', the presence of other elements is a constant feature. Afro-Peruvian rhythms are employed in other places, such as with 'Bugutu', or perhaps a bit of dubstep in 'Senen Pani'. Do they see themselves as part of the 'digital cumbia' movement, even though, as is often the case, their actual sound seems too broad to be bracketed under one particular term?
"Even though we focus a lot on cumbia, the project changes naturally," says Rafael. "We want to continue experimenting with native rhythms, but not only from Latin America. We would call (the sound) more like tropical bass. The term opens a wider avenue, as it could be music from Africa or Central America for example." As Salmón says, "It's a global movement which is based on recovering the roots of each country."
I agree that the term 'tropical bass' has a certain ring to it. But later that night, within the sweltering confines of the Niceto Club, my mind is drawn back to parties I used to go to, not in Buenos Aires or elsewhere in South America, but in East London. The crowd's chemical intake is lower here, but the resonant beats and vivid imagery, not to mention the packed crowd with their silhouetted hands in the air, most recall the warehouse party scene.
This is also a big part of Dengue's musical background. "We had been working before in projects which were more related to electronic music, without the tropical thing," says Pereira. "But we always included audiovisuals and video. Felipe likes house and techno. I'm also into that, I like Aphex Twin and music with a lot of bass." That last part, about the group's affinity to high bass levels, is plain to anyone who has ever listened to Dengue.
Having not had the pleasure of visiting their home city, I ask what the scene is like in Lima. "It's sort of at the midway point between the underground and a more commercial vibe," says Pereira. "It seems to have created a different kind of crowd." Nadia also thinks something original is occurring in the Peruvian capital. "It's good because it didn't exist before, and with Dengue there are new styles of music," she says. "We did some fiestas called Toma! which helped the movement to grow." The emergence of bands such as Dengue, Elegante & La Imperial and Animal Chuki has made Lima, a place with a long-established reputation for producing flamboyant re-workings of regional music, such as with the chicha explosion in the late 60s, a hub of modern cumbia.
After Buenos Aires, Dengue are playing in Cuba and Colombia, before heading over to Europe for the summer, where they'll be playing the Sonar (Spain), Paleo (Switzerland) and Roskilde (Denmark) festivals, among others. What about the UK? "Probably not," says Felipe. "Not yet," says Rafael. "They didn't let us in," says Nadia. As they are Peruvian citizens, a complicated visa process makes it difficult for Dengue to experience at first-hand the joys of British people dancing. Not that it were needed, but it's another reason to hate the Tories.
In the here and now, it's time for Nadia, Felipe and Rafael to go and get ready for the show, and for me to sample the terrace bar that caught my eye as I entered the Galeria. We say goodbye and I wish them good luck. The sense of anticipation that I'm feeling is no doubt being replicated across the city. Tonight, after a long wait, Buenos Aires and Dengue Dengue Dengue are finally about to become acquainted with one another.
[soundcloud url="https://api.soundcloud.com/playlists/32751251″ params="color=ff5500&auto_play=false&hide_related=false&show_artwork=true" width="100%" height="450″ iframe="true" /]

Follow Sounds and Colours: Facebook / Twitter / Instagram / Mixcloud / Soundcloud / Bandcamp

Subscribe to the Sounds and Colours Newsletter for regular updates, news and competitions bringing the best of Latin American culture direct to your Inbox.
Share: