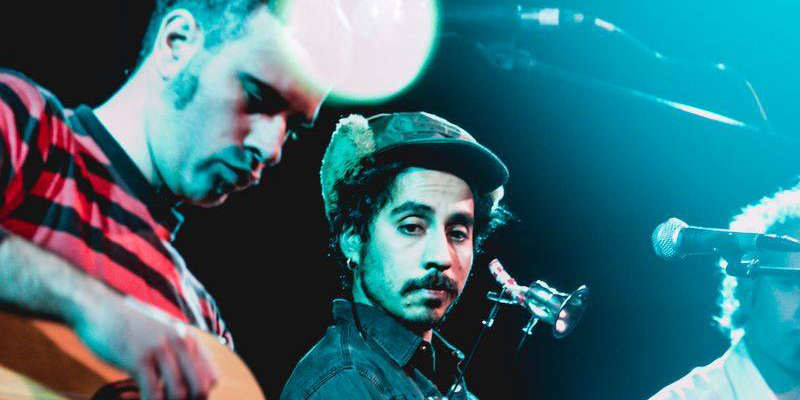 Lito Vidaurre
Tango Is Always There… Always! – An Interview with Eduardo Herrera & Zelmar Garín
26 November, 2014
Ahí Vienen! from Argentine duo Eduardo Herrera (pictured above right) and Zelmar Garín (pictured above left) is one of our albums of the year, a work "in which dozen of styles come into contact with each other, mix themselves and give life to an open-ended musical plot", as our review put it. Both Herrera and Garín are at the epicentre of a musical scene in Buenos Aires that unites experimentalism with Argentine (and Uruguayan) folklore, bringing this union to life on their debut album together.
We had a chat with Herrera and Garín about the album, their creative processes as well as the current scene in Buenos Aires for experimental music:
Ahí Vienen! features many different sounds and instruments. What was the process of making this album? Was there an underlying concept?
Zelmar: The creative process had two stages. The first was to practice and bring ideas and then to go and see how they could be executed. After working like that for a while we started to get bored and we decided to start recording directly while writing the songs. This is reflected in the order of the songs on the album that are in the same order as they were recorded and composed in.
For me, as a record it has three parts that occurred naturally. Both Eduardo and I are multi-instrumentalists, and that gave us the chance to create different climates and timbres. Production-wise we tried to create a different sonic identity for every song. That took many hours and days for each one…
Eduardo: I don't know if there was a concept for the record. I believe that the music has recognizable gestures that have to do with the sonic universe that me and Zelmar created and that hovers over the record, the way that we think about music, but that's not really a concept, rather an intention that our worlds can coexist, come to life and be shared. At times it was possible!
Photo by Lito Vidaurre
What were some important influences for this album?
Zelmar: The lady (the album is dedicated to her) and our friendship.
Power is amplified through music. I think it was a challenge that influenced the contents of the album. Always I will remember the words of Eduardo when we finished the album: "Good! Once more we've killed it!"
Eduardo: I think the biggest influence for this records and for records in general comes from the environment in which one is in, the moment that you are living, the facts that are changing around you, then yes, the occasional music that one listens to but during this particular moment I feel the record was marked deeply by the paradigm shifts, or to say it in another way, the changes in the way that both Zelmar and I were living, our personal lives.
What is the influence of Argentina, and particularly Argentine folklore, in your music?
Zelmar: In my case I am rioplatense and so influenced by the Río de la Plata (Uruguay and Argentina) because my family is Uruguayan, but I was born and live in Argentina.
I am most influenced by folkloric music, tango, candombe, milonga and rock, they are part of my music every day. But the only real influence is your life and what is happening in it, above what we see and what emerges from our unconscious, this is what's reflected in the music.
Edu: I think Zelmar told me that some of the tunes were actually tangos, like "Bm", and that might just be the case. Tango is always there, always! It's what we play, what we hear, it's what gets played when you go to your parents' house, so in my case, tango and the lyrics of tango are a big influence.
[soundcloud url="https://api.soundcloud.com/tracks/178742405?secret_token=s-WiNJS" params="color=ff5500&auto_play=false&hide_related=false&show_comments=true&show_user=true&show_reposts=false" width="100%" height="166″ iframe="true" /]
I love the track "Bm" (listen to the track above). Can you tell us a little about this song? The idea behind it? The inspiration for the vocal style?
Zelmar: "Bm" is a song that Eduardo brought to the record. It sounds simple because it has basically two chords and two or three different melodies, but it isn't simple. The sound is always changing, it creates a kind of disenchantment from what you expect and that stops you from ever feeling settled. It's my favourite track on the album. I helped with the production of the song, its atmosphere, through the mix and filling out the sound with percussion, bass, etc. For me, its inspiration is tango, though with the baggage of industrial music, noise, and mateistica (i.e. Eduardo Mateo-esque) psyche.
Photo by Lito Vidaurre
Eduardo: For me it is one of the most successful songs and this is largely due to the production of the drums by Zelmar. I think what we achieved with these drums and percussion is great, to me it sounds like something quite dark but Third World.
After listening to the words – as many times a composer must make further analysis of his words, in the role of the listener – I think they mean something contemplative, in the sense of being part of something that may not make sense, something governed for chaos and accepting that. Sure it came out like an idea from Carlos Castaneda, akin to the stalking technique that Don Juan taught him: "I will be one more on the prowl for everything, everything."
About the voices, on that song they are everything. All the vocals that have lyrics were made by me. If Zelmar participated it was without words and accompanying the lyrics very percussively in his own unique style. I've always liked music with vocals, and things like Gregorian chanting or old choral music type, so maybe you might hear something similar to that.
Is there a scene in Buenos Aires for your music? It is possible to define this scene?
Zelmar: Ahí Vienen despite being an album of pseudo-acoustic music, can only really be classified as Argentine or rioplatense music, if you will. Even some journalists put the record into the rock category, which is valid but not entirely true. I guess the type of production that the album has is away from folkloric music or tango and closer to the rock style of sound treatment. The scene where we play shows or could play shows is very large, as we live near to a lot of music. Seen from afar this is irreconcilable, but under the name of this duo they do find us.
Eduardo: I do not think there are many places to validate the expressions, therefore I think one has to take the spaces, public or private, use them, and I'm not just referring to the music scenes, but also to streets, schools, parks, houses, internet, etc. Then the idea of art or artist is going to have to do with reality and the environment in which it lives, with others as with oneself.
What are some of your other projects?
Zelmar: Many… Ácido Canario is my personal project linked to rock music and experimenting with it, changing format every two years. We've released five albums and are preparing the sixth, Gualicho Turbio that has a blues/garage sound with myself playing in a multi-instrument one-man-band format… with a singer and harmonica player. I'm also preparing a solo album of songs with banjo, here is a video preview.
Eduardo: I just finished releasing a solo album digitally called Un Incendio Se Parece A Una Bandera and with the project Gorriones Flotantes we released Fin del Encuentro. Fin del Adiós.
Ahí Vienen! is available from Noseso Records.
Watch Ganarle A La Muerte, a short film by Vincent Moon, recorded in Montevideo, Uruguay, and that features Herrera and Garín recording live the songs of Ahí Vienen:

Follow Sounds and Colours: Facebook / Twitter / Instagram / Mixcloud / Soundcloud / Bandcamp

Subscribe to the Sounds and Colours Newsletter for regular updates, news and competitions bringing the best of Latin American culture direct to your Inbox.
Share: