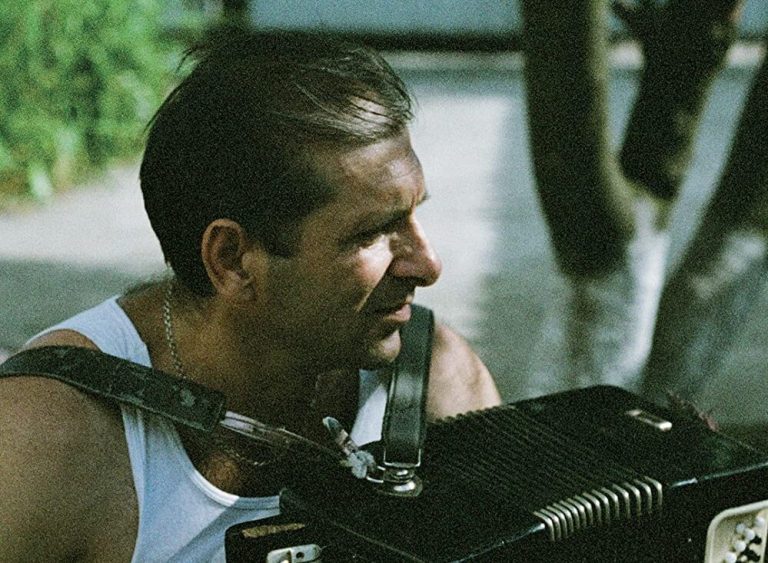 'The Klezmer Project': A Journey Of Reflection And Rediscovery Through Klezmer Music And Yiddish Culture
12 October, 2023
Leandro Koch and Paloma Schachmann are the directors and screenwriters of The Klezmer Project (Adentro mío estoy bailando, Austria-Argentina, 2023), a meta-cinematic story in which viewers can follow different paths: the encounter between Leandro and Paloma and the development of their romantic relationship, the faux documentary about Klezmer music, and a more poetic path introduced by a Yiddish narrative that serves as a pretext for political and social reflection.
Leandro lives in Buenos Aires and works as a wedding videographer. At a Jewish community wedding, he meets Paloma, the clarinetist of the Klezmer band performing at the party. To capture Paloma's attention and obtain her phone number, Leandro invents that he is gathering information for a documentary about Klezmer music. With this primary motivation, Leandro starts to become genuinely interested in this music and decides to travel to Austria, where he meets a producer who secures him a contract with the country's public television to film his documentary. They travel in a van through different towns in Ukraine and Romania, attempting to find authentic Klezmer music performers. Meanwhile, motivated by her own love for the rhythm, Paloma embarks on a parallel journey through Europe. At a certain point on her journey, she encounters Leandro, and they continue their journey together until Paloma has to travel to Germany, where she is hired for some shows.
Parallel to the main story, a Yiddish voiceover narrates the story of Yankel, a gravedigger who falls in love with Taibele, the daughter of a rabbi. In order to get closer to her, he pretends to be a scholar of sacred texts. The love story between Yankel and Taibele serves as a mirror to that of Leandro and Paloma, but at the same time, it provides a profound reflection on the cultural legacy of Yiddish and the political reasons behind its gradual disappearance.
In the faux documentary, Leandro and 'the Austrians,' as he calls them, fail to find Klezmer music bands in Ukraine and Romania. The only traces of this musical rhythm are found in the memory of non-Jewish traditional musicians who play these melodies as part of their folk heritage. When the Austrian television team finally gives up and returns to Austria to attempt to assemble the documentary with the material they have been able to record, Leandro decides to continue his journey to Moldova, the birthplace of his grandmother who later emigrated to Argentina. There, he finally finds a Klezmer music band, and Leandro emotionally recalls the memory of his grandmother. Klezmer music thus transitions from being an excuse to get closer to Paloma to becoming a journey of rediscovering his personal history, which is also the history of Ashkenazi Jews who emigrated to Argentina, the history of Yiddish, that domestic and maternal language that faded away with its culture.
Koch and Schachmann offer us this beautiful gift of music and poetry, but they also open a door that does not leave the viewers indifferent and invites them to use Klezmer music as a trigger for deep reflection on the role of culture in constructing the collective imagination and personal identity.
The Klezmer Project screened as part of the 67th BFI London Film Festival runnning 4-15 October 2023.

Follow Sounds and Colours: Facebook / Twitter / Instagram / Mixcloud / Soundcloud / Bandcamp

Subscribe to the Sounds and Colours Newsletter for regular updates, news and competitions bringing the best of Latin American culture direct to your Inbox.
Share: