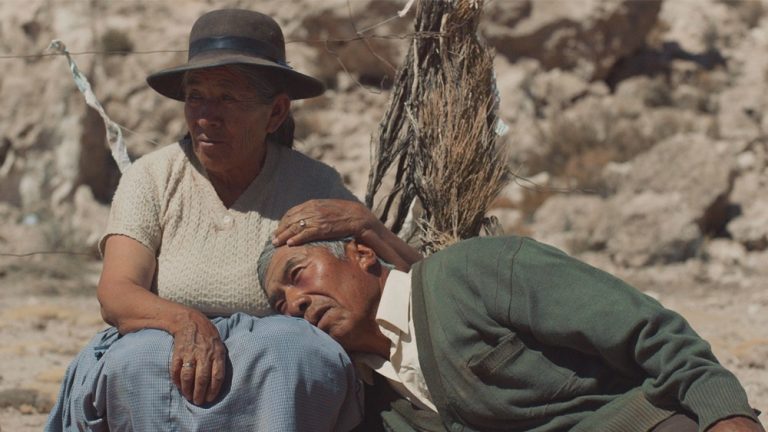 'Utama' Is A Moving and Thought-Provoking Portrait of a Bolivia Haunted By Modernity and Climate Change
07 October, 2022
Set in the drought-ridden Bolivian highlands, Utama chronicles the decline in health of Virginio, played by the formidable José Calcina, who, like the remote landscape he and his wife Sisa inhabit, is futile and utterly at the mercy of the harsh weather conditions. The arrival 'from the city' of Clever, their grandson accentuates the adversity they face in trying to survive, often walking kilometres in the heat of the desert to find water. The well in the nearest village, a scattering of tiny, mostly abandoned houses, has been seemingly fruitless for weeks, and they are forced to wash their clothes and get water from an all but dried up "river" which their llamas also drink from. Disgusted and appalled by this way of life, Clever urges his grandparents to join him and his father in the city throughout the film. He is met by the angry stubbornness of his grandfather who not only feels fine in the countryside, knowing rain will come, but resents any allusion to his son who abandoned him many years ago out of "fear" and "laziness". Clever's statement "it's not going to rain any time soon, however many llamas you kill" is completely useless as the undeterrable Virginio storms out of the room, disgusted by talk of abandoning his rural life. However, when locals at a village meeting admit that it may be time to migrate to the city convinced that time will not bring rain or prosperity as "it [time] has grown tired", the film's key conflict is introduced.
As Grisi focuses on Clever's grimace as a llama is slaughtered in a traditional rain ceremony, we realise that irrevocable change has gripped Bolivia, a country which in recent years has known some of the worst droughts in its history due to global warming. Virginio meanwhile, goes from bad to worse, as he collapses in the desert on the brink of death, the shot's ensuing silence reinforcing the sense of despair and abandonment of these rural dwellers. Although saved by his grandson who finds him with a torch, it is clear that his "cough" is slowly killing him. Earlier in the film, he had told Clever whilst watching a condor fly above that when this quasi-mythical bird feels that it is no longer useful, can no longer fly and feels weak, it goes up to the mountain and commits suicide, purposefully plummeting head first to the rocks below. In this act, he says, "a new cycle begins". Clever in turn, comes to fulfil this prophecy restoring some hope to the Andean way of life and to his ever more anguished abuela. The errant son of Virginio, Clever's father, impersonally sends a doctor to check out his father's aggressive cough. The white coat, packet of pills and promise of merely a temporary relieving of Virginio's suffering, but not a cure, does not appeal to Virginio who throws away the pills and resigns himself to a dignified death in "the lake" where he may pass from this life to the next. This stubbornness, although regrettable, is finally understood by Clever, who does what he can to help, finding and retrieving the couple's flock of llamas who abandoned Virginio when he collapsed, like his son who abandoned him upon hard times. Smiles at last restored to the gloomy household, Virginio one morning dies. The news of Clever expecting his first child fulfils the prophecy however and the cycle continues.
Director Alejandro Loayaza Grisi weaves moments of magical realism from Bolivian folklore throughout his narrative to generate mystery and wonder in such a seemingly sterile place and situation. The piercing stare off between the enormous condor and Virginio, for example, is as tense a moment you will find in any film; the mutual recognition of the land's decline from these two figures of Bolivia's magical past does not require dialogue to be understood. The silence that resonates in the spectacular backdrop of the Andean plains accentuates the presence of the spiritual forces operating in the area. Furthermore, the traditional Bolivian chanting weaved into the score is at times indistinguishable from the lethargic llamas whining, and the pan-flutes throughout wheeze like Virginio and breeze through the film like the arid desert wind. What's more these sounds are in clear contrast with Clever who only speaks Spanish, the colonial language, and arrives accompanied by the sound of aggressive motors. As more and more Bolivians migrate to cities due to drought and climate poverty, Grisi's film is a shrill call of help for his country's rural population; poached and hunted by modernity and climate change, the condor and its people may be falling but with hope and change, can continue their cycle.
UTAMA won the Grand Jury Prize at Sundance this year and is will be screened at the BFI London Film Festival on 8th and 10th October. The film will be in UK/Irish cinemas from 11th November.

Follow Sounds and Colours: Facebook / Twitter / Instagram / Mixcloud / Soundcloud / Bandcamp

Subscribe to the Sounds and Colours Newsletter for regular updates, news and competitions bringing the best of Latin American culture direct to your Inbox.
Share: