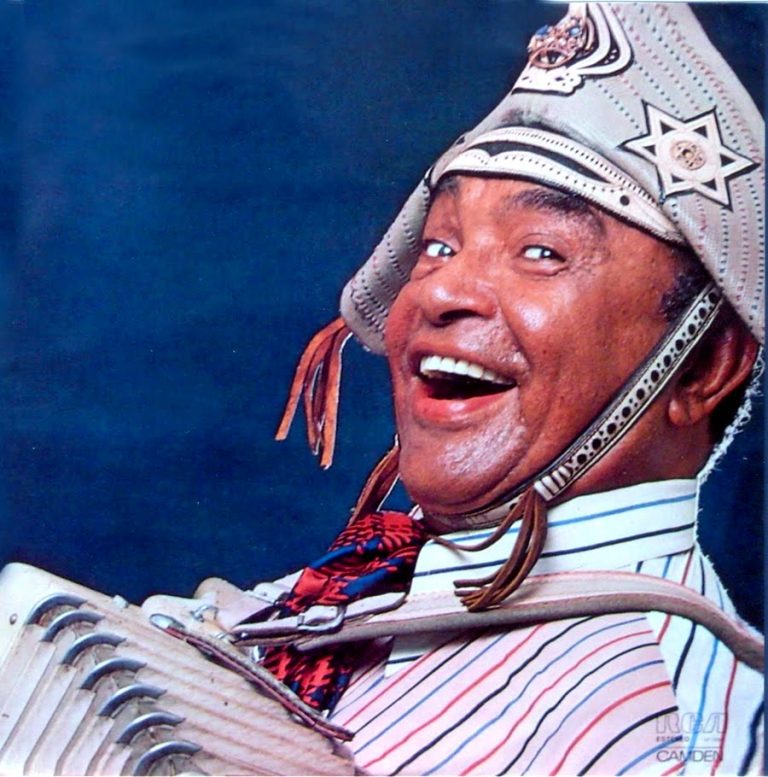 11 Famous Forró Songs
18 November, 2019
It's difficult to define forró. Typically, we tend to associate classic forró with the sertão countryside of north-eastern Brazil – a dry, cactus and cattle-filled region of which the forró masters would sing, especially about droughts and love. But this closed-embrace country-style partner dance has adapted and evolved with the times, and even though its popularity still remains largely in the north-eastern part of the country, don't be surprised if you hear a couple of forró songs at the end of the night at popular clubs or if you find specific forró nights in the more bohemian quarters of cities around the world.
Forró is a musical amalgam that has been compared to zydeco, the Texas two-step and even mazurka. Deeply rooted in dance aesthetics, forró was born out of Pernambuco state, a region renowned for its mixing bowl of musical styles. According to myth, forró is likely to be a product of that. While forró has evolved with modern influences in the twenty first century, with rock and reggae bands putting their own unique spin on the genre, what remains quintessentially forró is that it encourages people to get up and dance. With this in mind, we've rounded up some of the most famous forró songs – starting from the forró masters right up to conventional national hits, with one or two potential hits at the end.
Luiz Gongaza – Asa Branca
Hailed as the king of forró, a list of the most famous forró songs wouldn't do justice without the mention of peasant turned popular musician Luiz Gongaza. With his rural sensitivity, musical skill and poetic lyrics, the Brazilian singer, songwriter and accordion master from the state of Pernambuco was responsible for spreading forró far and wide across the country in the late 40s and 50s. Written by Gongaza and Humberto Teixeira in 1947, "Asa Branca" was created when the forró star moved to Rio de Janeiro and it quickly became an international hit. The song depicts a white pigeon dove yearning to escape from the droughts that often inflict the sertão of north-eastern Brazil, adding an autobiographical element that no doubt endeared the song to the many migrants who were moving from the north-east to the south-east of Brazil in search of work.
Luiz Gongaza – O Xote das Meninas
Travel anywhere along the north-eastern coast of Brazil and you're bound to hear "O Xote das Meninas" blasting from the car and restaurant radio stations. One of Luiz Gongaza's most famous tracks, this xote sings of a woman who "só quer namorar" (just wants to be in a relationship) but more metaphorically, it depicts the evolution of a girl into womanhood. A cactus who does not depend on the rain to bloom in the dry season is used as a simile, where the girl, tired of her doll, finally morphs into a woman.
Dominguinhos – Onde Está Você
Luiz Gongaza's natural successor is Latin Grammy winner and forró purist Jose Domingos de Morais, better known as Dominguinhos. Responsible for developing classic forró further by incorporating European, African and Indian influences from the north-east region of Brazil, Onde Está Você from 1991 is the kind of song that makes Brazilians proud. It can and should not be forgotten by Brazilian pop culture. The lyrics talk of a lost lover, with the sweet words touching on the Brazilian notion of saudade, the pain you feel when missing the one you love.
Gilberto Gil ft Dominguinhos – Lamento Sertanejo
Performed by Gil in partnership with Dominguinhos, "Lamento Sertanejo" is a traditional forró that makes you want to get up, grab a partner, lock hips and move slowly to its sumptuous rhythms. Gil was an important artist in championing forró to more contemporary ears, with his versions of classics by Dominguinhos and Gonzaga really getting some attention for the original performers. This version of "Lamento Sertanejo" really celebrates the humble north-eastern roots of forró and breathes new life to Dominguinho's legacy. Here, both Gil and Dominguinhos sing of the difficulties of living in the backlands of the sertão where poverty and alienation are rife. It's the simplicity of the pé-de-serra lyrics and musical nuance that makes this one so powerful.
Dominguinhos, Sivuca & Oswaldinho – Feira de Mangaio
"Feira de Mangaio" is one of those tracks that really puts forró in the spotlight. The immortal trio of Dominguinhos, Sivuca and Oswaldinho come together for a spectacular take merging makeshift instruments with more conventional accordion sounds for an explosive hit. An important Brazilian music, Sivuca is famed for fusing forró with jazz, bossa, classical and other musical styles and his input in this track is essential. "Feira de Mangaio", (named after the artisan markets of north-east Brazil), is one of the highlights of the 2004 album Cada Um Belisca Um Pouco that united these three forró masters.
Trio Nordestino – Forró e Paixão
Originally from Salvador de Bahia, success came when Trio Nordestino (who can count themselves as originators of the forró style with Luiz Gonzaga et al) they moved to Rio de Janeiro and joined the radio program O Trabalhador se Diverte (The Worker Has Fun). Though active since the 60s "Forró e Paixão" is a more recent cut, released on 2004's Balanço Bom. It speaks of the fine line between "paixão" (passion), lust and genuine love. Their romantic, get up and dance take on the genre have seen them maintain a 60-year career, and recently get a nomination for a Latin Grammy in 2017.
Elba Ramalho, Zé Ramalho and Geraldo Azevedo – Ai Que Saudade D'ocê
After a lull following Gonzaga's peak popularity, there came a resurgence of interest in the late 70s and 80s, with Gilberto Gil a factor, but possibly most credit should go to Elba Ramalho. Hailed as the "Queen of Forró", she toured Brazil with her sweet, serene voice and was another forró guru who used Rio de Janeiro as a base for garnering career prominence. "Ai Que Saudade D'ocê" is a subtle and touching track that demonstrates the cultural richness and diversity of not just the north-east of the country but Brazil as a whole. It talks about the longing for the one you love, particularly when travelling (something many forró masters can relate to when leaving their loved ones to tour). Elba Ramalho is re-knowned for her hyperactivity on stage, belting out her beautiful lyrics.
Bicho de Pé – Nosso Xote
While the legacy of Luiz Gonzaza and Dominguinhos cannot be ignored, as of late, contemporary forró has evolved further with new bands offering a fresh take on this typical genre for modern ears. The band Bicho de Pe, have played with the likes of Dominguinhos, Chico Cesar and Daniela Mercury, playing regional music with a strong emphasis on forró dance rhythms. It's hard not to fall in love with Nosso Xote.
Falamansa – Xotê dos Milagres
Falamansa have helped make forró popular to a new generation, especially university students in their home city of São Paulo. Spreading the love for Luiz Gonzaga with contemporary takes on his tracks, they merged forró pé-de-serra with modern production and elements of mainstream music, offering a crisp multi-regional take on its traditional north-eastern roots. "Xote dos Milagres was released in 2006 and is one of the group's most famous pieces of work. This xotê is the kind that makes miracles happen, that sings of the frustration of longing for someone when they don't want you back.
Forro in the Dark – Forrowest
This magical anthem perfectly demonstrates how forró has evolved with the times. If Forro in the Dark are serious about anything, it's the "festa" (party). "Forrowest" (which is the group's most popular track) is the type of song that makes people get up and dance. Forming in the early 2000s, these Brazilian New Yorkers start with fully-fledged forró hip-swinging rhythms and then fuse them with a sexy hybrid jam of soulful country music, sultry jazz and urban funk. The result is an expansion of forró's sonic parameters , and a prime example of how the rules of forró can be bent and merged while never losing its infectious dance appeal.
Mariana Aydar – Veia Nordestina
A daughter, wife and mother of forró, the musical genre runs through Mariana Aydar's blood. With her mother having worked with the likes of Luiz Gonzaga, she instantly fell in love with forró, so much so that she even married multi-instrumentalist forró artist Duani. A Paulista, her mission is to spread forró across Brazil and also to celebrate the vitality of Brazilian music as a whole. On "Veia Nordestina", she marries elements of typical forró with electronic beats, highly charged axê (positive energy) and influences of kuduro for a revamped take on the genre, breathing new life into forró without losing its soul.

Follow Sounds and Colours: Facebook / Twitter / Instagram / Mixcloud / Soundcloud / Bandcamp

Subscribe to the Sounds and Colours Newsletter for regular updates, news and competitions bringing the best of Latin American culture direct to your Inbox.
Share: