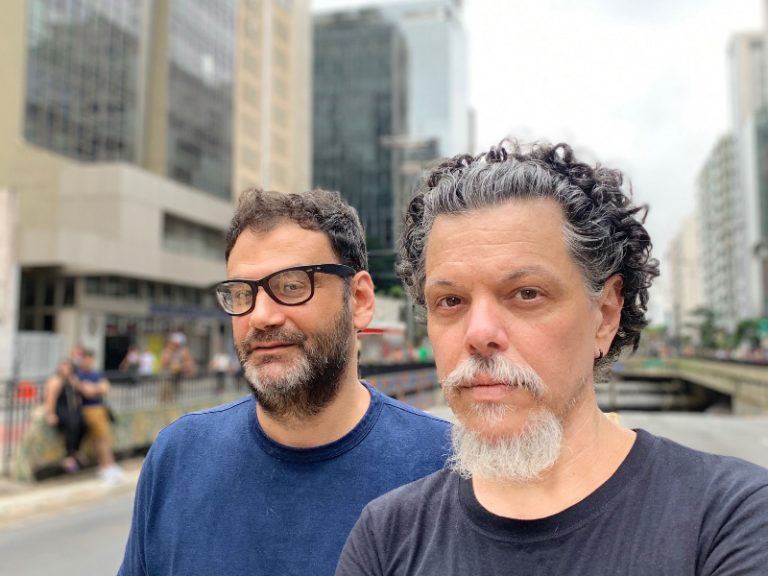 André Bourgeois (left) and Mano Bap (right) (Credit: Kalina Bourgeois)
Alta Fidelidade: Chance Encounters of the Random Kind
16 January, 2020
"Life's like that, isn't it? Only the other day…," I was sitting on a coach bound for Paris, on my way back from the 41st edition of the Trans Musicales festival of new music from around the world. The coach stopped at the TGV station in Rennes, from where I would have taken a train were it not for the fact that the French railways – and just about every other public "service" – were out on strike again. We stopped to pick up a motley band of what looked suspiciously like musicians. Had it not been for circumstances beyond my control, I might not have had an experience "that I want to share with you" – to continue the Vivian Stanshall reference from the Bonzo Dogs' lunatic spoof, "The Sound of Music".
As the world becomes more populous every year, the magic of modern communications seemingly renders it increasingly smaller. The wonderful world of music, in particular, has been shrunk by programmes like Spotify and YouTube and websites like this one. No distant terrain is too remote: neither Mongolian steppe, nor Brazilian mega-city seems beyond reach. Ah, São Paulo… Therein lies a tale, to which I'd better return.
On board the coach, I was busy thinking how I might persuade the driver to stop at a strategic service station that would allow me to try my luck with the thumb. Avoid Paris and another likely cancelled train and get back home by road. But the service station he selected was of little practical use. So I wandered forlornly around the car park in search of a car with a 19 or a 46 number plate, someone from home territory who wouldn't mind helping a stray waif. But all the plates bore the numbers of Paris and its surrounding departments.
Outside the WCs, I spoke to one of my fellow waifs who had boarded the bus outside the railway station. I asked him whether he'd been at the festival, but he didn't understand French. His English was passable, though, and I discovered that he was with a rap artist named Edgar. Of course! He had put in a guest appearance on the new Nomade Orquestra album I'd recently reviewed, Vox Populi. So they were heading back to São Paulo, which kind of put my own journey into perspective.
He introduced me to the band's manager, a man called André, a man more managerial-looking than musician. We started talking about music, as one would, and I told him that I thought some of the best music in the world came from Brazil's biggest city.
"I think I bought my first album from São Paulo back in 2003, or 2004: Alta Fidelidade, I think it's called, by André Bourgeois and Mano Bap."

"But I'm André Bourgeois."

"What!? You're André Bourgeois? That's just incredible. I keep that album with my favourites in the bedroom."

"You really like it?"

"I love it. I often play 'I love u' at parties."

"It was the only album we made. I decided to leave making music to real musicians and manage their careers instead."

"So you manage Edgar? Nomade Orquestra?"

"Not them, no. A singer called Céu…"

"Oh, I love Céu. Her version of 'Concrete Jungle' – fantastic."

"My company's called Urban Jungle."
We wandered back to the bus together, both flabbergasted by coincidence. André sketched his background: a Franco-Swiss who moved to São Paulo around 20 years ago. He had a love/hate relationship with his adopted city, he told me. A vibrant but violent megalopolis, where you can never see the horizon. He and the band live in a quartier by the sea, perhaps a little like Ipanema but uncelebrated in song. As for Mano Bap, he replied to my query, they'd met every day, seven days a week, for however long it was – a year, I think he told me – to work on their album, and he was now playing bass in a Frank Zappa tribute band.
"And you? Do you play music?"

"I play lots of music, but I can't play an instrument. I write about it: for Songlines and a website called Sounds and Colours."

"I read that a lot. That's a great magazine, Sounds and Colours."
Back on the bus, I moved upstairs from my seat down at the driver's level to join the troupe. There was clearly no chance now of jumping out somewhere to try hitching a ride. The band members were like hyperactive kids. "Pancho Trackman" produced some funky Blue Note-type organ sounds on a synthesiser not much bigger than a laptop computer and Edgar improvised words, and everyone laughed and clowned the rest of the way to Paris. "They're like this all the time," André told me with a mixture of weary resignation and parental pride.
I waved to my transient friends when we stopped at the Porte de Vincennes, clutching Edgar's CD as a parting gift. A music journalist who writes for Libération directed me to the Metro station, explaining that Line 1 would be running because the service is driver-less. I got off at the Champs Elysées, then headed for the Seine and speed-walked all the way past the Eiffel Tower as far as the Radio France building. I made it to a friend's pied à terre just as some mutual friends were leaving for a concert in Montmartre. Their train back south had been cancelled, so they were stuck like me and sheltering in the same top-floor flat.
Next morning, I heard about the concert and the party afterwards, where they had found themselves sitting next to Jarvis Cocker. So we both had musical-themed stories to tell. Before heading off for a lift back home, they booked me a pick-up on Monday morning from the same roundabout where I got off the festival bus the day before – on the opposite side of a paralysed city.
When I finally got back home to Sleepy Hollow, one of the first things I did was to listen to Alta Fidelidade – just to check that it was as good as I'd thought it was. It was. I wrote to André Bourgeois to reassure him.
He wrote back from his urban jungle to say hi and thanks for the feedback, which made him want to make more music in Mano Bap's living room. The idea that a chance encounter in this small world of ours might re-ignite a musical career is very gratifying. It makes the subsequent ordeal of entrapment worthwhile.
Update: André has also promised that Alta Fidelidade will be made available digitally around the world once again in the next few weeks.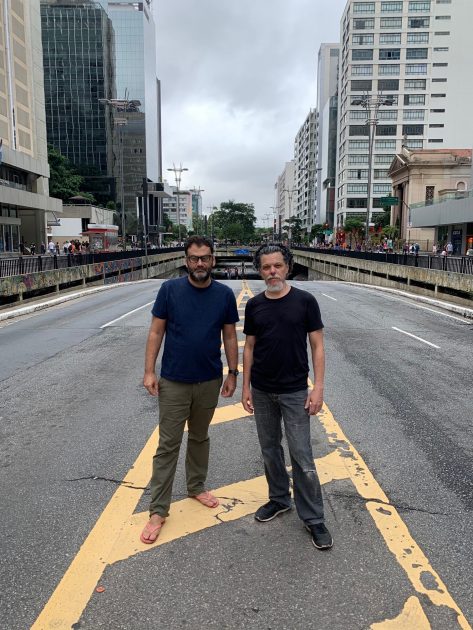 Follow Sounds and Colours: Facebook / Twitter / Instagram / Mixcloud / Soundcloud / Bandcamp

Subscribe to the Sounds and Colours Newsletter for regular updates, news and competitions bringing the best of Latin American culture direct to your Inbox.
Share: