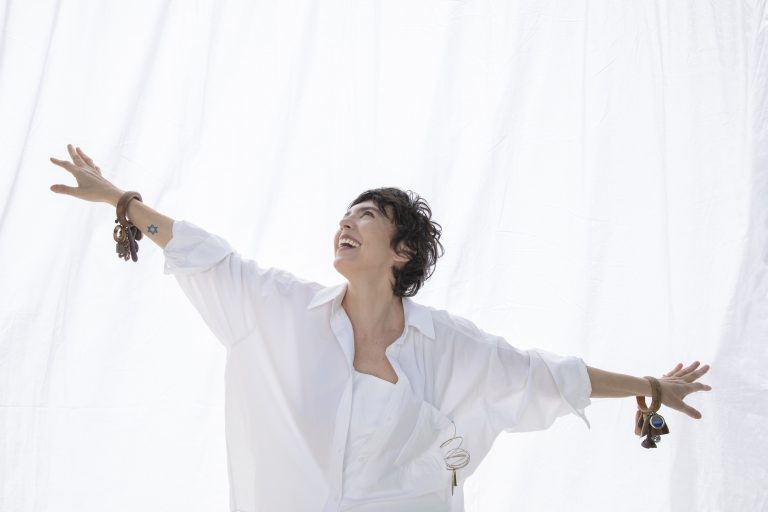 An interview with Adriana Calcanhotto
31 March, 2023
Adriana Calcanhotto's new album Errante is out today. The eleven tracks written by the singer-songwriter take you on a trip through an array of genres such as bossa nova, funk carioca, maxixe and samba – all with Calcanhotto's distinctive signature. This BMG International release was recorded during nine days at the end of 2021 at Rocinante Studio, where the artist and her musicians reconnected during the later days of the COVID-19 pandemic, whilst surrounded by the Atlantic Forest. Their synergy and sheer will to play together come across in the songs, which include the joyful "Larga Tudo", the deliciously flirtatious "Quem Te Disse?" and the exquisite ballad "Horário de Verão".
Errante is Calcanhotto's tenth studio album – she has released another three as Adriana Partimpim, an alter ego who sings for children [of all ages]. She's also put out five live albums since her recording career started in 1990, when the Brazilian artist became known across the country with the hit "Naquela Estação"(Caetano Veloso/João Donato/Ronaldo Bastos) – the first of several famous songs she would release in the coming decades. She has forged a career in music which is closely associated with poets such as Waly Salomão and Antonio Cicero. Her love and knowledge of poetry has led her to organise and illustrate several books of the kind. She's also authored the biographical book Saga Lusa and had her lyrics collected in Pra Que É Que Serve Uma Canção Como Essa?. In recent years, she's taught songwriting at Coimbra University in Portugal.
I spoke via videocall with the two-time Latin Grammy winner on 8th March 2023 for Sounds and Colours. For over one hour, Calcanhotto spoke of the creative process involved in bringing her new album to life, of how she was born into a house filled with music, of her career, discography and collaborations. With her remarkable flair, intelligence and good humour, Calcanhotto was a delightful and generous interviewee. We hope you will enjoy this in-depth conversation with one of Brazil's most respected artists of her generation.
The new album
ON: "In everything I do I am no more than an impostor", you say in the song "Prova dos Nove", which opens the album Errante (2023). You are a singer, a musician, a composer of lyrics and melodies, an author of books and graphic projects. If you're an impostor, you do it with a lot of talent! In what ways and how does your creativity manifest itself as an artist/impostor?
AC: There is something about spontaneity in being an impostor. And I think that when we specialize in something and think that we understand it, we lose something essential. So I need to feel like an impostor. Not to feel like I need to match some kind of reputation. That's the meaning of being an impostor.
ON: Do any of these forms of artistic expression stand out for you as a creative person?
AC: Because of my work I think that music has predominated among others that come and go. But I'm pretty kinesthetic, so that's hard to answer. But I understand that music has permeated things: as a reader of poetry I end up setting poems to music; there are songs that I would have liked to have made but didn't, so then I appropriate them as a singer. I'm of the impression that music would be the "proof of nine" [an expression sometimes used in a non-mathematical context in Brazil] of this equation.
ON: The artwork of your albums — especially their front covers — enable a dive into stories. I would like to mention especially the album A Fábrica do Poema (1994), which still takes my breath away. What do you intend to tell us with the front cover of Errante, which is a juxtaposition of passport pages with a photo of you smiling in the centre?
AC: Yes, I've always liked the, let's say, graphic expression and a lot of times I've thought of the album in parallel. While I was conceiving the album, the cover was a parallel thing: the visual thing, the colours and such. For some time now, less so. I've started to enjoy collaborating. To have a view of the album, of the song, and then the person interprets that on the cover. This time I thought that what was going to express the ideas on the album would be a view of my passports, the visas, the photos and everything. I had this idea, but I gave the work to a great artist called Emilio Rangel, and he really was very thorough and did amazing things. It was within that language of stamps because, in a way, the passport has a graphic resolution that [happens] by chance – where folks will stamp with different shapes and colours: rectangular, oval, blue, green… and then someone scratches something. It makes a by-chance composition, which is a result of those trips and all – you have no control [over it]. I have a stack of them. And it's my life, right? And there are also the passport and visa photos… So I came up with the idea and he interpreted these passports of mine, which are [kind of ] travel journals. I think the result is very beautiful and, since [as stated by the Brazilian writer Oswald de Andrade] "joy is the proof of nine", I thought it would be funny to have a passport photo [where I'm] laughing, which is something that can't be done now – but on the album it can [laughs].
ON: Where did the creative spark for this new album come from?
AC: This is a different album from the others. It's an album of songwriting material that I already had. I had eighteen unreleased songs saved – the oldest was maybe from 2016: songs that I'd made and hadn't released. Some went to other singers, some didn't. And then there were those eighteen left, besides the record I made in the pandemic, for which I wrote ten songs that became an album of nine. So I felt a need to organise these songs and release them, because [otherwise] I might never compose again. They were already stored away when I put out the pandemic album. And there was also this need I felt at the end of 2021 – when you can't say that the pandemic had ended, but it was already possible to play in person again – to go to a studio with the band. I had made the pandemic record at home with all the collaborators in their homes. [For Errante] we played for nine days in the studio, where we also stayed overnight. We did the eighteen songs. I stayed with them and had time – because there was no expectation, no deadline, no nothing – so they started falling away naturally, for one reason or another, until eleven remained. So it's the first time I've released an album with that distance [between recording and release] in time. In the last "audition", I thought that one [song] was not at the same level as the others, and then they became eleven. Maybe if I had one more day of mixing they'd be ten. My thing is cutting stuff [laughs]!
Making music in the pandemic
ON: Like you mentioned, in 2020 you released an album recorded during the COVID-19 pandemic, Só. In retrospect, what was the experience like to compose, record and release this video-album at that time?
AC: I think the fact that I started composing has to do with not being able to go to Coimbra [University, where she teaches] and everything being cancelled one week before the trip [to Portugal]. And I stayed home. I guess I'm glad I was confined at home. I could've been in a hotel in Japan, I don't know. But my energy, my focus was all on going to Coimbra and giving songwriting classes. I think that helped, on the one hand. On the other, the fact that I stayed at home and only had confusing news from the world was a very strange thing. I haven't experienced it, but it was like having news of a war when you don't really know what's going on – it was a war because it was an invisible enemy. The backdrop in Brazil was a president who didn't believe in the virus and in the vaccine. A very unsafe moment. People were left without work and food. So I woke everyday wanting to help and used that energy to write songs, which is the only thing I know how to do, and I wrote one a day – which is the opposite to what I tell my students when they say they've made a song: and I tell them that they've inaugurated it, but will now have to throw stones at it. But these [songs] were born there; they were born ready because they had the urgency of a chronicle. I would write in the morning and finish mid-afternoon at the latest, and in the late afternoon I'd watch the daily news, which was horrible. At the same time, people were singing on their balconies in Italy. That was an artistic answer that I found very interesting. Then I realised that it was an album because it was a crop [of songs] which referred to that specific moment, different from everything I had done. And I felt that just making songs wouldn't help, that I needed to put them out in the world. It was a way to sing on the balcony, right? Then I sent them to [the album's producer] Arthur Nogueira, who  started distributing them to musicians, and by the time they were already producing and playing the tracks, I was still composing the last ones. I'd never seen anything happen like that with me.
ON: As they say, every album is a photograph of a moment, but this one, especially, is a Polaroid, right?
AC: Exactly. And it's very early on [in the pandemic]. I think the album has imprinted in it this period of doubt, because following from that they had a vaccine and started understanding the virus better. Even though not entirely, things started to get a little bit better.
ON: And the videos were recorded in your house, weren't they?
AC: Yes. Everyone wearing face masks, everything [done] with the utmost care, but it had to be here.
Composing in another language
ON: Among the post-pandemic destinations that Errante takes us to, there is – what I believe to be – your first composition in English recorded on an album of yours, called "Lovely". What was the process of composing in a language other than Portuguese like?
AC: This song exists because of two things in the English language that can't be translated into Portuguese. The word "formless" is impossible in Portuguese – there is no word that means the same thing; it's untranslatable. And the same thing goes for "call me", which is something I really like. It's the beginning of Moby Dick, which is one of the best beginnings in Western literature. It starts "Call me Ishmael" – who is the survivor of the story, who will tell the story. It's enigmatic enough for everything that will follow. He's not saying "I am Ishmael", which is what the translations of Moby Dick in Portuguese say. As I also wanted to talk about this word "formless", I wrote [the song] in English because it couldn't be in Portuguese [laughs].
Formative years
ON: Let's go back to – I would suggest – a formative part of anyone's life, childhood. What role did music play in your home?
AC: Music was fundamental in my house. My parents were very connected to music because my father was a musician and my mother had been a dancer. During my childhood, she choreographed. So she listened to music to dance, to create choreography. And the people who worked in the house – the maid, the nanny – listened to popular radio. I heard very sophisticated jazz, classical music, a lot of instrumental music – but basically jazz and classical music – with my parents, and popular radio with the people in the house. So I had a musical spectrum with no hierarchy of genres. For me, music was music: [the 60s rock music movement] Jovem Guarda and [Astor] Piazzolla were all the same. I still think so, actually. And my father's rehearsals as a drummer for two bands, which basically played standards, were in my house. So, besides having music, there were musicians, right? There were instruments. It was a house that always had music. I can't think when music came into it. It didn't. I came into a house that only had music [laughs]. I was born into this environment.
ON: Do you remember the first song or piece of music you fell in love with?
AC: No, because there isn't a first one, you know? It was always there, always there… I remember my father rehearsing, the singers, them singing the standards, I remember that my godfather was a guitarist, Leo Belloni, and I believe he may have advised my grandmother – my mother's mother – who gave me an acoustic guitar when I turned six. The guitar came with a teacher and lessons. That was the gift. Many years later I realised that I knew the repertoire of Lupicínio Rodrigues without ever putting it on to play. I imagine that's what happens to people in Bahia with Dorival Caymmi. You don't enter Dorival Caymmi's world, you're born into it – that world is already there. So I can't tell you which is the first song I fell in love with.
ON: When did you start thinking about music with a musician's mindset?
AC: I think it was when I started composing. I don't know if I would have had that impulse if I hadn't received that guitar as a gift. When I got the guitar, I was familiar with those playful objects that produced sound because I saw the guys playing the flute, the bass; it wasn't strange to me. But when I got it, I thought, what am I going to do with this? Then came the teacher, who only liked Tom Jobim and João Donato, who are keyboard guys – so the transposition of what he liked to the guitar was difficult. I had a curiosity, but I don't remember enjoying the class so much; and he really wanted me to play "Estrada do Sol", which I found difficult. It was a bit of a struggle. Then I would stop and pick up the guitar again. Later we moved from that house to another neighbourhood. The teacher left, but there came a point where I gave up. And then I would pick it up again occasionally, alone. I remembered some chords but couldn't play a whole song and that's when I started composing. So, at that moment, I started buying those little books, those magazines that had the hits of the moment, and I would learn [to play] them. That's when I learned to read the chords. Knowing how to read chords I resumed playing songs, but I became interested in making my own as well. Because I joined together three or four chords that I remembered and the fifth I didn't, so I invented it. That's where it started. It's a bit of that Darwinian idea of evolution through error. So, I would make mistakes because I didn't know the chord, but that would lead me to invent one – that's how I started making my own songs.
ON: Do you still have that guitar?
AC: No, I don't have it anymore. I always passed on the guitars, never sold any. I always passed them on to someone who needed them. I passed this first one to my brother, then the next one to a friend, and so on.
Music as a career
ON: How did the stage come into your life, and when did being a musician become a job for you? Was the move from Porto Alegre to Rio de Janeiro what solidified your "professionalization"?
AC: The first time I went on stage to play was in school. It was one of those end-of-year performances, and I decided to do one of my own songs [laughs]. I remember that day; I thought I had to be nervous because I imagined it was part of the protocol. And then, when it was time for me to go on stage and sing my song, I went up, sat down, sang, and the feeling was that I had been doing it my whole life. I wasn't nervous at all; it seemed like that was my habitat, you know? I went up, sang, and came down. I was amazed by it. I thought, "Oh my God, isn't that something?" I had never been on stage like that before.
And then I started working [as a singer] in bars in Porto Alegre. That happened completely by chance. On the one hand, yes, I "professionalized" myself. But on the other hand, I think it was only here in Rio [that it happened], when I started working with the people here. I think there were several stages of professionalization, a ladder… Working in bars was professional because I earned money to do it, but it wasn't really what I wanted to do, although I understood that I needed to practise and understand my voice. I was never a crooner. I think being a crooner must require much more experience than that. I only had my guitar. I always did voice and guitar, so I had to learn more songs. I didn't have a repertoire for an entire night when I started. I had ten songs. So I did them again and again. I started opening up the stage for folks to sing, not only because it bought me time until I could repeat the ten songs, but also because those who performed brought people [with them], and the bar would fill up [laughs]. I also learned by watching them, you know? I watched the chords, the way the person played. Eventually, I saw it wasn't really what I wanted to do because in such environments people tend to want to hear everything as close as possible to the original recording, and the way I wanted to do it was to take ownership of the songs. It was the opposite, right? When I saw that I wasn't going to continue playing in bars, I went after the theatre people in Porto Alegre, who were part of what was still called at the time Teatro de Vanguarda. They were people I found very interesting. I went after Luciano Alabarse to direct me because I wanted the theatre spaces. I wanted to work in a way where the songs, the scenery, the lighting, the costumes, everything would be saying something: not just standing in a corner of a bar singing like the original recording, you know. This I knew I wanted.
ON: Did any of those first ten songs you knew how to sing end up on your first album, Enguiço (1990)?
AC: "Nunca", by Lupcínio Rodrigues. I remember that [among the ten] there was "Nunca" and "Trocando em Miúdos", by Chico Buarque. Those I'm sure of, the others I don't remember [laughs].
ON: Coming back quickly to the present. Errante is a band album. However, your music is strongly associated with voice and guitar performance. When did you form your first band and what is the main difference between working with musicians and working alone in the studio and on stage?
AC: I think they are complementary formats, although I know that my image is more linked to the voice and guitar thing. But I always alternated voice and guitar with different bands, maybe that's why too. I have always been in a band; for each work I have a different band. And when I worked in Porto Alegre with Luciano Alabarse, we did concerts like this: one was more jazzy, so it was one band; another was more punk, so it was for a completely different band; another was something else… I don't know, they were completely different things and required different bands. Then, when I started recording too, the bands were different.
What happened was that in the first album, when I was going to set up a band to do it – it is very full of instruments, of great musicians and everything – that confiscation [the freezing of 80% of private assets for 18 months in Brazil, as part of radical inflation-stabilisation measures] from [president] Collor came and I lost a [tour] sponsorship. So, instead of doing nothing, I went on a voice and guitar trip around Brazil, which I had never done before. That's when I started travelling, and I travelled a lot. And in the second album I had a [touring] band for a while, which is the band that made that album, but after a certain point, I don't remember what happened, I ended up finishing the tour doing voice and guitar – which was at the time when the song "Mentiras" was a success. In the tour of A Fábrica do Poema the band was also made up of musicians who recorded the album. In Maritimo too, but somehow I would alternate with voice and guitar concerts and that image stuck, I think also because of the [very successful] live album Público [which was also released on VHS and DVD at the time]. Then that idea was confirmed, right? Even Paulo Jobim used to say that I looked like a centaur with my guitar – that we seemed like one thing. The difference is difficult to say because for a long time I was afraid of the band because I don't consider myself a musician and I had a certain "ceremony" [with them], you know: I didn't feel as free as I did with voice and guitar because I really don't know [how to play well] and no one is expecting me to be a virtuoso, so that made me more comfortable. With musicians I was more intimidated because I'm not a musician. Then I became more comfortable because I started working with musicians who are composers, who create songs. Since they create songs, they look at them from an author's point of view. So the way they approach the song is a little different. And then I like it more.
ON: Your first album, Enguiço (1990), is mostly made up of covers – with the exception of the title track and 'Mortaes' – and it seems to me like the result of a live performance experience. In the second album, Senhas (1992), nine out of thirteen songs are your own. I think it presents an aesthetic that is more coherent with the work you would carry out throughout your career, even though the first album was heavily atropófago – a characteristic that permeates your work. What is the story behind the transition from the artist Calcanhoto – with one 't' – to Calcanhotto – with two 't's'?
AC: Well, I didn't have the desire to make the first album at that moment, you see? You're right, I only thought about live performances up until then. But I came to Rio, did a concert and then record label offers started to appear. I wasn't even thinking about making an album, but wouldn't say "no, I don't want to, maybe another time." So I signed with them and I made an album without a plan, without desire, without really thinking. And also, the record label said "not your musicians, they have to be real musicians." They separated me from my band. I didn't insist because I didn't have the desire… I let myself be carried away by that and I learned [from the experience]. It was good that it happened right away because you can't make an album without desire, you can't do live shows without desire, that is simply not of interest [to me]. So, for the second album, I said, "Well, so I'm going to make an album: I'm going to sit down, write songs, think about which musicians I want." I did it the way I think works best, the way it has to be.
ON: The sea was the theme of three of your studio albums, Maritimo (1998), Maré (2008) and Margem (2019). As the title of your live album suggests, Margem, Finda a Viagem (2020), is this a creative cycle that has ended, or does the sea persist as a creative impulse within you?
AC: Sea songs catch my attention a lot. The whole maritime universe: the physical, the real, and the metaphorical. Moby Dick, Dorival Caymmi, everything. But first I made an album. Then, when I started to think about a second one, I thought an incomplete trilogy would be cool. But then I saw I had songs for a third one. And as well as having songs, I had a name, Margem – with a name, it would be easy to have songs. Today, I think the journey has ended because I finished the trilogy, but that doesn't mean that if I have sufficient repertoire, I won't make a fourth one. Everything is possible [laughs].
Made for children
ON: Great to know. I'll be here secretly and silently waiting. From 2004 to 2012, you took on another identity and also became Partimpim, an artist who would release three studio albums and two extraordinary DVDs made for children of all ages – including myself, who was already an adult, my parents, and my niece, who was a little child at that time. How did this musical adventure come about?
AC: I had been thinking about doing this work for about 10 years. When I recorded with Hermeto [Pascoal] on the [album] A Fábrica do Poema, I remember that before he appeared in the studio, his musicians and assistants put up his set with things he would use, or not – there were drums, a piano, and a percussion set full of little puppet animals like rabbits and other things. And even those other things were basins and objects like that, which weren't musical instruments as such, they were objects and toys. When I looked at that, since I had been thinking about it already, it gave me a more concrete image for an idea that was a bit abstract about making music for children, in various senses. In this case, in the sense that experimentation has to be playful, it didn't have to be a serious thing. From then on I started making a list of songs that came to mind which could be part of this project.
In '99, I recorded a first version of Partimpim, but didn't like it because I thought it was dated. An album like this, I thought, shouldn't be dated. The great albums of the kind that I like, such as A Arca de Noé [1980] and Os Saltimbancos [1977], had they been too dated, they wouldn't have passed from generation to generation, right? They are dated from a production point of view, the type of sound. You listen to them and understand that they're from a certain time, but what I had recorded was dated in terms of the effects the musicians were using – it was the guitar pedal of the week, you know? I didn't like it. I put it in a drawer. And then, in 2003, working with Dé Palmeira, he knew that this album existed. And as I had the tapes here at home, I saw that they were just going to get mouldy, and decided not to be so irresponsible – and digitize them. Dé knew all about that and went to the studio to check it out. And then he called me and said, "Look, it's not as complicated as you're imagining. It's one thing or another here and there. You haven't heard it in a while and now, with distance, I think it's just a few things and you have the album you want." I listened to it with him and in the middle of this I discovered the song "Fico Assim Sem Você" [which would become a massive hit from that album], which was maybe the missing piece. And when I heard it, that got me going for the album. And it was really more a matter of taking things out – taking out effects, taking out too much clutter – changing one or two songs. Dé helped me do it and it really turned out to be what I thought it had to be. That's why it's another artist, not Adriana Calcanhotto: it has different needs, different characteristics, another modus operandi, a whole other thing.
ON: And the audio-visual projects for the first two CDs are wonderful, aren't they? I remember the impact of seeing that beautiful opening of the first concert, which was truly extraordinary. Congratulations!
AC: I had more difficulties proposing this than I'd imagined when I said "I'm going to make music for children." I thought people would say "great!", but no, people found it very strange and said "no, you don't have a TV show" and things like that. But once we started hiring people – such as Hélio Eichbauer, who designed the set – everyone worked with a more open heart, so everything happened in a very fluid way. And every time I worked with Partimpim, it was like this. And it leaves a mark, you know? I remember that in the recording of the first DVD, when I'm on a swing and the curtain is closing – my last time going through the curtain had to be exact; if we had rehearsed it, we would have done it for three years and it wouldn't have worked out. It's when things are meant to be and they flow. It has always been like that with Partimpim.
Collaborations
ON: OK, let's take a leap now. In 2019, the album Nada Ficou no Lugar was released, with songs from your repertoire sung by a younger generation of artists. In the following years you released singles with Rubel, Illy – both of whom were also part of the album, but with other songs – and Fran with Ubuntu. Is there a difference between collaborating with younger artists compared to artists from your generation and previous generations?
AC: Yes, there is. With previous generations, with those who shaped me, first there is a sense of awe. You hear that body of work that has given you goose-bumps throughout your life, and suddenly you're singing with them. With people from your generation, you are sharing [that body of work] with them, right? It seems like they are siblings because we heard and were shaped by the same things. And with the younger generation we see these results: from those who came before, who shaped my generation, and of my generation in them. You can see, you can feel these things. So they are all very interesting in many ways, but each one is different.
ON: How do collaborations usually come about for you? Is there something in common that creates this connection?
AC: No, it depends. For example, with Fran, I think he is an unbelievable singer. I think he is going to have a beautiful journey, both in the band [Gilsons] and outside. With his timbre – because the timbre is something you are born with, but you have ways of working with it – and the way he states the lyrics, I think he is a great artist. I met Fran when he was a child, he used to go to see Partimpim [perform], so you also [get to] see the person grow – creating their own thing, reinventing themselves as an artist. So I learn from that, right? And I find him very interesting. Illy is another thing; she is singing one of my songs, so she appreciates what I do. She takes one of my songs and transforms it into her own thing, in the way she understands my song. And my song exists because I listened to artists she also listens to. Anyway, each case is different, I would say.
ON: Which collaborations would you point out as the most representative in your career? I can't not think that Maria Bethânia, as a performer, is a great partner of yours, right? I could mention other recordings of your songs by her, but that of "Âmbar" is just…
AC: Yes. That is because Bethânia has a great sensitivity for… she likes receiving a song that has just been made. She takes not only the song but also that freshness, you know? And the song was made for her, thinking of her, of where she lives. And she managed to capture all of that. She has this authorial way, right? Because she takes other people's songs and makes a script out of them and adds music and a poem and so on. All of this is her writing, composing. She is an author, not just an interpreter, right? I don't want to be misunderstood by saying "just an interpreter," but she sews other people's texts together and makes them her own – she says what she wants to say through the texts of others. That is authorship, isn't it?
ON: Absolutely. She tells a story in her concerts. Another partnership that I would like you to comment on is with Waly Salomão.
AC: Waly [smiles]. That was a very intense partnership. He was interesting in that his way of being generous was tough, a way of saying things that he felt he had to say, but not in a friendly way, precisely to create an impact and make me think. I say me because I'm talking about myself, but he did that with people he believed had to grow, who had the potential to grow. So sometimes he was very tough. But it was incredible to work with him. I was talking to Heloísa Buarque [de Hollanda] at Blooks [Bookstore] and we talked a lot about him, about this side he had of not showing off his erudition and culture, he played it down. It was very complex, right? And the main thing about him was that there was no formality that could shackle him. I was in several situations with him in Europe and in the United States. The more formal and ceremonial the situation, the more he would shatter it, nothing would be left standing. It was impressive. Beautiful to see. Sometimes it was very scary, but he was impeccable [laughs].
ON: That reminds me of Bethânia telling in an interview of him hanging up on her because she was asking for the lyrics to the song "Mel", which he was taking too long to write. And I think there's a story you told in an interview about the partnership with him in the song "A Fábrica do Poema", which also involved endless phone calls… So great!
AC: Now that he's no longer here and we tell these stories, we see that he was like that with everyone. The first thing is that he didn't say "hello" [on the phone]. He would start talking and usually he would start reading something he had written. So you would say "hello" – sometimes I didn't need to because the only person who would call me at six thirty in the morning was him, so I would [simply] answer – and he would already be speaking… If he was reading a poem of his, after he finished reading it I would say "how beautiful", he would say "liar" and hang up on me. He was that way with everyone.
"I'm having a lot of fun; it's great doing it…"
ON: These stories deserve a book [both laugh]! What leads you to decide if a song belongs to an album or "just" a single nowadays?
AC: I am a listener to and a maker of albums. I like albums. I like the [album's] cut – for example, when a Bob Dylan album comes out, I want to listen to it in Bob Dylan's order; even if later I'll listen to some tracks more than others. As for just tracks, I never got into that choice of the lead single. Some managers, rightly so, always told me that the lead single is a matter for the record label. If we get involved and it doesn't work, then the record label will say, "oh, but we thought it should've been…". I think [regarding] the choice of the lead single, [that] you release the song into the world and it's the public who will decide [whether it is a success], not the record label, not the radio, not anything. I remember that in my second album the record label people said, "a song called 'Esquadros' will never get played", "a song called 'Mentiras' will never get played…" [both songs turned out to be very big in Brazil], so nobody knows. You choose a [song] for a thousand reasons, but nobody really knows. And I think the great thing is that nobody knows, because if the record label people knew, if the formula for success worked – the hit formula – what would be the point of having artists? So it's this mystery which moves me to do things. Otherwise it wouldn't be fun, I think. Maybe there will be a case where I make a song outside of an album because I want to say something at that moment, but I have a taste for albums. I like them [laughs].
ON: "I am everything that I carry tomorrow morning," you sing in "Nômade", the song that closes Errante. Can you tell us a little about what inspired you to write it?
AC: I had these ideas, but what really got me to sit down and write this song was my trip with Gilberto Gil on his tour, which was something I had been hearing about for many years: the tour he does every year in Europe, which has a bus with beds inside and people live their lives in it because there are 20-hour stretches. So people sleep, eat, talk, play, watch movies and football, make songs and partnerships… everything happens there; it's a life on the bus. And [there was] also the curiosity of being close to him on the road because I've already done things with him, but here in Rio. It's different to travelling, right? [There's] his discipline, the way he faces life and work and rehearsals and everything. He says such impressive things! And then [there's] this nomad side, which is the life on the road, that was the motto for this a little bit. Before, I used to travel to come back but, for some time now, coming back doesn't make that much of a difference anymore, so the idea of living while travelling without having a home is interesting. And the home is us, it's the nomad thing, it's the Tuareg thing, right? The home is the body, which is a very old, ancestral idea – which [artist] Lygia Clark appropriated in a different way in the '60s. So all of this converges in this song, but what really "starts" it is my time spent with Gil on the road. In fact, things that I thought only happened to me, like arriving in a city, going to a dressing room, putting my hand in my pocket and finding a key card from four cities ago – that also happens to him. I saw him putting his hand in his pocket and finding an old key like that. Then I wrote the song because it was irresistible to do so. I couldn't not do it [laughs].
ON: Which paths around the world do you intend to take with this album, Adriana? You need to come to the UK again. I didn't go to your last concert here, but heard it was wonderful.
AC: All the paths that open up [laughs]. [The last UK concert] was great, I loved it. I love the UK. I've been many times to just wander around. I stayed at a hotel in London that was Edward Lear's house. I spent a long time in Oxford, [where] I went to study English and wander around, enjoying the "Oxford life". I also went there to understand Vinicius's [de Moraes, one of the most important Brazilian poets and the father of Calcanhotto's late wife, actor and filmmaker Suzana de Moraes] life [in the city], which is not well documented for several reasons. Oxford is also a half-sister of Coimbra [University]…
ON: To wrap up, is there anything about your life, your artistic vision, your career or your new album that you would like to share that I haven't asked about?
AC: At the moment I'm working on an interesting project, which is putting together the [new] concert. It's precisely this that brings together the songs from this album with other songs, and you have to put all of them in a single sound package. It's an interesting moment; a moment that I like. The concert will be [scenically] very adaptable. It's the first time I'm on stage with wind instruments – with the same musicians who play [them] on the album. I have Domenico [Lancellotti] on drums, who [also] played on the album. It's just guitar and bass where I don't have the same [musicians] as on the album because Davi [Moraes] is playing with Marisa Monte, and Alberto Continentino with Caetano [Veloso]. We'll start in Portugal, in [the city of] Coimbra, then we're coming to Brazil. At the moment, I'm gathering songs from different albums along with the Errante ones to put in this sound [package] – I'll make the most of the wind instruments because I've never had them on stage. I'm having a lot of fun, it's great doing it.
ON: You should play the intro to the first song of Errante, "Prova dos Nove", for ten minutes so that we could dance to it for a long time. It is such a delight!
AC: I love it too [laughs]!

Follow Sounds and Colours: Facebook / Twitter / Instagram / Mixcloud / Soundcloud / Bandcamp

Subscribe to the Sounds and Colours Newsletter for regular updates, news and competitions bringing the best of Latin American culture direct to your Inbox.
Share: