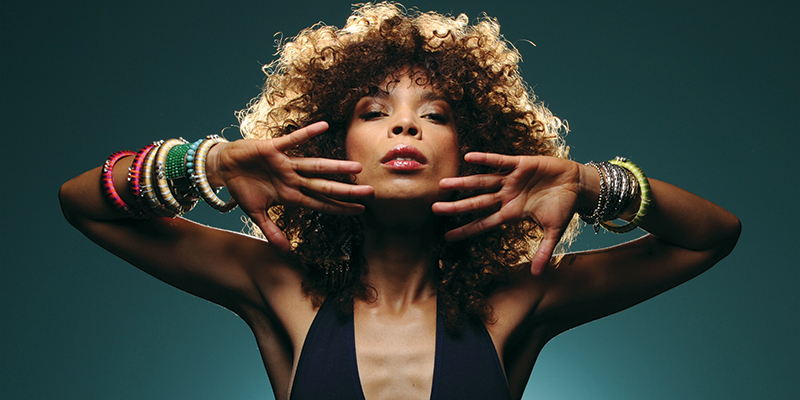 An Invitation To Her World – Catching Up With Flávia Coelho
11 June, 2015
"Gata, you're going to have to earn your way up by playing the bars". These are the words that greeted the carioca Flávia Coelho when she first decided to follow her idols and move to Paris. Nine years later, having started out busking on the metro and now with two albums released, it's safe to say that she's paid her dues.
Her first album, Bossa Muffin, was labelled by The Guardian as "One of the most joyful, easygoing fusion sets of the year, a rhythmic clash of Brazilian and Caribbean styles… slinky melodies and bursts of rapid-fire hip-hop".
The follow-up album, Mundo Meu, has just been released internationally, and we managed to get the energetic Flávia to sit still for a few minutes and talk us through it.
Let's start with the new album. Could you tell us a little about it?
This album was written whilst we were touring my first album, Bossa Muffin. During that time we played 300 shows, we were travelling a lot, playing a lot. So I never stopped writing, and kept composing on the road.
Whilst Bossa Muffin was about discovering myself as an artist and pushing boundaries, with Mundo Meu I wanted to go back to my roots, the music I'd always listened to.
"Power of Money" has a bit of a Balkan, Eastern European ska sound, and it talks about economic problems being faced in Brazil after the recent 'boom'. "Por Cima" (the new single) talks about these Brazilian women who are crazily in love with men and will do anything for them. In "People Dance" I talk about global warming and the drought that people experience in north-east Brazil.
So are these subjects universal?
The subjects I explore are Brazilian, as I really talk a lot about Brazil. However they end up being universal, as wherever you're from, we all have similar problems and similar sources of happiness. When you have problems in love the suffering is the same, when you have money troubles the suffering is the same. But I realise that I talk about Brazil a lot, as Brazil is 'meu mundo' (my world).
You were born in Rio and spent time in Ceará and Maranhão. You've seen a lot of Brazil. Are there any regional Brazilian influences in your music?
I grew up in Maranhão, in these little cities where they had these big sound systems (radiolas) in the streets. So on Saturdays and Sundays we would go to listen to reggae and ska, to hear all these old records from Jamaica. I was eight or nine years old at the time, I wasn't even thinking of singing.
In Ceará there was always lots of forró, lots of brega, lots of traditional culture from the north-east. In Rio I would listen to a lot of samba, funk [carioca]… I would spend my entire evenings listening to funk [carioca]. This is why you can hear that heavier beat on Mundo Meu.
[soundcloud url="https://api.soundcloud.com/tracks/196489925″ params="color=ff5500&auto_play=false&hide_related=false&show_comments=true&show_user=true&show_reposts=false" width="100%" height="166″ iframe="true" /]
Since 2006 you've been living in Paris. Why did you initially decide to move there?
My first experience with Paris was in 2002, when I came with a group to do some shows. I was enchanted by the city, by the beauty and the history. When I went back to Brazil I said to myself 'If one day I want to make an album, I'll go back to Paris'.
It's not just the historical side, but also the musical side. World music is really sought after in France. All of the artists I love spent some time in Paris: Chico Buarque, Gilberto Gil, Miles Davis, all of my idols lived in Paris. So I decided, who knows, maybe I can follow a little of their trajectories.
Has Paris influenced your music?
Definitely, it was there that I got into African music. Also the Balkan style that you hear on "Power of Money". Everything that I've seen in Paris, I try to bring in to my music.
As a Brazilian artist that's been resident in Paris for so long, how do French audiences receive you?
The crowds have always been great, and have always reacted really well to my music. In the beginning the only difficulty was with label bosses and venue promoters. They'd say 'What is this complicated sound? You show up wanting to play reggae, Balkan, pop, funk? Here people are only interested in hearing Brazilians play bossa nova and traditional music'.
But little by little I found a label that believes in this sound, and met my producer Victor Vagh. Since then, it's been great. We played 300 shows with the first album. For Mundo Meu we've already done 90 shows, and we're on the way to doing 90 more.
You started out playing the metro in Paris. How was the experience of playing on the streets?
In Brazil there's always places to play, so I thought it'd be easy to find venues in Europe too. Back in Brazil, even when I was unknown and playing covers, I'd have crowds of up to 2,000 people every week at the clubs. At Carnaval I played in front of 10,000 people.
But once I arrived in Europe, people told me 'darling, you're going to have to go back to the bars'. They said I'd need to just play guitar, pass a hat around for tips, busk in the metro. But that's a part of life, everyone does it.
Do you ever play shows in Brazil?
To be honest I still haven't taken my work back to Brazil. I've never toured these albums there. Since we started in Europe it's been going so well, we've not even had any time to think about Brazil.
Of course it would be my dream. I write in Portuguese because I'm talking to my people. I would love to play loads of shows in Brazil.
At your shows in France, do lots of Brazilians go? Lots of French people?
Everyone is there! Lots of Brazilians, but French people enjoy what I do too. We were lucky enough to play a venue called Olympia Hall in Paris. It was full, 2,700 people there to see us.
So what's next? Are there other places you dream of playing?
I've already been to Africa, and this year I'm going back for shows in South Africa, Mauritius and Reunion Island.
What's next? I'm already living my dream! Just being able to record an album in Paris, for it to work out so that I play shows in London… We're managing to do what we do and I'm really happy.
I just want to keep playing more shows, and keep meeting great people.
Another 300 shows?
Hopefully!
Mundo Meu is released by Mr Bongo and available from Amazon UK, Amazon US and iTunes

Follow Sounds and Colours: Facebook / Twitter / Instagram / Mixcloud / Soundcloud / Bandcamp

Subscribe to the Sounds and Colours Newsletter for regular updates, news and competitions bringing the best of Latin American culture direct to your Inbox.
Share: