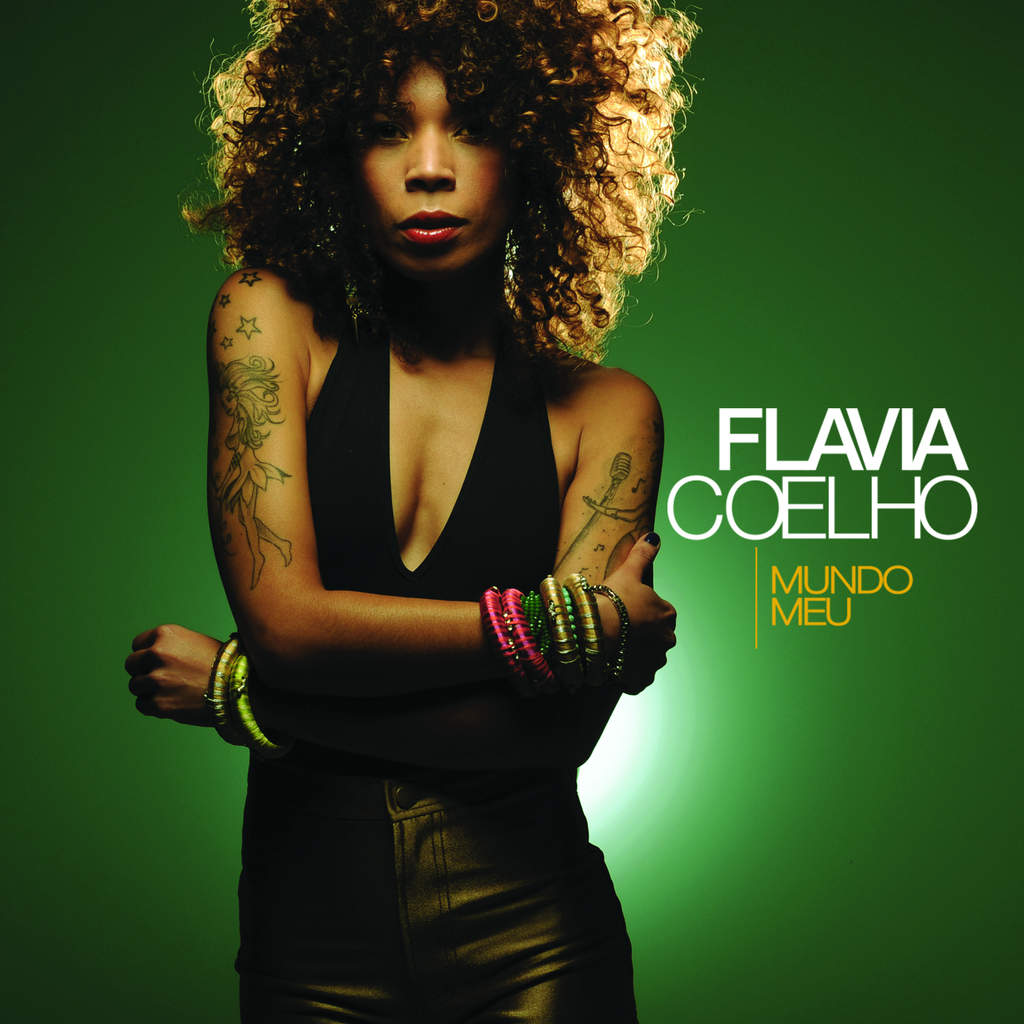 Flavia Coelho is back with more playful melodies, vibrant harmonies, infectious rhythms and open-armed, outward-looking lyrics, picking up where Bossa Muffin left off with her latest offering and second album Mundo Meu. If ever there was an ambassador for Brazil and the Brazilian spirit, Coelho is it.
Mundo Meu is a vivid and sonically rich exhibition of musical and cultural variety, with a bolero ("Por Cima"), a baião ("Hoje") and even a Balkan track ("Power of Money") on the tracklist. Coelho ambitiously but successfully marries a plethora of sounds, styles and cultures with ingenuity and individuality.
Rio de Janeiro-born Coelho is skilled in the art of adaptability, deftly dancing from genre to genre, emotion to emotion and culture to culture. It seems the world really is hers (as the album's title declares). Perhaps what is most remarkable about this Paris-based singer is that she does not play the pretender; there is nothing tacky nor fraudulent about her music even when she interprets genres and styles that are culturally foreign to her Brazilian self, such as "Power of Money", the gypsy/Balkan number. Coelho does not imitate or parody, but interprets genres and sounds in a unique way, with her own urban and very Brazilian brand of flair and emotion.
The glue of the album is undoubtedly the reggae/dub styles and motifs, notably in percussion and bass lines with rolling bass riddims ("Amar e Amar"), tightly-wound, high-tuned snares alongside timbales and a healthy seasoning of Brazilian percussion tying each tune together. Pervasive throughout the album, they lend a buoyant Caribbean and carnival flair to Mundo Meu, resonating within the listener, inviting – or rather, obliging – you to dance (or even skank). Dub production techniques extend to considered use of reverb and delay throughout ("Por Cima), as well as classic staples of dub and reggae such as siren sound effects ("Cinema") and other warbling samples, adding a Manu Chao-esque hint to the album.
The characterful West Indian Al Chonville, Coelho's drummer (although he does occasionally provide backing vocals), is arguably the unsung hero of Flavia's discography in that it is his spirited drumming and natural rhythm that successfully construct this sonic and rhythmic cohesion. Although reggae/dub percussion may act as the backbone of Mundo Meu, it is perhaps more broadly Africa that glues this album together. As Coelho is herself Afro-Brazilian, the continent is intrinsic to her being and an integral theme of her music.
Africa manifests itself in numerous intriguing and varied ways, notably in the second track, "Pai de Santo" featuring Senegalese singer Woz Kaly whose emotive and impassioned vocals contribute in punctuating the African flavour of the album, and the importance of the continent not only in Coelho's life, but in the world: "Africa is the future!" Flavia triumphantly roared at her recent concert at Rich Mix, London.
Africa is also represented through the instrumentation of the album, with sharp, shuffling West African guitar melodies coming to life in songs such as "Fora de Lei", a song about street music and freedom of expression, expertly produced with dub-ready piano delay and light, equalised hints of accordion, a symbol of and ode to the street music of Paris, Coelho's adopted home.
We are treated to a taste of Coelho's rapping abilities at the end of this track, a fiery, machine-gun near-ragga rap pitter-patter that was a key feature of her first album. Hip hop is more exclusively the flavour of "O Dom", in which Coelho teams up with Atlanta-based Afrocentric hip hop collective Arrested Development, singing of the system's flaws and how "everyone has a talent". Through examination of social issues, Coelho articulates a profound and powerful message, in a considered and philosophical, rather than a blindly reassuring, way.
The common denominator in these styles, from dub, to Woz Kaly to hip hop, is Africa, in that they all, in some way or another, have African origins.
Much of the album is produced through a pop lens ("Passou Passou", "Amar e Amar", "Espero Você") which in no way detracts from its originality or credibility, but instead adds a tone of summery "feel good", not dissimilar from Jason Mraz's music. This pop element also makes the album infectiously catchy and extremely listenable acting, in most places, as a superficial layer beneath the positive messages articulated through the lyrics. "Ilha de Mare" for example is, on the surface, a summery and structurally simplistic piece. But through simple and catchy lyrics: "We are all natives of this island, boy, girl and mulatto…" Coelho makes a powerful statement about multiculturalism and tolerance.
Through its irresistible syncopation, impeccable instrumentation and inviting lyrics, Mundo Meu inspires movement and reflection in varying measures, with Flavia Coelho and her team expertly blending sounds and styles with great success and originality.
It is a very Brazilian habit, that of blending cultures, mixing ideas and harmonising cultural differences; using those differences as strengths under a philosophy of "success in diversity". In this increasingly multicultural age where, as a global community, we are, in terms of technology and geography, getting closer and closer, yet socially and emotionally, we are arguably becoming increasingly detached from one another, this Brazilian talent of harmonising diversity and using differences as strengths, is certainly one the rest of the world could and should learn from. All of the tracks on Mundo Meu act as a musical manifesto for the Brazilian mentality of strength through diversity. It is an album that we can't afford not to listen to and learn from in some way.
Mundo Meu is released by Mr Bongo and available from Amazon UK, Amazon US and iTunes

Follow Sounds and Colours: Facebook / Twitter / Instagram / Mixcloud / Soundcloud / Bandcamp

Subscribe to the Sounds and Colours Newsletter for regular updates, news and competitions bringing the best of Latin American culture direct to your Inbox.
Share: