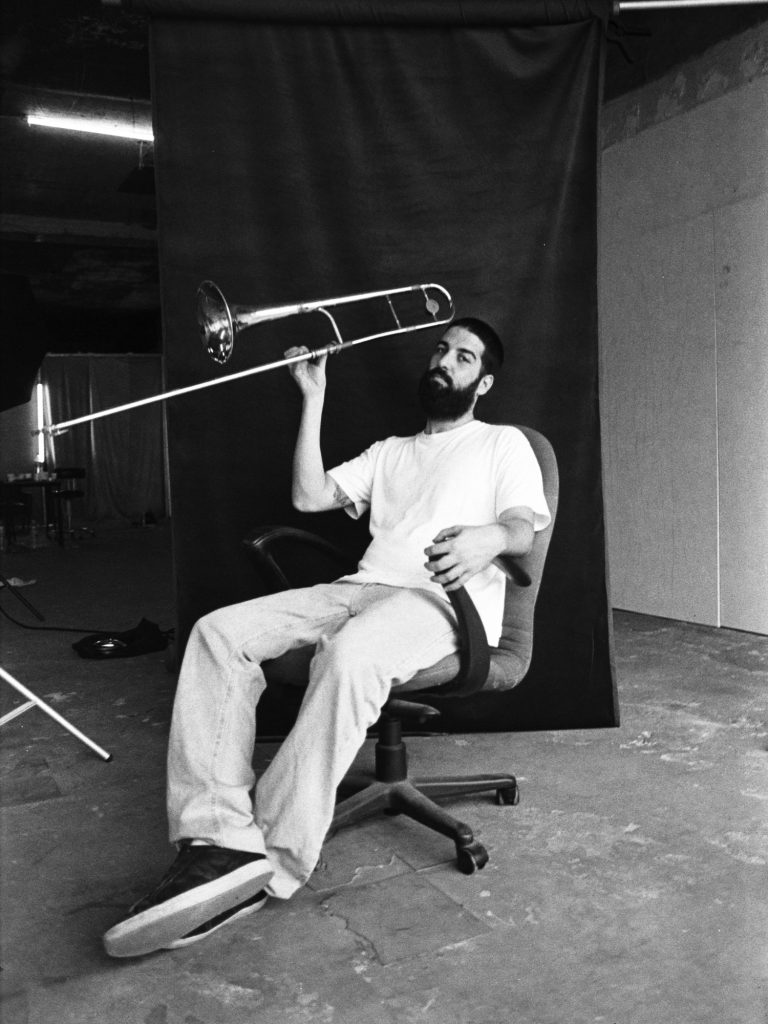 Lucas Vaz
Antonio Neves: Keep It In The Family
12 February, 2021
"When I was born, it was as if my father thought, 'I want to have a drummer.' . . . He was essential to my musical formation, he showed me that to be a musician was possible, that I can do that." Antonio Neves, son of distinguished saxophonist Eduardo Neves, eulogises his father frequently during our two-hour Skype call. "My father is my idol," Neves confesses, laughing through a beaming smile. "I love my father!"
Hastily, but altogether sincerely, he adds, "I love my mother! I love everybody!"
The ebullient drummer and saxophonist, anointed enfant terrible of Rio's new guard by his label Far Out Recordings, is effusive when discussing the impact of his family on his current station as Brazilian jazz trailblazer.
The details of his father's glittering career belong to the history of Brazilian popular music. The woodwind player's career took off while working with Luiz Melodia and Tim Maia in the late 80s, before a thirteen-year-long collaboration with Zeca Pagodinho backgrounded famous features with Hermeto Pascoal, Milton Nascimento, Joyce Moreno, Ed Motta and Gilberto Gil – among many others. But Antonio stresses the musicality of the rest of his family as well.
"My mother is a painter, but she loves music too. She'd put on vinyls by, like, Milton Nascimento in the house. And, my grandfather, who was a painter, too, played classical music. I also have an uncle who plays the cavaquinho. So, growing up, music was in my life all the time, you know. When I applied for university, I put down industrial chemistry and they were like 'no, no, no! You need to do music – be a drummer!'"
We're talking ahead of the release of Neves' hotly anticipated sophomore album A Pegada Agora É Essa (This Sway Now), due out on the UK label Far Out Recordings next Friday. But, for much of our early conversation, Neves looks to the past, rather than future, regaling with stories of a remarkable childhood.
"Because of my father, every day growing up we'd listen to great saxophonists like Joshua Redman, John Coltrane, Branford Marsalis, Pixinguinha and Kenny Garrett… I loved this guy Kenny Garrett. I used to listen to the same track every day: 'Sing A Song of Song'. And, when I was, like, six or seven, I'd sing their solos: bahpahdahpahdah!" Neves begins scatting, wildly, before a giggle bursts forth from his wide smile, interrupting him. "But I'd always be looking out for the drummers," he stresses the penultimate syllable. "Drum, drum, drum, drum, drum: Elvin Jones with Coltrane, Brian Blade or Jeff Tian Watts with other guys. And I was like, 'wow man, I like this freedom and this groove – I wanna do that.'"
After years of asking, Neves finally got a drum kit when he turned eleven. For the next ten years after that, he and Neves Sr. would play for a couple of hours each day. Was his father a hard taskmaster?
"He wasn't like a general [but he would say] 'this part is not so good – you need to practice your right foot more.' And he'd go away and I'd practice before he came back to continue. It was serious, you know.
"My older sister would go crazy, the amount I practiced drums every day. It was loud. She'd be like," Neves rolls his eyes, staring aggressively, "motherfucker." He bursts out laughing. "Where I lived, the building, we had so many problems, man. People would be like 'I'm gonna throw some shit, some day!' And I was thirteen like 'fuck man'. And like eggs and shit [were thrown at our windows]."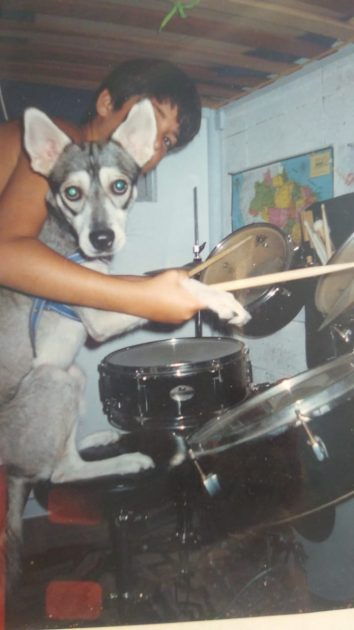 To neighbours' relief Neves soon began taking his thunderous drumming outside the home – first, alongside his father at jam nights at the tender age of twelve.
"I remember the first time I played a jam session," Neves recollects. "My father had already brought me to the club, Modern Sounds, where [French saxophonist] Idriss Boudrioua played every Tuesday. The first time I was supposed to play, I ran away and hid. But then we went back another day and I played. I was a bit nervous but the musicians there were older and were very nice."
Older, and veterans of their craft, the musicians that the twelve-year-old prodigy learned from were linchpins of Rio's jazz and samba scenes. Neves recalls paying with the drummer Pascoal Meirelles, who rose through the ranks in Paulo Moura's band to play with the likes of Tenório Jr., Ivan Lins, Elis Regina and Wilson Simonal. He also remembers playing with the samba and bossa nova bassist Sergio Barroso, who was an integral member of Dom Salvador's Trio, as well as Os Catedraticos, Rio 65, Antonio Adolfo's 3D trio, Nara Leão's and Roberto Menescal's sixties bands and Elizete Cardoso's seventies group. These musicians were no jam-night amateurs. The prospect of such collaborations, even a seasoned musician would salivate at.
Was he aware, at that age, how special this was?
"I think I was so nervous about playing well that I didn't think about it. I remember I was like 'man, I really need to stay in the beat'. I remember playing 'All The Things You Are' and I needed to concentrate, you know. But I didn't think 'oh, these are experienced musicians.' The first time my father played in a jam session, when he was younger, it was with Idriss, too. So Idriss is like an uncle. He's in the family. Because my father is a musician, I know everybody.
"I'm Eduardo's son, you know. So, for me, it's like we're all in the family."
For Neves, these were magical times: "We'd go together, and my father and me will be subbing in for other musicians, normally playing samba da gafieira for three sets – way past midnight. I loved this energy! When we'd get back home, the sun would be rising. And we'd drop off the instruments and go to the beach, you know… I've got good memories of this time."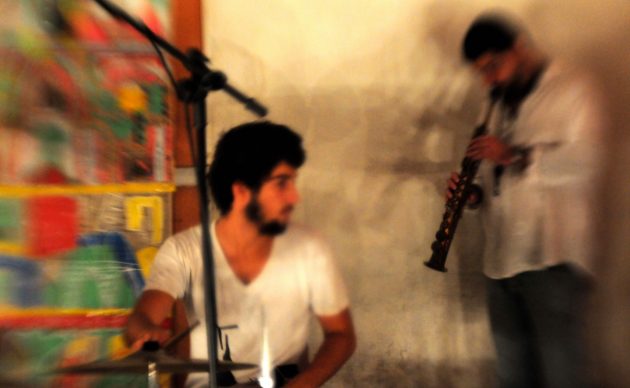 In his teens, Neves began meeting other younger musicians – most formatively, the clarone player Joana Queiroz who, last year, turned heads with her bewitching masterpiece Tempo Sem Tempo. "She was part of this band called Orquestra Republicana with many artists like Teresa Cristina, the singer, Alfredo Del-Penho and Marcelo Bernardes (Chico Buqarque's saxophone player). She's a little bit older than me but she was the youngest in the band.
"I started to play with them in Lapa and more gigs came. Then, I played with an arranger, teacher and trombonist called Vittor Santos, and doors began to open more: I played with Leo Gandelman after he saw me playing with Vittor – and Hamilton De Holanda, too."
Holanda, Gandelman and Quieroz all feature on Neves' A Pegada Agora É Essa. But it's the mention of Vittor Santos' vocation that make my ears prick. Indeed, with Vittor, comes Neves' first mention of the trombone – the instrument with which Neves poses on his new album's cover. When did Neves start playing the trombone?
"Everyone thinks I play the trombone because 'ah, your dad's a saxophone player', but playing the trombone came very late – later, even, than Vittor Santos. I started studying it when I was 21, at music college. It was an optional class. I didn't know anything about the trombone, but I saw the trombone students at my school and thought, 'man, maybe it's not so difficult – I wanna try it.' It's a simple instrument: just 'fuhm-fuhm'." Neves simulates a trombone slide. "And that's it… Also, a trombone isn't too expensive, unlike a trumpet or saxophone. So, I bought one and my teacher straight away said I was lucky because it was easy for me to make a good sound.
"All of a sudden, I saw myself doing gigs on the trombone, playing with reggae bands like Natiruts – the biggest reggae band in Brazil. It got to a point where I'd do three gigs on the trombone and then three as a drummer… As a kid, I never thought about one day being a trombone player – I wanted to be a drummer, I wanted to play with Joshua Redman…"
I mention the incongruity between his album artwork (below) and his passion for the drums, not trombone.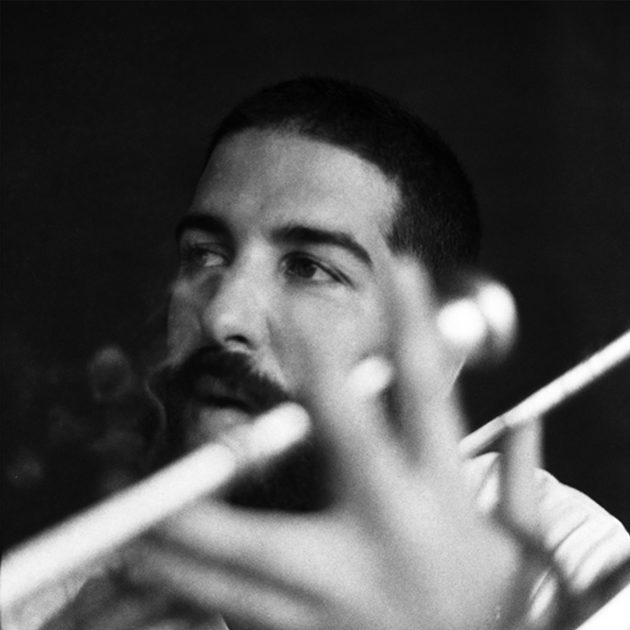 "For me, this is crazy man – what am I doing [on the album cover for A Pegada] with a trombone in my hand, you know? [Multidisciplinary artist] Ana Frango Elétrico did the album art and she told me to bring the trombone [to the photoshoot]. And I thought, ok, it's easier to bring than the drums… I never thought people would see me as a trombone player, but life took me another way."
Pursuing his newfound talent for trombone, in 2017, Neves led a band that featured Joana Queiroz and his father Eduardo. Alongside them, Neves recorded his debut album Pa7, wielding the brass instrument and surrendering his sticks to drummer Pedro Dantas. The result was an "intimate" album of "melancholic melodies", made among friends and family – the only way Neves knows how. In the same year, Neves spent time playing with other friends – Leo Gandelman, Moreno Veloso and Kassin. But, most strikingly, he featured in Elza Soares' band on drums, for the recording of the live abum Elza Canta E Chora Lupi.
"I don't have words to explain how important that was to my life and growth," Neves stresses. "When I was twelve, my father was playing with Elza and I remember going backstage and she said to me, 'someday, you're going to play with me!' And I was like, 'fuuuck, man!'" Neves stretches the expletive until he's almost out of breath. "She is amazing, incredible. The best singer of all time.
"Each concert, she'd stop the show and tell the story: 'hey, this guy I met when he was twelve…" And I'd walk from the drums and go kiss her and everyone was like 'waaaaaaaah!'" Arms outstretched, Neves imitates crowd noises, unable to hide his joy. "For me, it's one of the most important things I've done."
The following year, something equally important happened. Neves struck up the most significant of all his musical friendships, with Ana Frango Elétrico. Playing with Ana Frango, Neves learned greater musical responsibilities – and musical freedom. For Ana, Neves played drums and trombone; he also played keys and trumpet and arranged her Grammy-nominated 2019 album Little Electric Chicken Heart. I ask Neves about their partnership, which has most recently led to Ana Frango's feature on Neves' single "Luz Negra".
"Way before she recorded [Little Electric Chicken Heart], I saw her in a videoteaser, like calling people to go to her show. And I thought 'who is this crazy girl?!' The way she talked and expressed herself made me curious and I went to one of her concerts, where I thought 'wow, she has something, she has an identity.'
"She, first, called me to record some tracks on her first album [Mormaço Queima] and we became like sister and brother, like joking and having fun all the time. I think it's because we are Sagittarius! When we talk, it's easy. We have some things in common in the head," he laughs. "And we have the same sense of humour – like grumpy humour. Later, she asked me to make the arrangements for Little Electric Chicken Heart – I could never have imagined that the album would be nominated for the Grammy's. But she's a complete artist – a painter, too. I love her melodies and harmonies. They're very original. And her voice is so original, for me."
We move towards Neves' new album with Neves explaining that the original "voice of his album" is found between his trombone and Queiroz's clarone. The seamlessness with which the two instruments meld together is one of the textural joys on A Pegada. Neves concurs.
"I had listened a lot to the clarinet player Jimmy Giuffre. I love, love, love, love this guy – every album, I'm crazy about. And he has one album with the trombone player Bob Brookmeyer, where the trombone valve with the clarinet sounds amazing. When I heard it, it made me think 'wow, if I do this with bass clarinet…'
"When I was a kid, everything was jazz, jazz, jazz, so I wanted to get this sort of sound. And that's really the main difference [between Pa7 and A Pegada]. I chose acoustic instruments: acoustic piano and bass, with the trombone and Queiroz's clarone."
Are there other differences between Pa7 and A Pegada Agora É Essa? "The intention of A Pegada is more about energy, it has more humour, it's more HOT!"
The title-track, released at the tail-end of 2020, corroborates these intentions. Reviewing the piece in December, I used the adjectives "breakneck", "fidgety", "urgent", "animated" – all within two sentences. Undeniably, Neves' new album has energy in abundance. And so, too, does Neves when talking about it.
"A Pegada Agora É Essa is like AAAAGH!" The trombonist and drummer is waving his hands around frantically. Eyes bulging, he begins to shout: "Let's do it man! Let's play whatever we want! Let's have a party!"
A Pegada Agora É Essa is, indeed, a party. Less an intimate account of its authorial musician, more an eye into Neves' relationships with his musician mates, over the eight lively compositions, seven feature at least one close friend or family member with whom Neves shares the lead role. Like the best parties, on A Pegada, Neves is surrounded by his nearest and dearest.
"It's very, very, very important to me to make music with my friends," Neves emphasises, explaining the thought process behind building his album around feature-tracks. "When I saw the Quincy Jones documentary [Quincy, 2018, TriBeCa Productions, referenced in Far Out Recordings' biography of Neves], I learned that everything in your life depends on saying yes. You need to say yes. The way he calls the musicians he loves, and how every time he's working with friends, the people he says he loves… I do the same. I called my biggest friends and the people I love and who love me. That was the idea, you know.
"I thought, 'Who am I going to call in for acoustic piano?' Eduardo Farias, who played with me and Leo Gandelman. And then, I thought, 'on Fender Rhodes, I wanna call in Luiz Otávio, it needs to be Luiz Otávio'. And he goes 'yeah man let's do it!' And I'm like," Neves makes a prayer sign. "It's very important to me that every musician I chose to do this album with said yes. I'm really happy about everybody saying yes for me."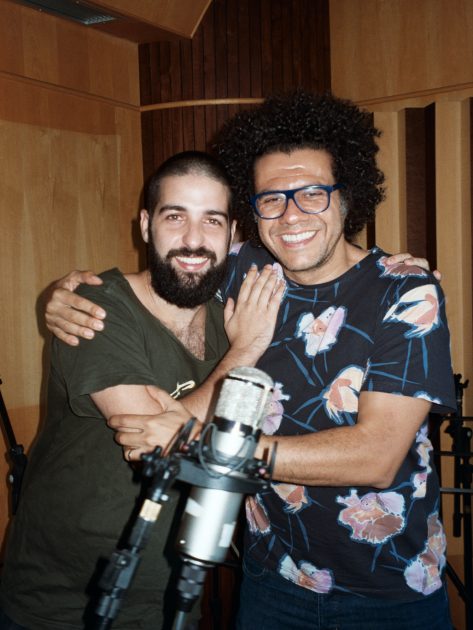 Permeating even the laptop screen, I catch a glimpse of the infectious energy that convinced twenty-four exceptional musicians to get involved with Neves' brainchild. It's an energy buoyed by an attitude epitomised in his album title: A Pegada Agora É Essa.
"It's a phrase I taught myself. I say it to everyone. It means… Like, we're in a bar and you give me three beers and I'm like," the ever-demonstrative Neves, widens his eyes, feigning shock. "And then you go, 'yeah man! A pegada agora é essa! Let's do it!' It's like my catchphrase."
It was the energy encapsulated in this catchphrase that led to MPB royalty Alice Caymmi to record the vocals for Neves' rearrangement of her grandfather's composition "Noite De Temporal" – a stirring, brooding number that sits early on the album. "The arrangement of Dorival's composition, I made for a small show – just drums, guitar and bass," Neves recounts, "and the musicians thought it was a good arrangement and that I should record it. Straight away, I'm thinking 'man, I'm going to call Alice because she needs to sing that!' She's my friend, I like her, you know.
"She came to the studio, heard the music and I explained, 'ok, I think you need to start here, do an improvisation here', and she says 'ok'. And I swear, man," Neves runs a hand up a goosebumpy arm, "in one take she sung everything. And I was there with the sheet music, like," he picks up a sheet of paper and grips it tight, shaking and staring, awestruck. "I was crying and thinking fuck, man! Like I am now. It took 30 minutes in the studio from beginning to end and it was finished. I remember the sound engineer looking at me like, 'She's amazing!'"
"Noite De Temporal" flows, via a gorgeous piano run, into another cover which features a prominent female artist and friend: this time, Nelson Cavaquinho's "Luz Negra", sung by Ana Frango Elétrico. Why did he and Ana choose to cover this song?
"My family is constantly listening to samba. And my father puts on a show [at which] he only plays Nelson Cavaquinho. And I love Nelson's compositions because there's something about his melodies and harmonies that are near to jazz. 'Luz Negra' is my favourite, and its lyrics are very sad. Nelson says like, 'Yeah my music's sad. Yeah, everybody says my music is sad, but I like to play it with my friends, so the sadness only belongs to the music.' And I think me and Ana, too, have some sad music but in our friendship we're jokers. So that's why it worked."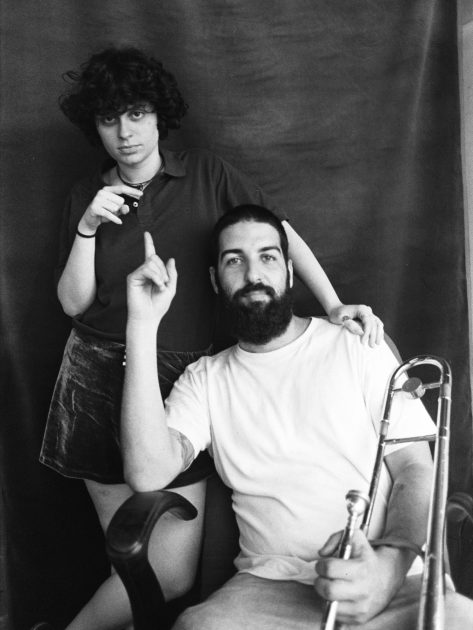 Among the tracklisting there's one cover that sits incongruous amid the surrounding Portuguese titles: Gershwin's "Summertime". It's the only title on the album which isn't followed, in parenthesis, by the abbreviation "feat.". And when I ask why, I'm met with uncontainable laughter.
"I tried some singers! But getting a singer to sing in English was a problem. And it was a problem for me too. But the lyrics, I kind of take them off. I just sing anything like–" Neves proceeds to rifle off a verse of nonsense syllables to the famous showtune melody. "Because, in Brazil, there's a lot of English language, but nobody knows what it all means! Everyone sings what they want. And so, I thought it would be interesting – a joke – to play with that, with how Brazilians see English songs."
The result is certainly amusing. While the words are wrong, the performance drips with swagger, and Neves' psych-soul arrangement, with twinkling Rhodes flowing beneath Gus Levy's distorted guitar licks and Queiroz's laid-back clarone, makes the staid jazz standard cool – perhaps, for the first time since Herbie Hancock and Joni Mitchell.
Humour is rife on A Pegada Agora É Essa (This Sway Now): from opener "Simba", which features Neves grandparent's old housekeeper shouting above Neves and his mates play-acting drunk, to the album closer "Jongo No Feudo" which ends with group laughter. Neves tries to explain why he so values humour in music: "Like, the message is don't take yourself so seriously. I think everybody is so serious about so many things, I don't know. I like to make something deep, but what is deep? Everything's the same shit – I don't know, I'm detached." He leans back, exhaling into a smile. "I'm detached. I'm not like, 'I need to make something original and beautiful…' I just do it, you know!"
I ask Neves how he feels about his album being picked up by Far Out Recordings – the primary purveyors of Brazilian music, outside of Brazil – and he turns serious.
"Well, my producer Santiago made contact with Joe Davis [founder of Far Out Recordings] and Joe liked it so much and I thought it was amazing. Here in Brazil, instrumental music isn't so published, there's a lot of problems – the music education isn't so good. The politicians don't think about the poor people that they need to incentivise. And, in the end, this contributes to people not caring about culture. In other countries, the children learn music at school – everybody has access to play the clarinet, the bass if you want, 'you wanna play drums? You're gonna play drums…' People don't care about this [in Brazil]."
Neves looks dejected, sighing, he confesses, "It's really difficult working in instrumental music here. We now have the piano player Amaro Freitas [who's released two albums on Far Out Recordings, in 2016 and 2018]. But I think we need more Amaros! We need more musicians to inspire the people to see this music in a different way."
A few days later we talk again, and Neves wants to clear up this last point – to end on a suitably cheery note.
"Maybe I was wrong about [needing more musicians like Amaro Freitas]. It's a political problem, because we have a lot of Amaros here. We have so many great musicians. But they don't get the attention, the publicity, the incentivisation. Not many people hear this stuff…" Addressing this problem, Neves recently compiled a playlist of Brazil's nascent talents for Far Out's Spotify. " We have the musicians. But it's a political problem," Neves stresses. His familiar grin returns, wider than ever. "We are fucked," he announces, unable to say so with a straight face. "That's the truth. We're so, so, so bad now, politically. And coronavirus means everyone is at home and everyone who would work backstage and at the concerts and all the musicians… There's nothing [for us].
"But, now, I am really anxious and really excited for this album to come out. I'm really, really happy to have recorded some stuff with my best friends, and the best musicians, all on the same album."
In spite of Brazil's current crises, Neves' positivity and warmth persists. And it becomes infectious as we start talking about the future. He tells me excitedly about his upcoming release with Greek lo-fi producer Jules Hiero.
"We made contacts at an Ana Frango Elétrico gig and some day he called me and said 'hey man, what you doing today?' And I was home and I was thinking, 'who is this fucking Greek guy, man? What does he want!?' But I invite him round to my house in Santa Teresa, and he comes with a cassette tape of beats he made. I say, 'Let's hear,' and put it in my cassette tape and he looks at me like shocked and says 'I've never listened to my stuff on that tape before because nobody has a tape player.' I put it on and I'm like 'woah, it's different, man!' And, so, we recorded an album here in the middle of the year. A Greek who lives in Vienna working with a Brazilian crazy guy, you know!"
The Brazilian crazy guy laughs heartily and we trail off, making plans for future trips to Brazil and England. At the mention of touring in England, on his label's home-turf, Neves' excitement is uncontainable. "It's a dream to come to England, a dream. 'Everybody, let's go to London!'", he exclaims, already making the plan in his head. He smiles and, as if on cue, pronounces his catchphrase. "Let's do that! A pegada agora é essa!"
A Pegada Agora É Essa (This Sway Now) is out on Far Out Recordings on 19th February 2021.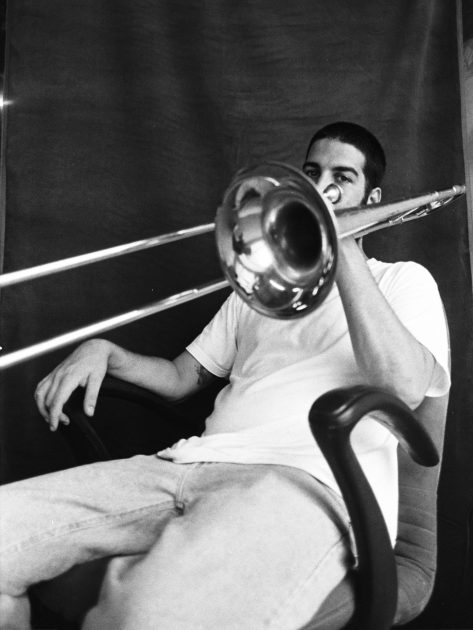 Follow Sounds and Colours: Facebook / Twitter / Instagram / Mixcloud / Soundcloud / Bandcamp

Subscribe to the Sounds and Colours Newsletter for regular updates, news and competitions bringing the best of Latin American culture direct to your Inbox.
Share: