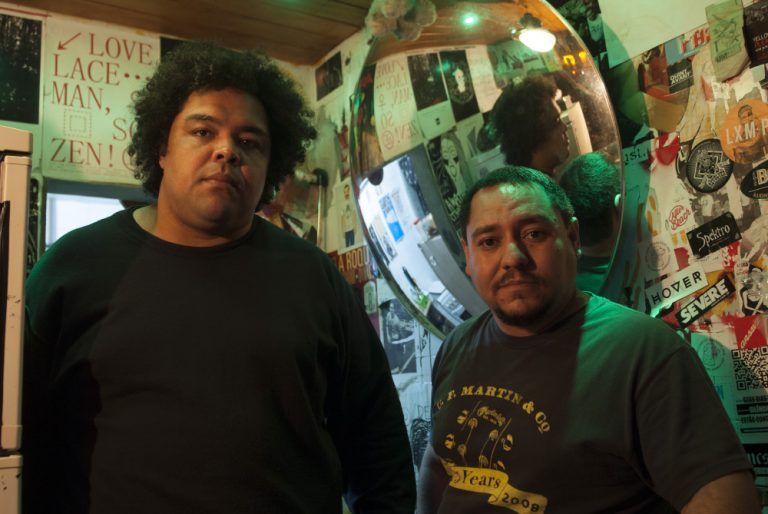 Pedro Azevedo (right), with Bernardo Oliveira of Quintavant/QTV
Audio Rebel: How an Alternative Studio in Rio de Janeiro is Surviving the Pandemic
01 April, 2021
I arrive at Audio Rebel, in Botafogo, Rio de Janeiro, and am struck by how incongruous the space is from the outside. It seems like a relatively residential area – colonial-style houses covered in graffiti are sandwiched in between high-rise buildings. I text Pedro Azevedo, the owner, and sure enough, he comes out of what looks like a normal house to wave me in.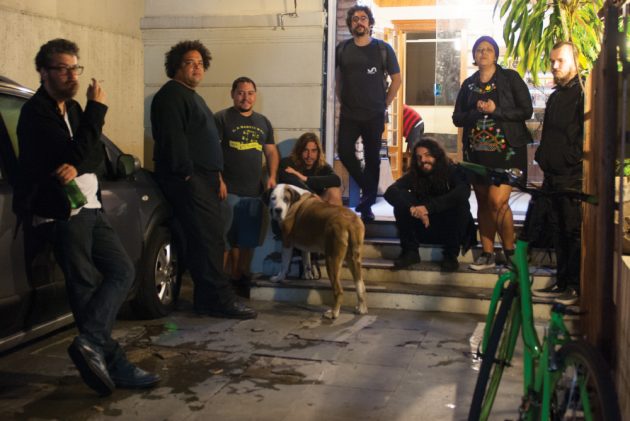 Audio Rebel is an independent studio that prides itself in being a gathering place for alternative music. It's an integral space for alternative music in Rio de Janeiro. In Pedro's words, "Audio Rebel is an incubator and laboratory where all the major players in the new music scene in Rio have collaborated, a house for exploratory and good music."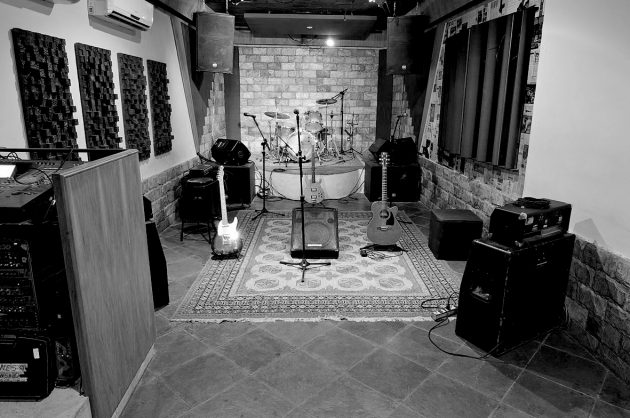 It's hosted international names like Fugazi's Ian Mackaye and Joe Lally, jazz legend Peter Brötzmann and Indonesian experimentalists Senyawa, alongside Brazilian musicians like Negro Leo, Jards Macalé and Emicida. The studio was also vital for bands like Chinese Cookie Poets' creative process and Brazilian record producer and musician, Kassin, has his studio based in Audio Rebel.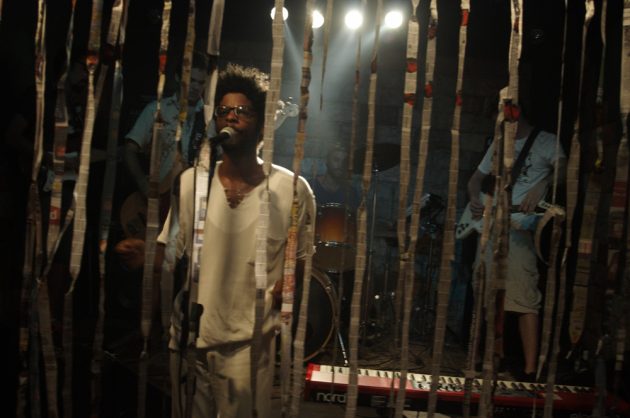 "Here in Audio Rebel, in the studio, in the tradition of do-it-yourself, we provide a space for everything that isn't commercial. We don't aim to have a certain genre like rock, punk or whatever. We want to have something more authentic, to stray away from the commercial, from that aesthetic that is more conventional."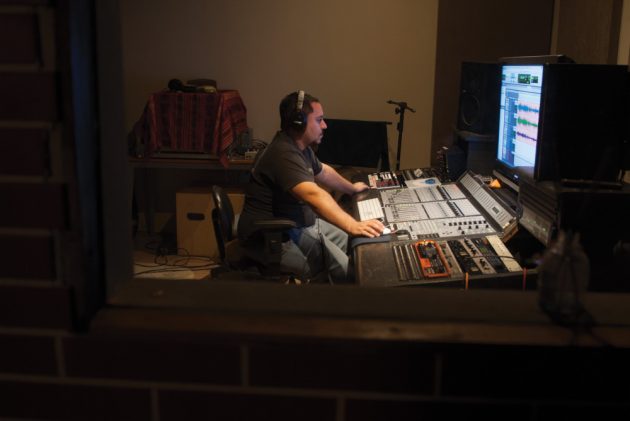 As Carwyn Ellis, who has recorded two albums, Joia!, and Mas, at Audio Rebel, puts it, it's an "[a]mazing venue, and hub for musicians, because it's interesting how … a lot of the heritage, the real classic music of musicians isn't necessarily appreciated. There's not a wider audience. And so, a lot of the more interesting underground music, it goes to Audio Rebel. … If people in Rio want to see something really interesting and good, and it's not really well known, Audio Rebel's where you're gonna see it."
Right now, Audio Rebel's reception is being renovated, and I find it hard to imagine the venue packed with people lining up at the bar, talking, smoking, waiting to see a band play. Audio Rebel has various studios where they record music, a stage for shows and rehearsals, a bar and a small shop where they sell CDs, t-shirts, instruments and the like. I'm sure it is normally bustling, loud and grimy in the best way, but today it's completely empty.
All over the world the cultural and creative sectors have been some of the hardest hit during the pandemic. In Brazil, where it represents 2% of GDP and employs around 5 million people, amounting to more than 5% of the national workforce, the cumulative losses so far have been estimated to be about R$62 billion (£8 billion).
At the end of last year, a law was passed in Brazil that supported the sectors through this difficult time. Named after the famous Brazilian author and songwriter who passed away as a result of COVID-19 on May of 2020, Aldir Blanc, it promised to inject R$3 billion (£3.9 million) into the sector. The law aims to subsidise the maintenance of artistic spaces and is also a cash handout for artists who are currently unemployed and in need of assistance. Pedro tells me it provided some much-needed relief to the industry, but its effects were minimal. The amount he received, for example, didn't even cover his tax requirements that year.
Brazil has had 11.7 million cases of COVID-19 and states are reporting that public and private hospitals are under extreme pressure, but many people are still partying clandestinely. Pedro, however, isn't comfortable opening up Audio Rebel. The house has small rooms with little to no ventilation and it's difficult to keep to social distancing measures in place. He worries for his employees and says that even though it's a difficult decision, he cannot put people in danger.
Audio Rebel has recently turned 15 years old. Unable to celebrate in person, they hosted a show on YouTube with various underground artists. It featured all kinds of exciting new music: rap, pop, R&B, MPB and rock, with musicians like THAMI, Domenico Lancellotti and Chico Tadeu. It was a moment to reflect on how far the studio has come, but when I asked Pedro what he considered to be his biggest achievement in the 15 years, he told me it was staying open in light of the pandemic.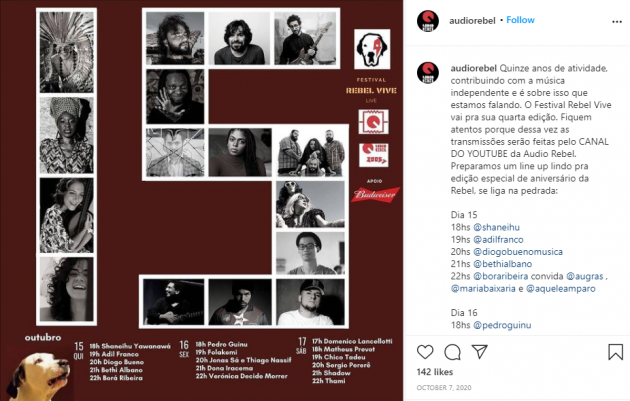 A lot of the exciting things happening in the music scene have had to move online, and while Pedro thinks this was good for the creative side of the industry, he worries it means they have lost the sense of community, which is vital to understanding how music impacts its listeners.
"I come from a tradition of shows. So, I know something has a future when it moves me and when it moves the people who with me in that space, in the show. Since this hasn't happened in a while – it's been a year since we've been in this situation – it's difficult for me to know what the future of music is in Rio."
Looking forward to a post-pandemic world, Pedro has mixed feelings. He hopes people will jump at the opportunity to socialise and knows Audio Rebel will have less competition, seeing as many spaces were forced to close as a result of the pandemic. However, a part of him worries people will have lost the tendency to go out to shows and the younger generation will turn online to find and enjoy music, making houses like his irrelevant.

Follow Sounds and Colours: Facebook / Twitter / Instagram / Mixcloud / Soundcloud / Bandcamp

Subscribe to the Sounds and Colours Newsletter for regular updates, news and competitions bringing the best of Latin American culture direct to your Inbox.
Share: